Kentucky Volleyball national championship banner to be unveiled Sept. 3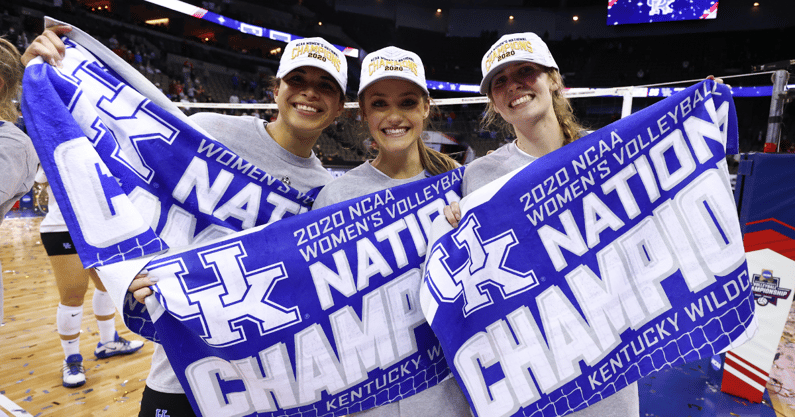 The rafters up in Memorial Coliseum are about to get a face-lift. Kentucky Volleyball will unveil its 2020 NCAA national championship banner during the Wildcats 2021 home-opener on Sept. 3 at 7:30 p.m. EST against Northern Iowa.
Entering the season as the No. 3 ranked program in the country, Kentucky is coming off the school's first-ever volleyball title after beating Texas 3-1 back in April.
Running from Sept. 3 through Sept. 4, Kentucky will host the Bluegrass Battle inside of Memorial, playing three games over those two days. Northern Iowa is up first on Friday with matchups against Creighton (10:30 a.m.) and Southern California (7:30) scheduled for Saturday.
All games will be broadcast on the SEC Network+.
With the match against UNI set for 7:30, the banner unveiling will take place right before the first set. Fans are encouraged to arrive and be seated by 7:20. All in attendance are required to wear a mask regardless of their vaccination status.
Kentucky posted a 24-1 record in an extended 2020-21 season, taking down UNLV, Western Kentucky, Purdue, Washington, and Texas in the NCAA Tournament before taking home the title hardware.
Previewing the 2021 volleyball season
While this year's squad is missing a few key faces from last season, Craig Skinner's team returns plenty of elite talent and brings in a No. 1 ranked recruiting class. Kentucky is the preseason favorite to win the Southeastern Conference with three Wildcats expected to receive All-SEC honors: sophomore outside hitter Madi Skinner, senior outside hitter Alli Stumler, and junior middle blocker Azhani Tealer.
The regular season-opener for Kentucky is slated for this weekend in Dayton, OH for a three-game tournament. The 'Cats will play Texas State, Dayton (ESPN+), and Cincinnati across two days before coming back to Lexington.
Kentucky has already seen the court once ahead of the 2021 season in the annual exhibition match against Western Kentucky. The two sides split four sets in what was an NCAA Tournament rematch from the spring.
Volleyball Media Day will take place this Thursday afternoon where KSR will be in attendance to bring you everything that Coach Skinner and the players have to say.