Kentucky Volleyball: News and Notes from Media Day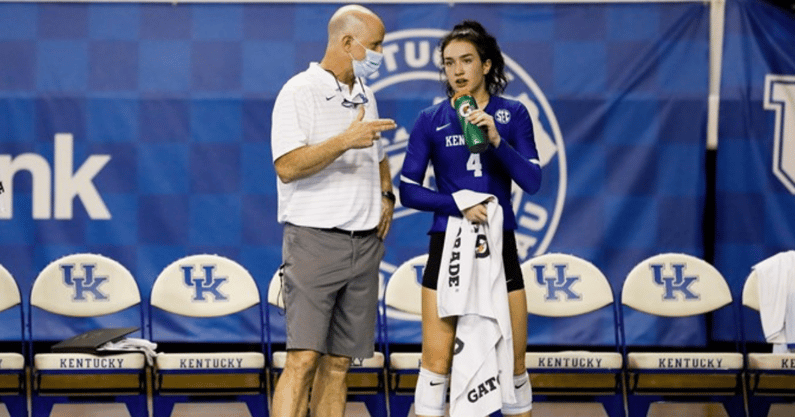 It's a time of change around the Kentucky Volleyball program. A championship banner will hang in the Memorial Coliseum rafters for the first time. However, many of last spring's icons have moved on, replaced by talented youth.
Leftover stars such as Alli Stumler, Azhani Tealer, and Lauren Tharp represent the old guard, but head coach Craig Skinner has a roster with twice as many underclassmen as juniors and seniors.
Nonetheless, the 2021 Kentucky Volleyball team is excited. Thursday afternoon, Skinner, Stumler, and Tealer met with the media to discuss the new season. Here were the big points addressed at media day:
Jordyn Williams out with torn Achilles
Coach Skinner revealed that freshman middle blocker and top-10 2021 recruit Jordyn Williams suffered a torn Achilles in practice. One of the worst injuries in sports. She'll miss the entire 2021 season. Just devastating.
In the last press conference a few weeks ago, she expressed that she loved the "immediate spotlight" of playing for a national champion and was excited to start her collegiate career.
It's a bummer, man.
Emma Grome will start at setter
The freshman wins the job. In the middle of answering a question about something completely different, Skinner slid in the fact: "Emma Grome will start for us at setter."
I wrote extensively about the setter battle last week (check that out HERE) and predicted Grome would win the job despite her freshman standing.
For anyone that hasn't seen Grome play, her talent is immediately obvious. As is her vocal leadership. She was the chattiest player on the team in the open scrimmage at Fan Day. Both aspects are equally important at the setter position. Just ask Madison Lilley's former teammates.
Kentucky Volleyball may have found its setter for the next four years.
Riah Walker takes the libero spot
Senior Lauren Tharp was the heir apparent to Gabby Curry as the libero for the 2021 Kentucky Volleyball team. Seemingly the veteran replacement to one of the leaders on that championship squad.
But Craig Skinner said Friday, "[Saturday's] starting libero will be Riah Walker. [She's] a very naturally gifted passer and serve receiver. She's also very long, she can cover ground. Defensively, she's a calming influence out there."
This change may be a surprise to fans and a slight setback for Tharp. But make no mistake: Tharp is a great player. Walker is just slightly longer and slightly more talented.
Skinner was giddy about the defensive upside of this team.
"That position group is probably the best we've ever had here. We're going to make some defensive plays you've never seen here at Kentucky."
As John Huang always teases, Coach Skinner is never as confident as he deserves to be about the Kentucky Volleyball team. With the back row, though, he's certain of greatness.
He also noted that Walker is the libero for the time being. Clearly, he doesn't allow loyalties or experience to dictate who plays. He picks the best players and rides.
Tharp could very well earn the job back. Last season, she was the strongest server on the team and provides upper-class leadership that will be much rarer on this fall's version of the Wildcats. I have a feeling that more than one person will don the off-color jersey throughout the year.
How to avoid burnout?
The Kentucky Volleyball team played perhaps the longest season of any collegiate sports team in the country. They played their first game in mid-October and cut down the nets in late April.
The season was as long as it was rewarding. For athletes that work as hard as Alli Stumler and Azhani Tealer, avoiding burnout will be important in 2021.
Coach Skinner installed a Monopoly-style Get Out Of Jail Free Card system for off days. If girls need a day off in the middle of the season, they are encouraged to take the extra rest. 2020 and 2021 were grueling years for the Kentucky Volleyball players, and they'll need additional rest to propel them to more postseason success this December.
Alli Stumler emphasized that recovery is the key for her. "It's getting away mentally. Taking time to recoup, recover. To refresh. For me, that's going on a hike or maybe it's going shopping with Z (Ahzani Tealer). Doing things that you enjoy."
Tealer agreed that rest and recovery are crucial to preventing potential burnout. But she also noted, "it doesn't happen as often when you love the sport like we do."
The Kentucky Volleyball team gets their season started bright and early tomorrow morning with a 10:30 a.m. match vs. Texas State as part of a multi-team event at the University of Dayton.
KSR will have you covered all weekend long as the Volleyball season starts back up.