Kentucky Volleyball Open Scrimmage: Notes and Analysis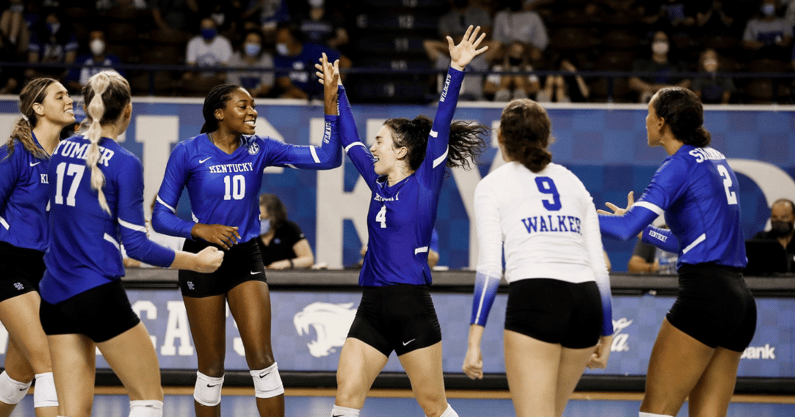 It feels like just yesterday the Kentucky Volleyball team was cutting down the nets in Omaha as national champions. Not even four months later, a new season is about to start, and the 'Cats are starting the season ranked no. 3 in the country.
On Sunday, the team welcomed its fans back to Memorial Coliseum to watch the girls play for the first time since March–before their epic tourney run.
If you want to read up on the comments made by head coach Craig Skinner, senior Alli Stumler, and freshman Jordyn Williams — who spoke to the media — click right here.
In this post, I'm going to run through the roster and provide some notes on what we saw from each player in Sunday's scrimmage. I'll lead off with the setters.
KENTUCKY SETTERS
Let's start with Emma Grome. She's a part of this past year's no. 1 ranked recruiting class and is one of only two setters currently listed on the roster. Yesterday, she looked the part of Madison Lilley's replacement.
Before we get ahead of ourselves: she is not Madison Lilley. Based on accolades alone, Lilley put together one of the greatest individual seasons and careers in the history of Kentucky Athletics. She was quite literally the Anthony Davis of her sport. All-American, National Player of the Year, National Champion.
However, Grome flashed in the scrimmage. Coach Skinner swapped the teams quite a bit during the game but Grome was the setter on the winning team in all three sets. She's only a freshman and setter is a complicated position — sort of like the point guard of a volleyball team — but she already is showing promising skills and leadership on the court.
Simply put, she was the best setter yesterday. But what stuck out the most to me was her communication. She chatted up her teammates after every point, often talking to all five of them in between plays. She took on a role as a vocal leader on her teams as just a freshman.
It was only one scrimmage and I'm no expert, but I think the Kentucky Volleyball team may have another star in the making at the setter position.
The only other setter, Cameron Scheitzach, didn't have her best day but as a senior competing against Grome the freshman for the starting spot, her age is an advantage. Plus, Coach Skinner noted that "she's had some really good days too" when talking about the setter battle.
KENTUCKY BLOCKERS
Redshirt sophomore middle blocker Bella Bell looked like she's improved a lot since April. She was hitting the ball with a lot more velocity than last season and sent some rockets into the Memorial floor.
Every time I watch Ahzani Tealer in person, I leave more impressed. She is such an explosive and elite athlete. You can tell just by watching her go through warmup drills. Most of the girls were admittedly not completely focused, but Tealer was the first done with every stretch and upheld flawless form. Should be a huge junior year for her.
Freshman Jordyn Williams got a chance to answer some questions at the press conference and expressed that she loves the spotlight that comes with playing at a national champion program. That's an answer I like to hear. Overall, she came off as very mature and on the court has every tool to become a star at the net in a few years.
Elise Goetzinger provides even more size at the net for Kentucky's massive front line. There were lineups that featured her, Fisher and Bell all upfront. That's 6-foot-5 across the board. Scary stuff, and another piece that gives this Kentucky Volleyball team immense depth and versatility at the net
KENTUCKY HITTERS
6-foot-5 sophomore Sophie Fisher also looked much improved at the net. She was dominant in the first set of the scrimmage, and along with Grome, was a big part of why the backups trumped the starters in the opening set. Like Bell, she was hitting the ball a lot harder than last year.
Reagan Rutherford shined in her limited playing time early in last year's season while Avery Skinner was out with an ankle injury and she looked the part of a UK hitter yesterday. The lanky lefty will likely have a rotation spot heading into her sophomore season.
Freshman Erin Lamb was a dignified pickup in this year's recruiting class, but she may not play right away. She showcased the talent that made her the Player of the Year in Minnesota (a great Volleyball state) on a few plays during the scrimmage, but with the depth and talent already at the net for the Wildcats, I doubt she'll get huge playing time immediately.
Madi Skinner and Alli Stumler headline the elite group of Kentucky Volleyball attackers. Frankly, neither seemed to be operating at max effort yesterday, which is totally fine considering they've only practiced for four days and have an actual game in a little over a week.
However, Madi knocked off enough rust to send this spike into the floor:
LIBEROS/BACK ROW
Senior defensive specialist Lauren Tharp is ready to step into the Libero role. After threes years as Gabby Curry's pupil, she's more than ready to anchor Kentucky's back row and step in as one of the leaders on this year's team.
Fellow back-row specialist Riah Walker also donned the off-color libero jersey yesterday. She made some ridiculous saves in the back when she got playing time last year and could outduel Tharp for the official spot once the season starts. Either way, both of these girls will play a prominent role this fall.
Senior Maddie Berezowitz is fun to watch but whether she'll get serious playing time remains to be seen. I'm not sure it matters too much to her, she's always smiling and having a good time on the court regardless of her playing time.
Finally, freshman libero Eleanor Beavin is also listed as a libero and comes in as one of this state's top prospects. Perhaps she'll learn from fellow Mercy High School (Louisville) grad Lauren Tharp what it takes to develop into the type of player that she and Gabby Curry are/were.