Kentucky Volleyball claims outright SEC title with win over Florida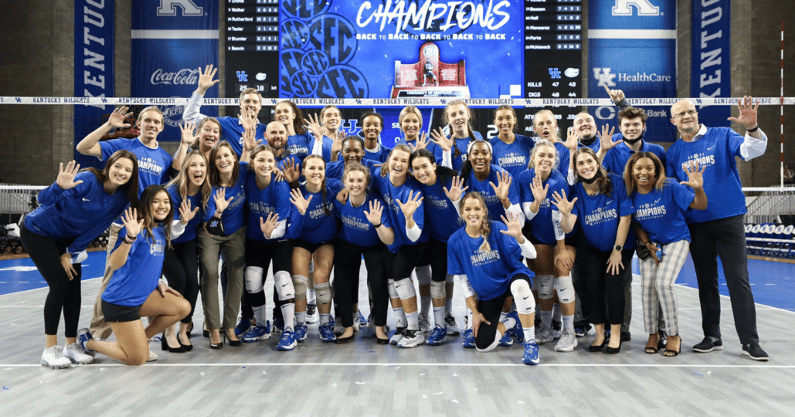 Yesterday, No. 8 Kentucky Volleyball secured a share of its fifth-straight SEC title with a three-set win over No. 20 Florida on Senior Day. Today, the Cats claimed the outright SEC Championship with another three-set win over the Gators (25-18, 25-20, 25-23).
Freshman Eleanor Beavin had 15 digs and sophomore Riah Walker nine. Kentucky held Florida to a .224 hitting percentage in the match and under .200 in sets one and two. Offensively, Alli Stumler led the way with 11 kills and was joined by Reagan Rutherford in double-figures. Rutherford had 10 kills on 19 swings with a new career-high three solo blocks.
Kentucky Volleyball won outright SEC titles in 2018 and 2020 while sharing the title with Florida in 2017 and 2019. In a conference once dominated by the Gators (24 titles in program history, including 18 in a row from 1991-2008), the tides have turned in Craig Skinner's favor. Yesterday was his 400th win as Kentucky's head coach, which led to a confetti bath in the locker room:
Kentucky finishes the regular season 24-4, 17-1 in SEC play. The 2021 NCAA Volleyball Selection Show will be broadcast on ESPNU Sunday at 8:30 p.m. ET. The top 16 teams will host first and second-round matches on campus sites next weekend. Time to bring another natty home to Lexington?