Kentucky Volleyball is "in position to compete again on the national stage"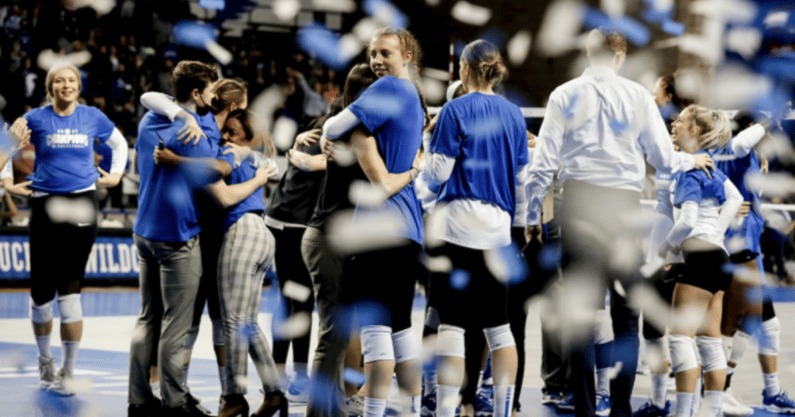 That quote is from Kentucky Volleyball head coach Craig Skinner, who is giddy about his young team's chances to make another deep run in the NCAA Tournament.
Coming off a banner-winning campaign last spring, Skinner already has a new group whipped into championship shape. They sustained the losses of program greats in Madison Lilley, Gabby Curry and Avery Skinner, but built around a new core this fall. UK still managed to win the SEC Championship and earn the seven seed in the NCAA Tournament.
That is a standard achievement around Lexington, as Kentucky has owned the past five league crowns. Now, the real excitement comes from NCAA Tournament success. Craig Skinner believes his team is ready to compete once again with the best teams in the country. His 'Cats aren't letting go of the crown without a fight.
Despite enlisting a much less experienced roster than a year before with freshmen starting at both setter and libero, Skinner "could not be happier" with how this group has evolved over the course of the season.
They showed their youth early on, and definitely felt the losses of Lilley and others in the non-conference, where they dropped three matches before the start of league play. That being said, each loss came to a ranked opponent with one being a near win at Louisville, the undefeated no. 1 overall seed in the tourney.
Kentucky finished off the non-conference slate with a rollicking five-set home win over top-15 Stanford to kickstart a winning streak that lasted halfway through SEC play. In conference, only a stray night at South Carolina went bad. Otherwise, the 'Cats were perfect. And last weekend they capped off another SEC Title by sweeping all six sets in two matches vs. 20th-ranked Florida.
So, as recent performances and Skinner's comments reflect: Kentucky is playing its best volleyball right now.
The path to a second NCAA Championship in an eight-month span is tougher than the first, given the obvious fact that Kentucky isn't quite as elite or experienced as the former group. They do have championship pedigree, though. Seniors such as Alli Stumler and Lauren Tharp have stepped in as admirable leaders on and off the court; upholding the standard set by their predecessors. And the underclassmen have come along just fine.
Talent-wise, the 2021 group can reasonably compete for another Final Four with a shot at winning the whole thing. Friday night at 7:30 p.m., Kentucky begins its journey. They'll face Southeast Missouri State in Memorial Coliseum. With a win, they'll face the winner of Illinois and West Virginia on Saturday.
See everybody there! And GO CATS!