Kentucky Volleyball scrapes by Arkansas to remain undefeated in SEC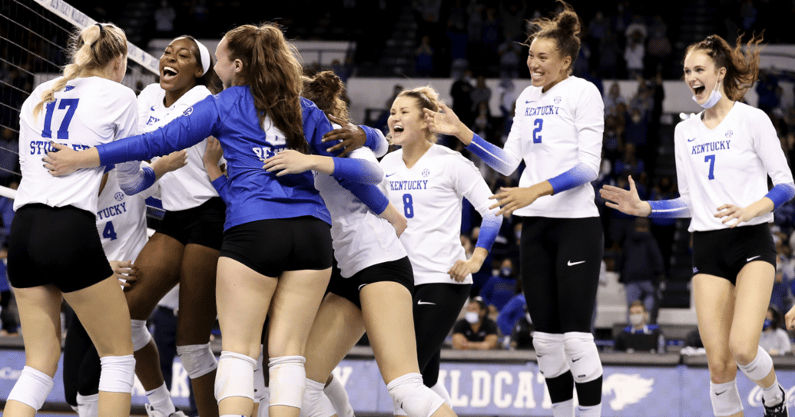 The no. 5 Kentucky Volleyball team finished this weekend still undefeated in SEC play, but only by the skin of their teeth. The 'Cats followed up Friday night's five-set romp with another marathon victory that took five sets plus a few extra points. Let's talk about it.
(You can read about Friday's game right here)
First Set
The Hogs blitzed the 'Cats out of the gate with a 6-1 run. But Kentucky scored 9 of the next 12 points to take their first lead of the evening. A few moments later, Madi Skinner cashed in with three kills to help create a 4-0 UK run and a 18-13 lead.
Once Kentucky gets up by five or more this late in a set they're generally pretty reliable in closing it out. Which, of course, they did in this first set. Kentucky never let the Razorbacks threaten as they held off for a 25-19 win.
Second Set
Neither team played clean volleyball to start the second set as the score remained around a tie until midway through. A run of Arkansas points gave them the biggest lead yet of the set at 18-15 and Kentucky just couldn't retake the lead as the 'Backs closed it out 25-21 to even the game at 1-1.
Third Set
Like the second, Kentucky and Arkansas were neck-and-neck for most of the third. In fact, neither team led by more than two until the final point of the set. With the score tied at 21, Alli Stumler came through with a kill to give UK a late lead.
But that was where the positive momentum came to a screeching halt. Arkansas proceeded to run off four straight points to win the set 25-21 and take the lead in the match, 2-1.
Fourth Set
Arkansas piggy-backed off their end-of-set rally to take a swift 5-2 lead in the fourth to push Kentucky's back against the wall. But that's often when the Wildcats play their best volleyball. They did just that.
UK rallied to take a quick lead, and the Razorbacks tied it back up quickly. Then the 'Cats used a pair of 3-0 runs to push the lead out to five at 14-9. Another 3-0 run a few moments later pushed it to 17-10 and Kentucky was cruising in a set they needed to win.
Arkansas cut the lead back to four at 20-16 but Kentucky slammed the door with a 5-0 run to win the set and fourth a fifth.
Fifth Set
Once again Arkansas got the early lead and once again Kentucky clawed back in to tie it in a hurry. The two teams exchanged points and were tied at several points, but Arkansas took the advantage late at 14-13, setting up a match-point.
Emma Grome found Madi Skinner on the next play and she sent a fireball to the deck to even the score at 14. Then, with some help from Alli Stumler, Bella Bell thwarted the next Razorback attack with a huge block to give Kentucky the lead and a chance at match-point.
With Riah Walker serving, Arkansas was a little out-of-system on the next possession and Kentucky was able to receive their attack and set up Alli Stumler for the final kill, which she sent flying into the Memorial Coliseum floor to give UK the narrow 3-2 win.
Stats & Recap
Well, Kentucky is now 15-3 and 8-0 in the SEC and are winners of nine straight since the five-set loss to no. 2 Louisville. This group might be rounding into shape after some early-season roadblocks. Although they very well could have lost both games this weekend, so there is still some progress to be made.
On the stat sheet, Kentucky's two aces led them on the attacking front. Alli Stumler and Madi Skinner recorded 17-kill double-doubles as Skinner added 12 digs and Stumler 10.
Eleanor Beavin led the team in digs with 20 and Lauren Tharp added 9 to round out a terrific defensive performance from Kentucky in the back row. The defense wasn't too shabby in the front either has Azhani Tealer and Bella Bell had 7 and 6 blocks.
Kentucky moves on with their SEC season with a three-game road trip next week. They'll play Tennessee on ESPNU Wednesday night at 6:30 p.m. Then, they head to Columbia for a weekend pair of matches vs. South Carolina. Those games will take place Thursday and Friday at 7 p.m. on SECNetwork+.