Kentucky Volleyball: Breaking down the battle at Setter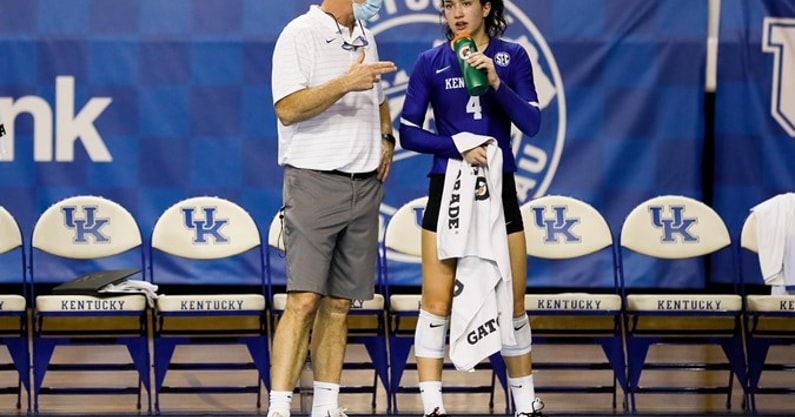 Emma Grome and Cameron Scheitzach are three years apart and much different players, but each can fill the void at setter for the Kentucky Volleyball team
For Kentucky Volleyball coach Craig Skinner, starting Emma Grome or Cameron Scheitzach at setter poses one of the great sports questions: talent or experience?
John Calipari might go with the freshman Grome. Let her play through her mistakes. All while knowing that she will be the better setter by the end of the year.
Mark Stoops might go with the senior Scheitzach. Valuing her experience while waiting on the freshman to develop consistency and chemistry with the team.
When asked to tip his hat on who would be the day one starter, Craig Skinner remarked, "remains to be seen."
It's likely that Skinner knows who will be starting in next week's opening game, but let's have some fun and try to pick his brain here at KSR. So, given the scrimmage we saw last week and the few bits and pieces I've read about the two girls, here's the case for each:
Cameron Scheitzach

–

Kentucky Volleyball Senior Setter

Scheitzach is a veteran in every way. A career backup that did not come out of high school with the recruiting pedigree of a Madison Lilley or Emma Grome. She's filled that role of bench player/reserve that's gotten to grow with the best team in the country for four years.

She has less talent than Grome. However, she can bring the leadership, experience and veteran poise to the position that Kentucky Volleyball lost now that Madison Lilley is gone. Setter really is a point guard position. I know, I say that too much. But it's the perfect description.

The job is to set up the hitters. To figure out the right balance of who to set up on which plays, against which matchups. It requires an organizational and leadership quality derived from experience. Experience not only on the court but in relationships with teammates.

That's where Craig Skinner knows he can trust Scheitzach. She has played for Kentucky longer than every hitter aside from Alli Stumler, her classmate. She knows the team, knows the position. Cameron Scheitzach provides all the intangible values lost from Madison Lilley.
Emma Grome

–

Freshman Setter

Emma Grome brings the talent. She arrives at the Kentucky Volleyball program a blue-chip prospect. A top-25 player in her recruiting class. One of the top setter prospects in the country. Eerily similar to Madison Lilley.

I'll say it again: she is not the next Madison Lilley. Her talent tempts the comparison, though.

What makes her so talented? Well…

For starters, her athleticism. Female athletes are never respected enough as physical athletes. I go to bat claiming that sophomore blocker Ahzani Tealer is the most extraordinary athlete on this campus. Given her role as a volleyball player, her explosiveness is comparable to John Wall on a fastbreak slam dunk.

For Grome, her quickness and awareness stand out. Madison Lilley was elite (I mean ELITE) at ducking around the court at full speed while tracking the ball and analyzing the upcoming set. She is a master multi-tasker in the matter of moments it takes for a setter to locate the ball, sprint to it, have her body in correct position, know where she's going with the set and then deliver a perfect pass.

Grome has that gift. Not yet to Madison's extent. But she possesses superb spatial awareness and is so quick-footed and quick-minded on the court. Her passing accuracy isn't perfect, but she is just a freshman with an incredibly promising skillset.

Also, the weaknesses you would expect from a freshman setter are timidness and lack of leadership. During last Sunday's scrimmage though, she might have been the most vocal player on the team.

Scheitzach brings the mental aspect, Grome brings the talent and has already displayed some leadership. As everyone knows: you can't teach talent and you can't teach athleticism. However, you can always develop as a leader

If the pick was mine, Grome would get the nod. Plus, she is the setter of the future for Kentucky Volleyball beyond 2021, so why not begin her reign now. But it is very possible that Skinner plays it safe with the senior to start the season — and that isn't a bad call either.