Kentucky volleyball spring season action set to heat up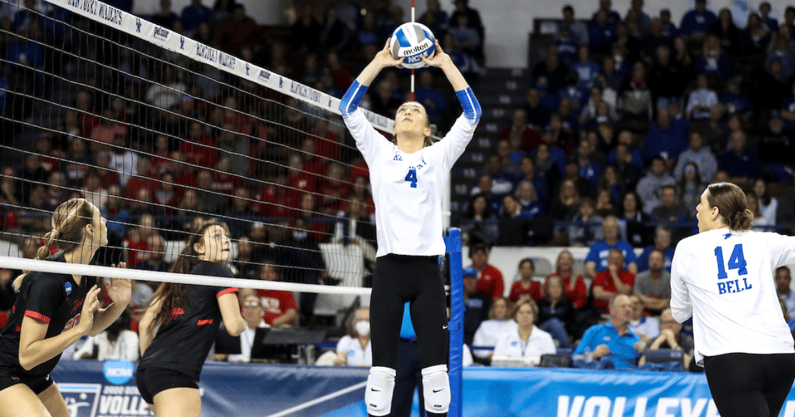 It's the beginning of a new chapter for Kentucky volleyball. The offseason poses new challenges and opportunities with a rivalry match against Louisville kicking off the festivities. The Wildcats will begin a four-match, mini-spring schedule on Friday versus the in-state Cardinals.
In a rematch of the five-set match that took place last time in Memorial Coliseum, this chapter of the rivalry will take place in Louisville with the 'Cats and 'Cards set to begin at 6 p.m. After Louisville, Kentucky will head back home in its only home match of the offseason in a little under a week on March 30 against Athletes Unlimited.
Two more marquee matches await the Wildcats in April. It'll be Purdue and Pittsburgh as the opponents down the road; quite the schedule for Kentucky. It should be noted that Louisville lost in last season's championship game and Pitt reached the Final Four as well. Purdue actually fell to Louisville in the second round of last season's NCAA Tournament.
Head coach Craig Skinner really has scheduled the best of the best for his squad during the spring.
Moving pieces
Changes have been coming at a lightning-fast pace in the volleyball world this offseason. Not only for Kentucky's squad, but for the whole Southeastern Conference as well.
Ex-Kentucky assistant, Anders Nelson, left the volleyball program this offseason to take the head coaching gig at Vanderbilt. Shortly after, the Wildcats found their replacement. Ben Josephson now takes on the assistant duties, coming from Trinity Western where he spent 16 years there as a head coach. Welcome to SEC volleyball, Ben.
Shifting focus to the SEC as a whole, a new announcement came just over one week ago. The SEC is adding a postseason conference tournament for the first time since 2005. With the starting date for the tournament still to be determined, the confirmation of the postseason tournament is official. Whether the SEC tournament will begin after the 2024 or 2025 season is still unknown. Regardless, we get some action after the regular season ends and before the Big Dance! Sign me up.