Kentucky Volleyball sweeps SEMO in first-round of NCAA Tournament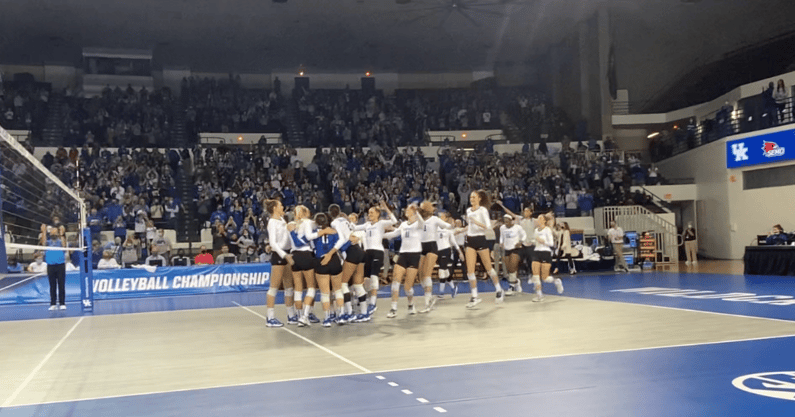 As expected, No. 7 seeded Kentucky Volleyball had no problem with Southeast Missouri State in the opening round of the NCAA Tournament. It resembled last Saturday's Governor's Cup: just a complete athletic mismatch in favor of the 'Cats.
Here's how UK advanced to the round of 32.
First Set
The Kentucky offense was firing on all cylinders tonight from start to finish. It was total decimation led by Madi Skinner, Alli Stumler and the rest of UK's wrecking crew up front.
It was Skinner and Azhani Tealer who torched SEMO in the first set. Behind early effectiveness from them, Kentucky slowly built its lead, generally scoring two points per every one for SEMO.
As it should, the set looked like most of Kentucky's first sets in SEC play: A slow grind to a big lead and sizeable victory to take a 1-0 lead. They did just that, winning 25-15 to open things up.
Second Set
Kentucky came out of the gate hot in set No. 2 with an early 5-1 run. SEMO really never offered any real pressure in this one as the 'Cats just stomped on 'em to start and never let them threaten.
Elise Goetzinger got a chance to make her mark in the middle period. She replaced Azhani Tealer in the second and third sets and came off the bench in attack mode.
That early four-point lead eventually bled to six, then eight, then 10 at 18-8 as UK was on cruise control and wrapped up the second, 25-14.
Third Set
Kentucky Volleyball fans are used to this. Third set, up 2-0 and the 'Cats lost a bit of focus and slid their foot off the gas pedal. I'll give the SEMO fans credit. In the early going in the third, their team stuck right with the 'Cats and they were boisterous throughout the set in trying to will their outmatched team to at least one set victory.
SEMO held several different leads through the first half of the set and battled to a tie at 11-11. But a pair of kills courtesy of SEC Player of the Year Alli Stumler from the back row righted the 'Cats in the middle of the set and the defending champs kicked it back into high gear to flush out any thoughts of a potential third-set win for SEMO.
Kentucky eventually distanced themselves to win 25-19 for a mostly stress-free 3-0 sweep in round one.
Stats & Recap
They cooled off in the third set, but Kentucky torched the Taraflex on offense tonight. Take a look at their six leading attackers tonight:
Madi Skinner: 21 attacks, 13 kills, .524% hitting percentage
Alli Stumler: 25 attacks, 11 kills, .400%
Reagan Rutherford: 13 attacks, 7 kills, .385%
Bella Bell: 10 attacks, 7 kills, .700%
Elise Goetzinger: 9 attacks, 5 kills, .333%
Azhani Tealer: 8 attacks, 5 kills, .500%
Volleyball teams are typically going to win — and win BIG — when their attacking unit hits the ball at that level of productivity and efficiency.
Skinner and Stumler are usually the top attackers, but Kentucky also got great production from its middle blockers in Tealer, Bell and Goetzinger. Bell especially has come on strong in the latter half of the season and it was nice to see Goetzinger step in and play well when Tealer went out. (I'm still unsure of why she was sat).
Defensively though, Craig Skinner would probably like a cleaner performance. The 'Cats weren't bad in that phase, but there were a few communication errors and general sloppiness in the third that allowed SEMO to build a little bit of momentum.
Overall, it was a sound performance to put away a team that Kentucky was expected to sweep. The real challenge of the weekend is tomorrow at 5 p.m. when UK takes on Illinois, who was barely outside the top 25 in the final regular-season rankings. The Fighting Illini beat West Virginia 3-1 earlier in the day.
Memorial Coliseum was louder than any basketball game at Rupp so far this year for UK's NCAA Tourney opener. Come pack the place again Saturday afternoon as Kentucky plays for the Sweet Sixteen.