Kentucky Volleyball has massive opportunity tonight vs. No. 2 Wisconsin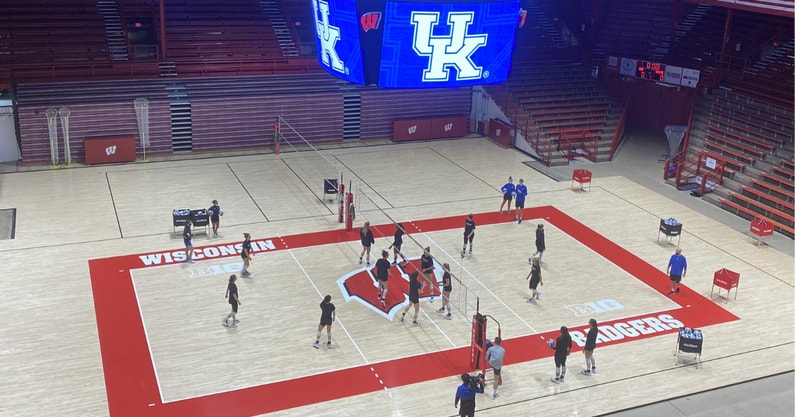 The 8th-ranked Kentucky Volleyball team dropped its first game of the season last weekend, but they have a huge bounce-back opportunity against the no. 2 team in the nation as they travel to Madison to face the Wisconsin Badgers later tonight at 9:00 p.m. EST on the Big Ten Network.
It's an opportunity to pick up a marquee victory and an opportunity for Craig Skinner to learn about his young team. During this week's press conference, Skinner expressed that he was excited to put his girls to the test against an elite opponent.
And Kentucky Volleyball will be ready to face a strong opponent this time around after coming out flat against no. 19 Creighton last Saturday morning — the night after they hung a national championship banner.
What makes this Wisconsin team so good though?
Well, they have a behemoth 6-foot-8 four-time All-American starting at middle blocker. Dana Rettke, the fifth-year superstar, highlights a frontline that looks much like Kentucky's a season ago. The setter is an estbalished veteran and two of the other primary hitters are also seniors. It's a deep, experienced and tremendously talented group of Badgers.
This will likely be the best team Kentucky Volleyball faces until the postseason — and also the most intimidating attack.
There's also a big disparity in experience between the two. I just mentioned how seasoned the Wisconsin front-line is–compare that to a Kentucky team that will start two first-year players (including the setter, Emma Grome), two sophomores and just one senior. These young 'Cats will learn a lot about themselves regardless of the outcome.
Kentucky will be in unfamiliar shoes as the underdog, but they have an opportunity to prove they're still at the top of the sport if they can just challenge the Badgers.