Kentucky vs. Akron: After Action Review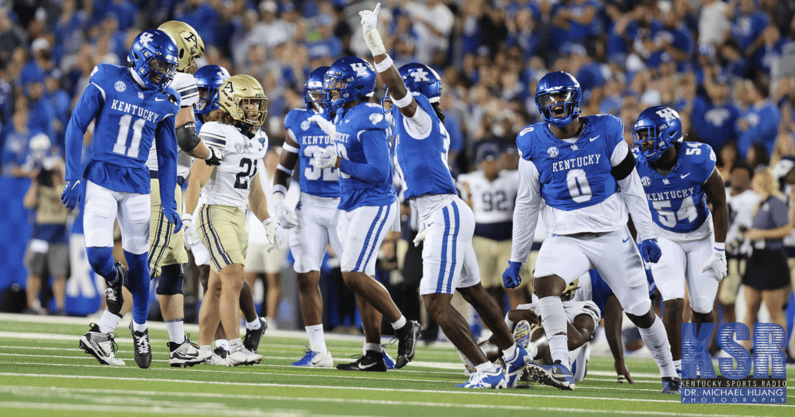 An After Action Review (AAR) is a militaristic tool that KSR utilizes to measure the success vs. expectation results for the Kentucky Wildcats. The following document will analyze Kentucky's 35-3 win over Akron.  
B.L.U.F. (Bottom Line Up Front)  
Kentucky improved to 3-0 after defeating Akron 35-3 on Saturday night at Kroger Field.
SITUATION 
The Wildcats entered Saturday's contest with a 2-0 record but hadn't played a complete, complementary game in 2023. Akron was 1-1. UK was the better team and had personnel advantages at every position on the field.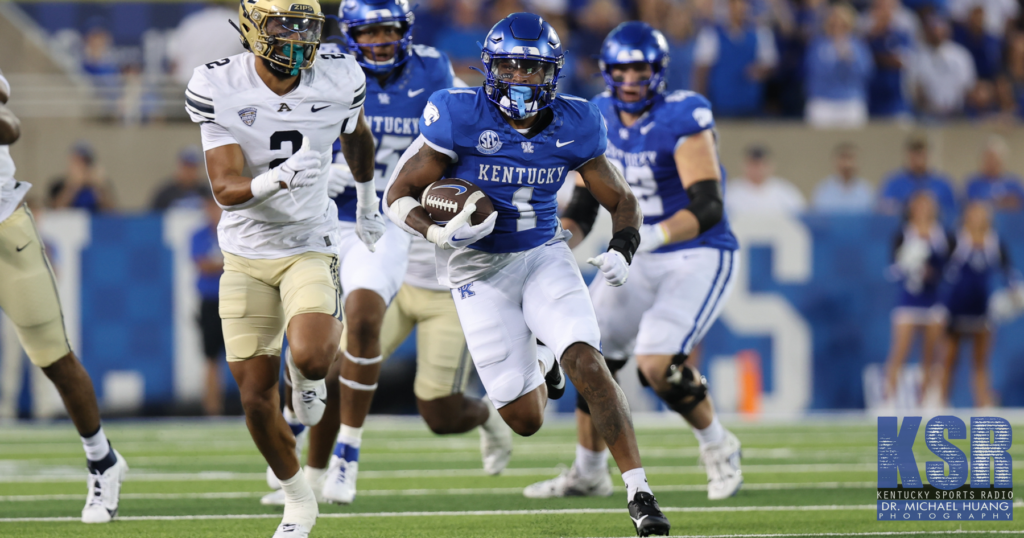 OFFENSE 
Complete transparency, I am struggling to write this portion of the AAR. There are differing factors between game stats and what I actually saw with my own eyes. I normally write based on numeric qualifications and measurements. If I did that for the UK-Akron game, the Cats would appear to have cruised to a seamless 32-point win. But, the reality was much different. My gut feeling didn't match my spreadsheet. Offensive frustration has built over the past weeks. I'm now to the point that irritation has converted to concern. In fact, I'm inches away from all-out worry. The numbers tell me different. But, my eyes tell me that vast improvements are necessary for the Cats to make a run in the East. That's unfortunate. The SEC is down. The opportunity is there.  
Liam Coen said it the best, "We have some instances of losing our minds in situations." I agree with the coordinator. Again, the final game stats don't quite reflect the awkwardness and ineptness that Kentucky has put on tape. Two errant snaps set the offense back 30 yards. A hold brought back a 64-yard score. More passes were dropped and miscommunication resurfaced. A timeout was called in the first drive due to having 10 players on the field. In other words, the term 'broken record' surfaced. That's not good. Coen went on to say, "It's straight execution." Again, I agree with the coach.  
A 14-point first half dissatisfied. Slow starts have been a constant over the three-week, non-conference slate of games. The offense appears a bit wobbly. This strikes me as odd with Coen controlling the play sheet. However, numbers from Saturday suggest that the Cats eased to a 32-point victory. The ground game was not called on often but produced 6.1 yards per pop. QB1 Devin Leary averaged 12.1 yards per pass attempt. UK rolled up 450 total yards of offense off just 49 snaps for an average yards per snap that exceeded 12.  
Those numbers are excellent. But, the BBN, and certainly Mark Stoops, are uneasy about the state of the offense. The head coach and coordinator's postgame frustration was obvious. I get it. I wasn't exactly thrilled by the performance either.  
But, the good outweighed the bad. There is explosion potential all over the field. I just can't get past the fact that Kentucky surrendered seven tackles for loss and a QB sack. Against Akron. Leary ducked and dodged the rush to make a highlight reel toss to Ray Davis. But, again, it was against Akron. The pocket should be clean.  
UK's lack of dedication on the run game also repeated. Four Wildcat running backs exceeded six yards per carry. The foursome combined for just 16 rushing attempts. Ray Davis led the way with seven carries for 72 yards (10.3 YPC) and a score. Demie Sumo-Karngbaye pitched in four rushes for 58 yards (14.5 YPC) and a touchdown. JuTahn McClain surfaced for three attempts for 23 yards (7.7 YPC). Ramon Jefferson had the lowest yards per carry number with six.  
The truth is that UK needs to be better around quarterback Devin Leary. He is the engine that makes the Cats go. Leary's accuracy needs to increase along with his completion percentage. Catchable passes should be caught. Pass protection must keep the veteran passer upright and safe. The collective trio of starting receivers need to get back to what they do best, catch passes and be playmakers.  
Tayvion Robinson has been terrific over the past two contests. The super senior's five receptions for 86 yards and a score were the tops for the WR room on Saturday night. Barion Brown added two catches for 19 yards. Dane Key did not catch a pass. The tight ends finally got involved in the pass-game. That was a positive. Jordan Dingle led the way with four receptions for 89 yards. He also fumbled after an explosive that stopped a drive. This one play can accurately sum up the Kentucky offense through three games.  
The play was perfectly executed. Devin Leary was faultless in his pocket mechanics and with the throw. The offensive line protected the prize passer which led to a clean pocket. Dingle's one-hand catch was beautiful and flashed his playmaking ability. His effort after the grab was super.  
He carried multiple defenders down the field for over 10 yards. I loved the want-to and effort. But, the play's result was a lost fumble. Thus, the intent and play call were timely. The same can be said about the effort and strain, especially from the Wildcat tight end. But, the results were negative based off a turnover that affected the scoreboard. That play describes the UK offense in a nutshell. Let's get into pregame goals vs. outcomes.  
50% On Third Down
Grade: GO 
The Wildcats converted 5-8 third down opportunities. The objective was 50% or higher. UK achieved this ambition by registering a 62.5% ratio on the money down.  
Faster Start
Grade: NO-GO  
Kentucky scored seven points in the first quarter and seven in the second. At no point in this game did I ever question the outcome. But, 14 points before intermission against that opponent was less than expected.  
DEFENSE 
Akron did not score an offensive touchdown. UK gave up 40% on third down, recorded seven tackles for loss, and sacked Akron on five occasions. Additionally, the Cats defended six passes and played a bunch of depth contributors. Overall, the Kentucky defense was solid. I felt that the secondary played their best game of the season.  
Six different Cats pitched in the tackle-for-loss column. This included non-starters Tommy Ziesmer, Keaten Wade, Jantzen Dunn, and Darrion Henry-Young. Coordinator Brad White played several depth defenders. Linebacker Martez Thrower registered five tackles. JQ Hardaway played better than in prior outings. For the most part, backups made the most of the opportunity. For me, this was a significant defensive takeaway from Saturday.  
Cornerback Maxwell Hairston was excellent. The defensive back led the team with seven stops including one for loss. The star of the unit, Trevin Wallace, starred. The linebacker recorded five tackles, two QB sacks, and two TFLs. Defensive lineman Deone Walker didn't light up the stat sheet but was frequently in the Akron backfield. He influences the game's outcome in many ways that cannot be numerically measured.  
But, let's not get ahead of ourselves. Akron's offense is not good. UK limited the Zips to just 239 total yards or 3.6 per snap. The visitors' ground game was nonexistent after accumulating just 49 yards off 25 carries. There were aggravating downs that led to extended drives. But, the scoreboard stayed clean of six-point additions. Let's get into goals vs. outcomes.  
40% or Lower on Third Down
Grade: GO 
Coordinator Brad White has expressed the importance he places on "points allowed" when pressed about statistical categories that impact a football game. That's quite obvious. The Cats entered the contest giving up 52% on third down. This was a 19% decrease from 2022. UK limited the Zips to 40% on third down (6-15).   
Defend Passes
Grade: GO  
A reminder, the "passes defended" number is derived from adding interceptions and pass breakups. The goal was four. The Cats had six. The secondary (CBs and Safety/Nickel) actually played its best game of the season.  
SPECIAL TEAMS 
Hands down, the third phase has been the most improved unit on the team. Expectation is a derivative of success. Hope for another dominant performance was desired. Punter Wilson Berry entered the night averaging over 50 yards per boot. That dropped to 41 vs. Akron. Punt returner Tayvion Robinson muffed a return which led to a turnover. Kicker Alex Raynor was a perfect 5-5 on PAT. Chance Poore is still a kickoff weapon. I thought the Cats could possibly add a return score, but that never occurred. The special teams weren't awful. Just not powerful. I had one simple goal: More of the same. That didn't happen.  
Index Finger to Palm
Grade: NO-GO 
This hand signal is universally known as a football reference to run the same play. A repeat performance from Ball State and EKU was preferred. That did not happen.  
OUTCOME  
Kentucky had three non-conference games to start the season. I honestly don't know what to think about this team. Frustration has been far too prevalent. This applies to both the offense and defense. Stars have not consistently starred. Execution has been unreliable at best.  
Expectations for this team were high entering the 2023 season. Sunny projections were not just from homers like me. National and regional talking heads loved the Cats in the preseason. Praises were dished out from the SEC Network, ESPN, and various other outlets across the southeast. If we're being honest, Kentucky has not lived up to that high billing. However, that's hard to say after studying the team's stat sheet.  
The Wildcat offense is averaging 35.7 points per game. The run game is averaging 5.6 yards per carry and 122 a game. The pass offense is throwing for 285 yards per outing including 9.0 yards per attempt, and 8 TDs compared to 3 INTs. Additionally, the offense is averaging 7.58 yards per snap and 407 yards per game. Those digits are impressive and paint a picture of a well-executing unit. But, my eyes and gut tell me differently.  
Defensive statistics are more impressive. UK is ranked 2nd in the SEC after giving up just 11.2 points per game. That number is good enough for 12th in the nation. 71 allowed yards on the ground also ranks second in the league and 14th nationally. The Cats give up a low 281 yards per contest and have registered 20 TFLs and an SEC 3rd-best 10 QB sacks. There's no way to analyze those stats and come away with any other description than domination. But, there have been aggravating yards and drives that were the product of a high third down conversion ratio.  
Competition has driven both offensive and defensive numbers as well. Things get real on Saturday when the Wildcats travel to Nashville to take on SEC foe Vanderbilt. The Commodores aren't exactly world-beaters but are much improved. This is no longer an automatic victory. And, if you'll remember, VU defeated Kentucky last season. The schedule includes all SEC opponents until finishing up at Louisville, who may be ranked at the end of the season.  
I was hoping for a feel-good beatdown of Akron on Saturday night. That would have eased my nerves prior to entering conference play. That didn't happen. This mainly applies to the offense. But, the numbers are screaming for us to calm down. I just can't. I trust my eyes and gut more than a computer-generated spreadsheet.   
I wrote "It's time" many times last week. These words referenced the Akron game and how I expected, or hoped, to see four quarters of complete, complementary football. That didn't happen. So, "It's time" now takes on a whole new meaning. It's now time that we find out just how good, or not good, this team actually is. Welcome to the SEC.  
Discuss This Article
Comments have moved.
Join the conversation and talk about this article and all things Kentucky Sports in the new KSR Message Board.
KSBoard