Kentucky vs. Northern Illinois By The Numbers, presented by Eckrich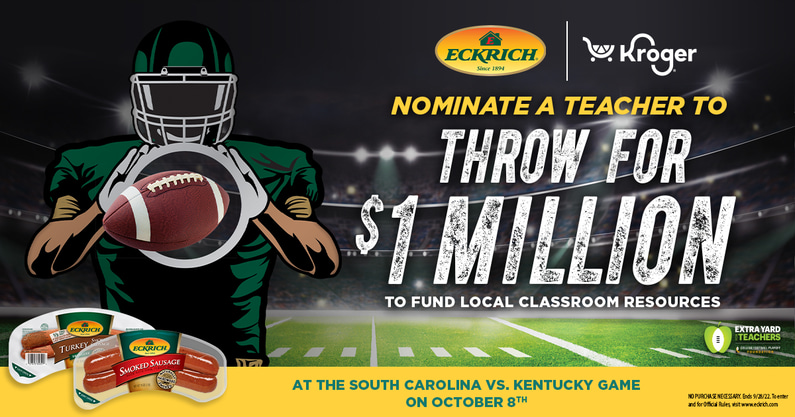 Before we get into all of the numbers in today's matchup between Kentucky and Northern Illinois, a message from Eckrich:
Eckrich is proud to present the $1 Million Challenge for Teachers! This 2022 college football season Eckrich, in partnership with Extra Yard for Teachers and Kroger, will invite a local teacher (and true hero) onto the field at the South Carolina vs Kentucky game on October 8th.
These lucky teachers, randomly selected from a list of nominations, will have a chance to throw a football through a target to win up to $1 million dollars in donations to fund local classroom projects. Nominate a teacher here for a chance to throw! Make sure to nominate your teacher by September 28th.
---
0 — Passing touchdowns allowed by the Kentucky defense. Alabama is the only other school that has not yet surrendered a passing touchdown.
3 — Times Kentucky opponents have entered the red zone in 2022. Only three schools have allowed fewer red zone appearances.
3 — Touchdowns in three games by Dane Key, tying the UK single-season freshman record.
6 — All-time wins by Northern Illinois over AP ranked teams. The last occurred in 2003 when NIU defeated No. 21 Alabama 19-16.
7 — Straight wins by Kentucky is the second-longest winning streak in college football, trailing only Clemson (9).
7 — Passes defended by Carrington Valentine, tied with five others for the most in FBS football.
8 — Seasons of college football played by NIU linebacker Kyle Pugh, a new NCAA record. He's a two-time All-MAC performer and is currently third on the team in tackles with 23.
9.7 — Yards per attempt by Will Levis, ranking No. 18 nationally.
10 — Penalties and four fumbles by Kentucky against Youngstown State.
17 — Wins over Power Five programs by Northern Illinois, most recently over Georgia Tech to kick off the 2021 season.
17.5% — Kentucky's third down defense ranked No. 3 in FBS.
18 — Straight non-conference wins by Kentucky, the longest active streak in college football.
24 — Unanswered points scored by Vanderbilt to erase a second half deficit and defeat Northern Illinois last week in DeKalb.
42 — Straight wins by Kentucky as 10-point favorites, the second-longest streak in the country.