Milestones to watch for in Kentucky vs. South Carolina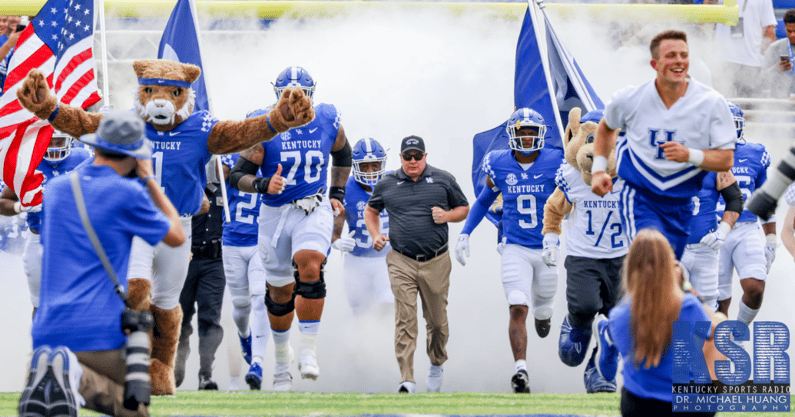 Now in his ninth season as Kentucky's head coach, Mark Stoops has passed several milestones. There are a few more on the horizon this weekend.
A win over South Carolina would be Stoops' 26th SEC victory, breaking Fran Curci's school record of 25. It would be Stoops' 53rd career victory at Kentucky, putting him just seven wins shy of tying Paul "Bear" Bryant's record of 60. A win would also move Kentucky to 2-0 in the SEC for the first time since 2018 and the second time since 1977.
Stoops already owns the Kentucky record for most games coached (102) and home wins (38). Believe it or not, he's the second-longest tenured coach in the SEC behind Alabama's Nick Saban and the 14th-longest tenured coach in the country.
If the Cats win, Stoops' record vs. South Carolina will improve to 7-2. His record vs. South Carolina, Missouri, and Vanderbilt — pivotal SEC East foes — will move to 19-7. (By the way, shoutout to the wonderful UK Athletics staff for compiling all of this information in the game notes.)
Other milestones to keep an eye on, in order of likelihood they happen this Saturday:
Junior running back Kavosiey Smoke has 982 career rushing yards, meaning he needs only 18 more to become the 41st player in Kentucky's 1,000-yard club.
Junior running back Chris Rodriguez's 1,739 career rushing yards rank 14th in school history. He needs 232 yards to move into the top 10.
Rodriguez has 20 career rushing touchdown and needs five more to tie for fourth in school history.
Go Cats.