Kentucky vs. South Carolina: National Media Predictions
What is the national media saying about Kentucky vs. South Carolina? Actual human beings are going with the Cats, while one computer ranking system, the ESPN Football Power Index, is going with the Gamecocks. Here's a rundown of predictions from across the interwebs.
ESPN Football Power Index: South Carolina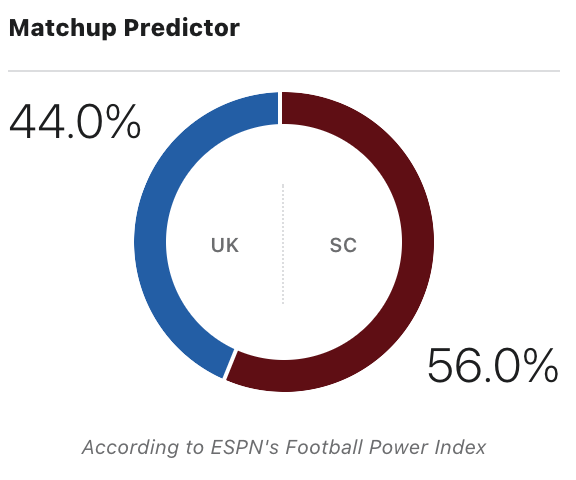 The Wildcats looked like they were sleepwalking against Chattanooga. That has to change in a night game at the always-wild Williams Brice Stadium. It will. Quarterback Will Levis will take advantage of a porous Gamecocks pass defense and post his second 300-plus yard passing performance in four games. That will open up the running game for Kentucky's talented running backs to rip off chunk plays in a double-digit win. Pick: Kentucky (-5.5)
Prediction: Kentucky 23, South Carolina 20

Money line: Kentucky (-205) is a little on the pricey side, costing more than two times your potential return, especially in what should be a very close game. AVOID.

Against the spread: SOUTH CAROLINA +4.5 (-115) is worth playing at home, especially catching more than a field goal. Yes, Kentucky -4.5 (-105) is unbeaten in three tries, and yes, it has beaten South Carolina in six of the past seven meetings. However, Kentucky has won the past two games by seven against Mizzou and just five against Chattanooga. And those games were at home. It remains to be seen how this young team will respond in its first road game.
Chris Hummer: Really like Kentucky with the points. I'm not entirely sold on the new-look Wildcats offense. But I do believe two things with this game: 1. Kentucky can run the ball against a Gamecocks defense that just allowed six yards per carry against Georgia. 2. I have a difficult time seeing South Carolina moving the ball consistently against a Kentucky team that ranks 13th nationally in yards allowed per play. … Kentucky 27, South Carolina 20.

Brad Crawford: Williams Brice Stadium, at night, is not where you want to be as a marked unbeaten such as Kentucky. But I'd be more inclined to pick South Carolina outright if offensive line play had been better over these first three games. I think Luke Doty will make this offense go, but I'm not at the point of trusting the Gamecocks in pass pro nor run blocking to pick the home team in this one. … Kentucky 31, South Carolina 24.
South Carolina couldn't do anything against Georgia – big deal.

This isn't that bad a team as it tries to find its footing under Shane Beamer. The defensive front has been good enough so far against the run, and it's going to make Kentucky throw.

Will Levis might not keep with his average of ten yards per throw, but the Gamecocks will hit enough downfield throws to overcome the turnovers and mistakes.

Kentucky 27, South Carolina 20

Stanford Steve & The Bear: Kentucky -5
Your turn. What's your prediction for tomorrow night?