Kentucky WBB: 3 Takeaways from Saturday's victory over La Salle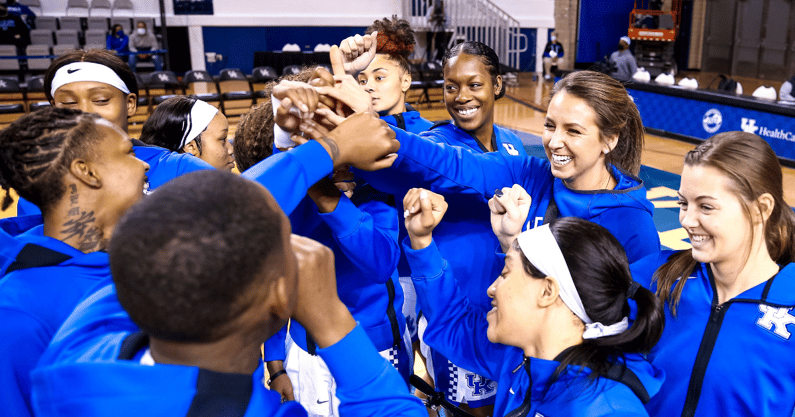 A satisfying victory wasn't the only thing Kentucky Women's Basketball fans gained on Saturday night. The No. 20 Wildcats (4-1) handily defeated La Salle (3-3) 74-52 to pick up their fourth win of the season. While the event was entertaining, it was even more informational. BBN left Memorial Coliseum with plenty of key takeaways about this year's squad; here were a few of ours.
Jada Walker is a spark plug
Simply put, Kentucky Women's Basketball is better with freshman Jada Walker on the floor. The standout guard seemingly improves each game. Last night was no exception.
Walker recorded 12 points and four assists. This contest was the fourth time this season Walker has scored double-figures. Although Walker is one of the team's main contributors, she still isn't a starter. This is an intentional decision. Walker is what hoop junkies would call a spark plug. Head coach Kyra Elzy has another name for her tenacious freshman.
"An energizer bunny," Elzy called Walker after Kentucky's victory over La Salle. "She is still trying to learn the intricate details of our offense and still scoring. Imagine when she understands what is going on, she is going to be real dangerous. She is a blessed kid to have and I am glad she is a Wildcat."
So is the BBN, Coach. Walker's constant defensive pressure fits into Elzy's system like a missing puzzle piece. Her threatening speed provides offense for the rest of the 'Cats. Yet, perhaps the most impressive part about Walker is how much respect she has from her veteran teammates. When the media asked 'Cats Robyn Benton and Rhyne Howard about Walker's early success, the duo was complimentary.
"I think [Walker is successful] because she's not scared of anything," Howard said.
"Jada is fast. She doesn't take any plays off, she goes really fast. I call her Speedy Gonzales. I'm telling you, it's go, go, go with Jada," Benton added.
Walker already has the utmost respect from her teammates. With the highest defensive rating on the team, she should have the admiration of all fans too.
Free throws are an issue
If there's been a glaring problem for Kentucky this season, it's been free throws. Through five games, the 'Cats are currently shooting 56% from the stripe. For reference, Kentucky's opponents have made 78% of their free throws. Not ideal for UK, to say the least.
So, what is going on with the 'Cats? While initially, fans may assume the issue comes back to a lack of emphasis from Elzy, the statistics don't reflect this belief. Last season, UK shot 72% from the foul line.
The problem doesn't fall on quantity, either. Kentucky is actually shooting one less free throw a game this year compared to the 2020-2021 season. In reality, the issue simply is a slump. A slump that the 'Cats aren't waiting to fix itself.
When asked if free throws have been a focus during practice, redshirt junior Dre'Una Edwards let the media sneak a peek into what a Kentucky practice looks like.
"We do pressure free throws all day. We shoot free throws in between every drill," Edwards said. "Even on the back end after practice you got to shoot 10, shoot 20, shoot 30."
Kentucky's practice is gradually beginning to pay off. Against La Salle, the 'Cats shot 14/21 (66%) from the foul line; a significant improvement from their season average.
With a matchup against No. 22 West Virginia just around the corner, Kentucky must continue to improve. The outcome of the ranked matchup may depend on it.
Kentucky WBB health update
As vital as Kentucky's on-court matters are, their off-court issues may be equally important. Kentucky has faced roster problems all season. On Oct. 8, Elzy dismissed sophomore Erin Toller from the team. On Oct. 30, Blair Green suffered a ruptured Achilles tendon. Just hours before UK's season-opener, Nyah Leveretter was sidelined from a non-COVID-related illness.
When the dust settled, Kentucky was left with eight healthy scholarship players on the roster. Although the team has managed to fight through the adversity, they certainly wouldn't be opposed to some good luck.
After seeing Leveretter warming up with the team last night, it appears the Wildcats' wishes may come true. Elzy spoke on Leveretter's potential return after the game.
"I'm excited. Nyah's been back in practice so that's always good," Elzy said. "Just having another fresh body — she can run the floor. She's a high-energy kid. We'll welcome her back with open arms."
Of course, it'd be uncharacteristic for Kentucky to get too lucky. With one minute left in the first half during Saturday's contest, a La Salle player accidentally hit starting forward Treasure Hunt in the face. Hunt immediately went out of the game and did not play the rest of the night.
Hunt seemed fine once on the bench, but Elzy isn't taking any chances.
"Our medical team will examine her and it will be day-to-day," Elzy said in the postgame press conference.
Hunt will only have three days to recover. Kentucky Women's Basketball faces No. 22 West Virginia on Dec. 1. The 'Cats will look to defend their undefeated record at home as the Mountaineers march into Lexington. The contest will be broadcast on SEC Network+ at 7:00 p.m.