Kentucky WBB announces tip times, TV designations for 2022-23 schedule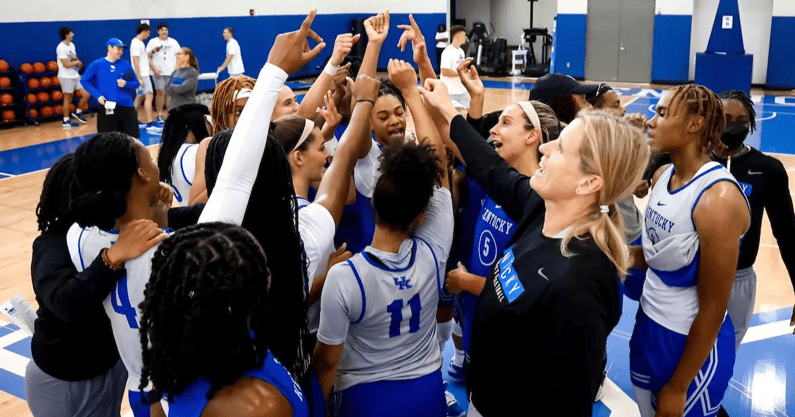 Kentucky women's basketball will hit national television 11 times this season.
On Wednesday morning, the program announced tipoff times and TV designations for the 2022-23 schedule. Kentucky will play one game on ESPN against in-state rival Louisville, which will take place at Rupp Arena on Dec. 11 at 1:00 PM EST, to go along with 10 games on the SEC Network, including the Wildcats' matchup against Murray State at Memorial Coliseum on Dec. 16 at 7:00 PM EST.
Seven of UK's nine conference games on the SEC Network will come on the road.
Some of the scheduling highlights include a road game against Minnesota in December — which could be the first-ever win for UK against the Golden Gophers — along with a home-and-home against the likely preseason No. 1 South Carolina. The matchup against Minnesota is the only game on the schedule without a tipoff time.
Kentucky will play both Louisville (Dec. 11) and LSU (Jan. 8) at the newly renovated Rupp Arena. Tickets for the matchup against UL go on sale Oct. 11. The season finale will come against the Tennessee Lady Volunteers — a likely top 25 preseason team — in Memorial Coliseum on Feb. 26.
Below is the entire 2022-23 Kentucky women's basketball schedule. Home games are listed in bold.
Kentucky WBB 2022-23 full schedule
Nov. 2 vs. Pikeville | 7:00 PM [EXHIBITION]
Nov. 7 vs. Radford | 7:00 PM
Nov. 11 vs. Morehead State | 6:00 PM
Nov. 13 vs. Coastal Carolina | 1:00 PM
Nov. 17 vs. Bellarmine | 7:00 PM
Nov. 21 vs.* Virginia Tech | 12:00 PM (Baha Mar Hoops Pink Flamingo Championship)
Nov. 23 vs.* Dayton | 4:30 PM (Baha Mar Hoops Pink Flamingo Championship)
Dec. 4 vs. UNC Greensboro | 1:00 PM
Dec. 7 @ Minnesota | TBA
Dec. 11 vs. Louisville | 1:00 PM, ESPN (@ Rupp Arena)
Dec. 16 vs. Murray State | 7:00 PM
Dec. 18 vs. Florida Gulf Coast | 1:00 PM
Dec. 21 vs. Ohio | 11:00 AM
Dec. 29 @ Missouri | 9:00 PM, SEC Network
Jan. 1 vs. Arkansas | 2:00 PM
Jan. 5 @ Georgia | 7:00 PM, SEC Network
Jan. 8 vs. LSU | 2:00 PM (@ Rupp Arena)
Jan. 12 vs. South Carolina | 7:00 PM
Jan. 15 @ Florida | 3:00 PM, SEC Network
Jan. 22 @ Mississippi State | 1:00 PM, SEC Network
Jan. 26 vs. Auburn | 7:00 PM
Jan. 29 vs. Missouri | 3:00 PM, SEC Network
Feb. 2 @ South Carolina | 7:00 PM, SEC Network
Feb. 9 vs. Alabama | 7:00 PM
Feb. 13 @ Ole Miss | 7:00 PM, SEC Network
Feb. 16 vs. Georgia | 7:00 PM
Feb. 19 @ Vanderbilt | 3:00 PM
Feb. 23 @ Texas A&M | 7:00 PM, SEC Network
Feb. 26 vs. Tennessee | 2:00 PM, SEC Network