Kentucky WBB Blue-White Scrimmage Final: Blue Team 77, White Team 42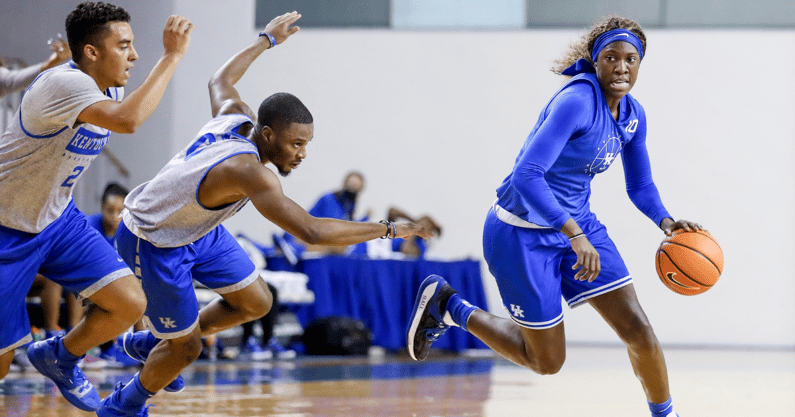 Ahead of the annual Women's Clinic, hosted by the one and only Ellen Calipari, the Kentucky Women's Basketball Team gave the Big Blue Nation a sneak peek at what's to come on the hardwood this season.
Head coach Kyra Elzy and her squad held a Blue-White Scrimmage at Memorial Coliseum on Sunday afternoon, playing four eight-minute quarters in what was our first real look at the 2021-22 version of Kentucky WBB.
It wasn't your traditional Blue-White event, though. Instead of splitting the team in half and having them go against each other, a second team made up of team managers, former players, and even an assistant coach suited up as the opponent.
The Blue Team consisted of the current roster while the White Team included former 'Cats Makayla Epps and Azia Bishop along with current assistant coach Amber Smith. Several team managers were also on the White Team.
Not surprisingly, the Blue Team dominated the affair, pulling out a convincing 77-42 victory over the White Team. Senior guard and SEC Player of the Year favorite, Rhyne Howard, led the Blue squad with 22 points, followed by Dre'Una Edwards with 20 and Blair Green with 15.
Blue-White Scrimmage details
Even though we didn't get to see the current players go head-to-head, the scrimmage still provided some noteworthy moments. We received confirmation that Rhyne Howard is still, in fact, very good at basketball. But we also got our first look at freshman Jada Walker, the order in which Elzy was rolling out her substitutions, the expected starting lineup, and much more.
We'll have plenty more coming to the site throughout the day with thoughts and notes from what went down.
Kentucky didn't appear to have sophomore Treasure Hunt available, as she did not play and was riding an exercise bike for most of the event. Add in the fact that Elzy did not decide to put in walk-on Kristen Crenshaw-Gill, and Kentucky was down to just nine scholarship players. This is our guess as to why Elzy kept all her players on one team.