Kentucky WBB finds confidence late in win over Auburn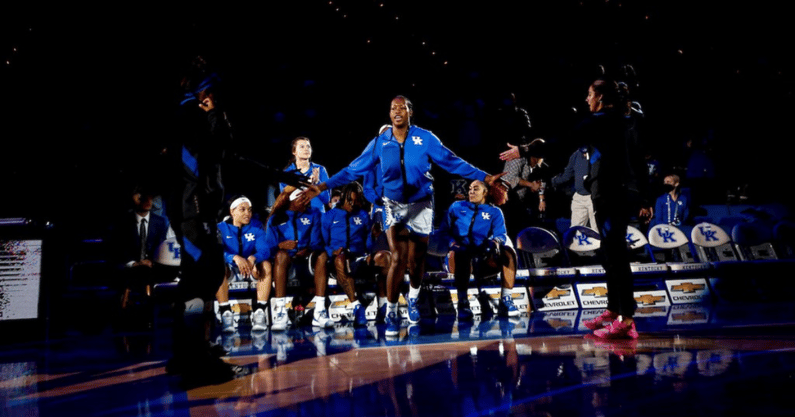 Basketball isn't a game of luck, but it is one of rhythm. On Tuesday night, Kentucky Women's Basketball rediscovered the beat of their drum.
Traveling on the road, the Wildcats broke a four-game losing streak by defeating the Auburn Tigers 67-55. In the contest, UK team shot 25-66 (38%) from the field and 7-21 (33%) from beyond the arc. Although the percentages aren't fantastic, they're an improvement from the team's recent shooting performances.
Kyra Elzy on contagious shooting
Second-year head coach Kyra Elzy attributes the team's offensive breakthrough to a shift in mindset.
"Shooting is mental. When someone steps up to hit some, it becomes contagious," Elzy said.
The team's hot hand spread like wildfire during the fourth quarter against Auburn. In the final frame, UK had four different players score. Moreover, the team shot 8-14 (58%) from the field and 4-6 (66%) from 3-point range.
Despite Kentucky's impressive period, the 'Cats still aren't shooting with the same efficiency as earlier this season. In fact, UK hasn't shot above 45% in a contest since Jan. 6 in their win over Georgia, a figure that was once expected from the 'Cats.
Rhyne Howard on Kentucky WBB's high spirits
So, why was Kentucky's mentality different in the final 10 minutes against Auburn? To start, the ball was in their most trusted player's hands.
"Getting into the fourth quarter, they're definitely gonna start looking for me to do a bit more," Kentucky star Rhyne Howard said postgame. "I stay ready, just stay poised for my team."
Howard's teammates were undoubtedly looking for her more in the fourth period. Howard put up seven shots in the frame, more than any other quarter of the game.
The results speak for themselves. While a nutty Howard performance never hurts Kentucky, neither do positive vibes. Howard spoke on how vital being in a winnable game was for Kentucky's spirit.
"It's huge. We're back to having a little bit of fun with the game, seeing as we work so hard. Losing gets tiring, and we were tired," Howard said.
Breaking a losing streaking streak wasn't the only thing special about UK's Tuesday night victory. The 'Cats pulled out the win without two key players, Dre'Una Edwards and Robyn Benton.
This game was Kentucky's third-straight contest without Edwards and their second game in a row without Benton. For the 'Cats, the win signified resilience.
"I'm super proud," Howard said during the postgame press conference. "I said like 'We can only control what we can control, so let's go out here and let's stay together.' They came out and worked for me like I asked them to."
With no definitive timeline for Edwards or Benton's returns, Kentucky must continue to ride their high spirits. The team will need them as they take on two more SEC opponents in the next five days, the first being Vanderbilt.
Kentucky Women's Basketball will face the Vanderbilt Commodores at 8 p.m. EST. The game will be broadcast on the SEC Network+.