Kentucky WBB "first team out" in ESPN's latest Bracketology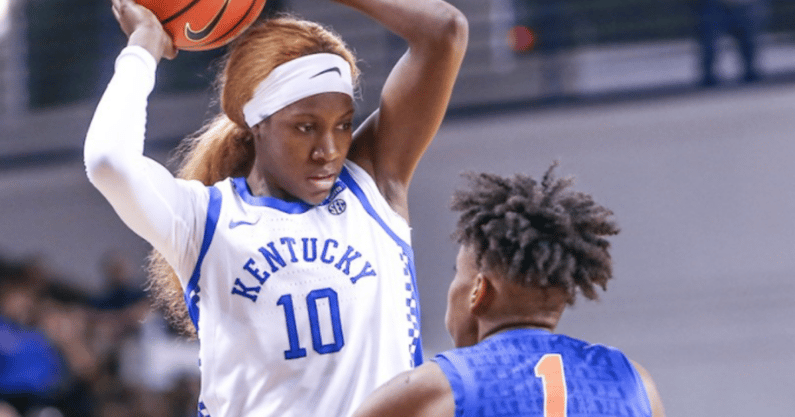 To put it nicely, Kentucky Women's Basketball is trending in the wrong direction. After the Wildcats suffered its most embarrassing loss of the Kyra Elzy era on Thursday night, the positive buzz around this team has all but vanished.
Kentucky was demolished at home on Thursday, falling to the unranked Florida Gators by 25 points, 77-52. It marks the third consecutive loss for the 'Cats, all of which have come by at least 20 points. As a result, Charlie Creme's latest ESPN Bracketology update isn't too kind to UK. He currently has Kentucky as the "first team out" of the 2022 NCAA Tournament.
Joining UK on the "first four out" line are Mississippi State, Marquette, and Arizona State.
It's tough to argue against Creme's placement of UK. The 'Cats are sitting on an 8-6 overall record, including a 1-3 mark in the SEC. Granted, Kentucky was able to knock off a ranked Georgia squad to open up league play, but a 20-point road loss to No. 1 South Carolina, a 26-point road loss to No. 5 Tennessee, and a 25-point home loss to unranked Florida have proven to be a demoralizing stretch of games.
Kentucky is just 1-4 against ranked opponents this season and also lost to a DePaul squad currently receiving votes in the polls. UK's best non-conference win of the season came against a now 8-7 West Virginia team that has dropped four of its previous five outings. The Wildcats resume simply doesn't look the part of an NCAA Tournament-caliber team right now.
That doesn't mean it can't change though. UK will have plenty of opportunities to get back into good standing. No. 11 LSU on the road and No. 1 South Carolina at home remain on the schedule. The first half of the intraconference slate of games isn't nearly as challenging as the back half, but the wins need to start piling up soon.
Kentucky will look to get back on track this Sunday against the Ole Miss Rebels (16-2, 4-1), which will be broadcast live from Rupp Arena at noon EST on the SEC Network.