Kentucky WBB gets comfortable at Big Blue Madness campout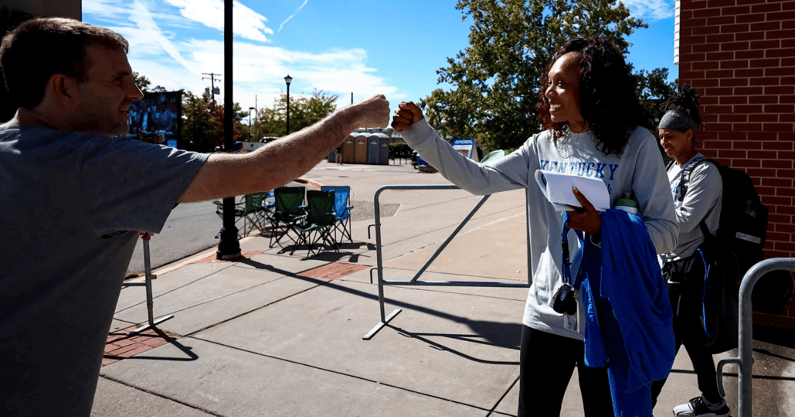 The Big Blue Madness campout is back, and the Kentucky women's basketball team is soaking up every second.
For the first time since 2019, UK held a campout for dedicated fans to win tickets to Big Blue Madness. At 5:00 a.m. on Saturday, fans anxiously waited to pitch their tents in Memorial Coliseum's front yard. Before long, over 100 tents lined Avenue of Champions.
Dishing out assists or service?
Of course, Kentucky women's basketball couldn't let their fans go hungry. The team surprised the courageous campers with a barrage of Chick-fil-A chicken biscuits. The treat was a much-needed morning boost.
The 'Cats catering was the most recent example of a long line of service this offseason. On September 11, the team headed to Eastern Kentucky to help out those affected by the flood. The Wildcats began their day handing out shoes at Letcher County Central High School and ended their trip by giving children books to those in need at Perry County Park.
Angie Hatton, a Kentucky state representative for the 94th district, thanked the team for their generosity.
"I just wanted to thank the UK ladies basketball team for coming up and doing this for our kids today. They have been so excited to meet the Lady 'Cats," Hatton said. "These ladies have been so wonderful, so humble, and so kind and so friendly and so sweet to these kids."
Kentucky WBB's busy Saturday
Endless compliments for an endlessly thoughtful team. The 'Cats didn't disappear on Saturday after delivering Chick-fil-A. Instead, the squad took a trip to the new Academy Sports + Outdoors on Nicholasville Road to meet fans, take photos, and sign autographs.
To cap off an excellent day, head coach Kyra Elzy, along with Maddie Scherr, Jada Walker, and Nyah Leveretter, headed back to the campout to greet BBN one more time. While the total number of fans never reached the heights of the past, those there were grateful for the visit.
Big Blue Madness tickets were distributed to campers at 9 a.m. on Sunday. Don't be surprised if Kentucky WBB is there to congratulate their blue-blooded fans. You can find tickets online through Ticketmaster.