Kentucky WBB gets ready for rematch with No. 1 South Carolina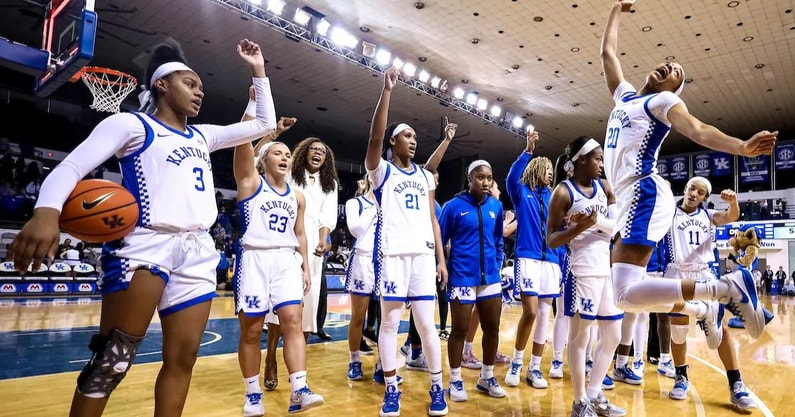 Kentucky women's basketball hung with the best team in the nation for three quarters the last time they played them. This time around, UK hopes to fight for just 10 minutes more.
On Thursday night, the 'Cats (10-11; 2-7 SEC) will reunite with the No. 1 South Carolina Gamecocks (21-0; 9-0 SEC) at 7 p.m. on SEC Network. In the two teams' first meeting this season, Kentucky went shot-for-shot with the Gamecocks before finally falling in the fourth quarter, ultimately losing 95-66 in Memorial Coliseum.
Nonetheless, Kentucky's hit new highs lately. The 'Cats played their best game yet on Sunday, defeating Missouri 77-54, a team they lost to by three points only 30 days before. Head coach Kyra Elzy's message after the win rings just as true when looking toward South Carolina.
"We are a better team today than the first time we played them. We are playing for so much more confidence offensively and have more of an identity," Elzy said after Sunday's win.
The Gamecocks have had their identity for a while now, and it seems to be working out for them.
What's going on with the Gamecocks?
Not much has changed for South Carolina since they defeated UK on Jan. 12. The Gamecocks are still undefeated, still the betting favorites to win it all and still have one of the best coaches of all time cooking up weekly gameplans.
While these headlines are consistent, the reliable players make it possible, and who's more reliable than Aliyah Boston? The 6-foot-5 center averages 12.9 points, 9.8 rebounds and two steals per game.
Boston was dominant against UK in the teams' last faceoff, dropping a team-high 21 points, 11 rebounds and four blocks while shooting 9-11 from the field. The All-American's partner-in-crime trailed just behind her.
Senior guard Zia Cooke put up 20 points on the 'Cats, carving up Kentucky like a five-star chef. The high-scoring night wasn't a surprise. Cooke leads the team in scoring, averaging 15.4 points per contest while connecting on 38% of her attempts from deep.
Boston and Cooke are South Carolina's double-edged sword, but the rest of the roster is equally dangerous. Standing at 6-foot-7, Kamilla Cardoso grabs 8.4 boards per outing, sophomore forward Sania Feagan shoots a team-high 61.9% from the field and Laeticia Amihere is another 6-foot-4 powerhouse.
Despite the team's top talent, legendary head coach Dawn Staley did not believe her squad played to their potential against Kentucky.
"We wanted to take Kentucky's best punch to see how we would respond to it. Obviously, we had a group in there that usually does a lot better than what they were performing at today."
Keys for Kentucky WBB
Clearly, Kentucky's "best punch" wasn't a knockout. This time it has to be.
It's not an impossible task. With just over five minutes left in the second quarter of Kentucky's loss to South Carolina, the 'Cats were comfortably ahead 31-21. The team held a four-point lead going into halftime.
Kentucky's successful 20 minutes weren't a miracle. They were a direct result of Maddie Scherr and Jada Walker. Kentucky's two starting guards combined for 28 first-half points. No other 'Cat recorded more than two points through the first two quarters.
UK needs its guards to hit another home run on Thursday night and, more importantly, the guards need to believe they can. Scherr discussed the team's mental after their loss to the Gamecocks on Jan. 12.
"It was just our mindset going into the game. Obviously, no one had us picked to win that game. We had nothing to lose and everything to gain. We went out there and executed really well. We were hitting shots and more importantly we were getting stops on the other end," Scherr said following the loss.
The Oregon transfer was just as quick to point to the team's shortcomings later in the game.
"We just let them get too comfortable down low. I think definitely late in the fourth quarter for sure," Scherr said. "We wanted to win and we knew we could win. Unfortunately, they're a great team and capitalized too much on our mistakes." 
With UK's recently improved post play, there's a chance it could clean up any mess left from last time. In Kentucky's win over Missouri, Nyah Leveretter recorded eight points and six rebounds while shooting 3-5 from the field. Off the bench, Adebola Adeyeye contributed six points and three boards, as well.
No matter what improvements Kentucky makes, a win won't be easy. While the 'Cats hunt for hope, the Gamecocks seek vengeance. UK will tip-off against undefeated South Carolina at 7 p.m. in Colonial Life Arena. The game will be broadcast on the SEC Network.