Kentucky Wesleyan looking to give Kentucky its "best shot" at Rupp Arena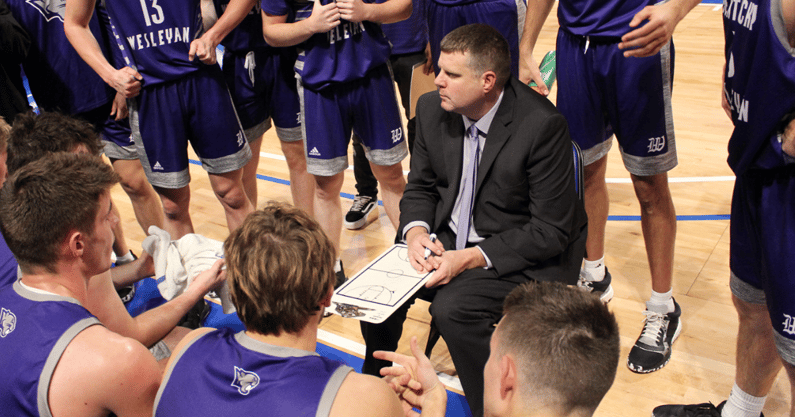 It's been 17 years since the Kentucky Wesleyan Panthers traveled to Rupp Arena to take on the Kentucky Wildcats. 2004 was the year, with the two sides meeting up for an exhibition game on November 9. UK came away victorious, beating KWC by a final score of 79-54.
This time around, the Panthers hope to put up its best fight in a matchup of two historic programs within their respective divisions. Kentucky has won eight national titles, but Kentucky Wesleyan has won eight titles itself at the Division II level, as well.
"Our community is very excited about this."
An October exhibition game may not mean much in the grand scheme of things to the average Kentucky fan, but it's an important matchup for the city of Owensboro and Panther fans who "bleed purple."
"It's been a long time, about 20 years now," KWC head coach Drew Cooper told KSR on Monday. "It's great for Owensboro, it's a great pocket in Western Kentucky that loves basketball. Just a great sports town, and when I approached UK about this game, that's one of the things I said.
"There are a lot of people around here that bleed purple — Kentucky Wesleyan and Kentucky Wesleyan basketball — and so many folks in Owensboro that love UK basketball. Our community is very excited about this."
Past success stories a part of preparation
On paper, the matchup is one that heavily favors Kentucky and the high-profile talent lining its roster. Kentucky Wesleyan is well aware of the tall task at hand.
At the same time, though, upset victories over high-major programs aren't as rare as you'd think. Just this past Sunday, East Central University led Arkansas by 14 points with 11 minutes to go in an exhibition matchup. The Razorbacks had to pull off a 20-4 run down the stretch to pull off the 77-74 victory at Bud Walton Arena.
Back in 2010, Cooper was the assistant coach at Bellarmine when the Knights shocked Xavier in the Musketeers' final exhibition game by a final score of 63-61.
And we all remember Kentucky's historic home loss to Evansville in 2019.
Cooper is using past stories of major Division I upsets as motivation for his team going into KWC's trip to Lexington on Friday.
"There are times in that 40 minutes — and you hope to minimize those times — where the superior length, athleticism and bounciness that UK is going to be overwhelming," Cooper told KSR. "You want to make sure your guys hear stories of some successful experiences that colleges like Kentucky Wesleyan have had against the University of Kentucky. Just (Sunday), East Central University in Oklahoma almost beat Arkansas. It was a three-point game and Arkansas slid past. Bellarmine in the 2010-11 season, they beat Xavier.
"There are all types of examples this time of year where Division I universities can struggle. You can get them on a sloppy night."
Giving Kentucky its best shot
Come out with a losing mindset, and things could get ugly in a hurry.
"If you get out there and you're in our shoes, you don't shoot the ball well, they've got some guys that go off — they've got enough firepower to do that — it can be a long 40 minutes," he added.
The odds may be stacked against the Panthers on Friday, but they don't plan on going down without a fight. They're anticipating success when they take the floor at Rupp Arena.
"There are examples you can use to tee your guys up with some enthusiasm and expectations for success," Cooper told KSR. "We're going to go out there and give our best shot."
A team built like Kentucky (at the D2 level, of course)
What should Kentucky fans expect from Kentucky Wesleyan on Friday? Well, a roster built like the one John Calipari created this offseason, for starters. With a strong combination of incoming talent and returning standouts, Cooper believes this is the best team he has had since he arrived in 2018.
"We've gotten better every year," Cooper told KSR. "Last year we were the third-best team in our conference. On paper, this is the best team we've had in the four years I've been here. We have tremendous returners. … We have a very nice balance of — similar to UK — returners that made an impact in the past and newcomers that are expected to make an impact.
"We're enthusiastic. We're an athletic, quick team for our level. Our preseason rankings haven't come out yet, but I'm very excited about getting this thing rolling."