Kentucky should feel good about wide receiver heading into 2022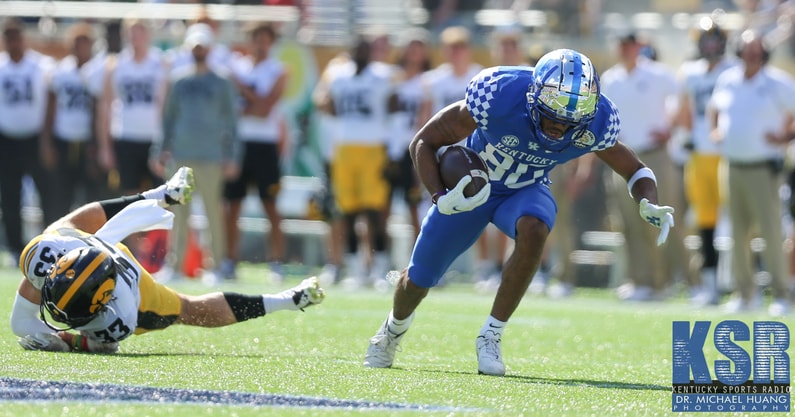 After buzz built over the weekend, Pittsburgh star Jordan Addison entered the transfer portal and there was a report that Kentucky could become a major player in this recruitment due to recent contact with Addison.
KSR's Matt Jones reported on Wednesday that will not be the case. Last year's Biletnikoff Award winner will be headed somewhere else with Alabama, Texas, and USC emerging as the most likely options.
At Kentucky, new offensive coordinator Rich Scangarello is entering his first season in charge of the offense, and the Wildcats will be entering the year with 11 scholarship wideouts. Thanks to some quick recruiting work, Kentucky has turned over this position, and the unit has a chance to be a program strength this fall.
When taking a closer look at personnel, one thing that is needed for a Kyle Shanahan/Sean McVay offense to succeed is a dependable slot receiver who can handle heavy volume within a passing game. Wan'Dale Robinson served in that role last season, and Tayvion Robinson should be ready to step into that role this year.
The former top-500 recruit in the class of 2019 caught over 100 balls in three years at Virginia Tech and was an instant fit for the offense in the spring. Robinson will enter the year as the No. 1 target.
On the outside, Kentucky also went into the transfer portal for help. Javon Baker spent two seasons at Alabama and had a hard time cracking the rotation as offensive coordinator Bill O'Brien took over in 2021. The Atlanta native left after two seasons and picked Kentucky over Florida and Ole Miss. The X receiver will bring a combination of size and speed to the offense and is expected to have a heavy role. The Wildcats simply have not had a player with Baker's athletic profile to play outside the numbers in quite some time.
However, more help is needed. Baker will remain a question mark until we see live game action. Building depth was essential for the offense this spring and Kentucky found some of that in a big recruiting win and veteran development.
Hometown product Dane Key was perhaps the biggest surprise during the spring as the four-star recruit emerged as a legit outside target that can help the Wildcats this season. The Lexington (Ky.) Frederick Douglass standout appears to be a guy who could potentially help at both X and Z this season.
While some other older players transferred out of the program, DeMarcus Harris is back for year four. The redshirt junior started seven games in 2020 before seeing a diminished role last season. Harris still found his way into the rotation logging just under 300 snaps. With 26 career receptions, Harris gives the offense another solid option, and Will Levis likes what he's seen from the veteran.
"I think DeMarcus Harris has done a great job developing and realizing he has an opportunity to be in a much bigger role this year," Levis told Kentucky Roll Call about the wide receiver. "He's worked his tail off and has been someone that I can really trust to throw the ball to and believe he's going to catch the ball and make things happen."
Elsewhere, true freshman Barion Brown is expected to play some role in the offense as a former top-100 recruit. Both Jordan Anthony and Dekel Crowdus have long speed to serve as vertical threats. All of a sudden, Kentucky has a plethora of options at wide receiver.
As teams throughout college football make final additions to their roster from the transfer portal, Kentucky should feel just fine about what the offense has on the perimeter. The pieces are there for a potential first-round talent at quarterback to have a big season throwing to a capable wide receiver group with depth and a variety of skill sets.