Best Wide Receiver group in Kentucky history? Responding to Cole Cubelic's claim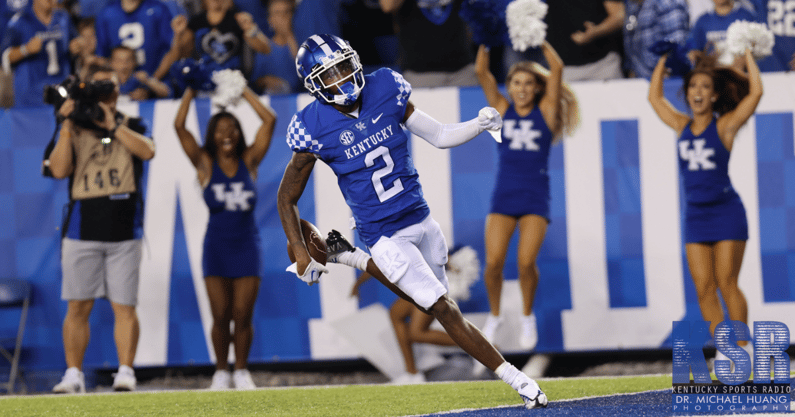 I've been praising the Cole Cubelic for years now. I think he is the best and brightest of all the talking heads that the SEC or any other network puts in front of the camera. But, my man's comments about the Cats' pass catchers caught my attention. They also sent me deep into reflection and a trip back in UK history. The former Auburn center turned media mogul is extremely bullish on the current Kentucky receiver room. He recently said: 
"Kentucky has the best receiver group they've had in the history of Kentucky football right now. There have been other great individual receivers, maybe one or two. They have three, maybe four that are as good or better than they've ever had."
Nick Roush texted me afterward and asked my take on Cole's take and if I'd write about it. My initial thoughts were, no freaking way Cole said that. That's deep for an outsider to proclaim. I mean, Dane Key and Barion Brown are both incredibly talented, but who are the third and fourth pass catchers that were referenced? Am I missing something? 
Then, the phrase, "History of Kentucky Football" hit me between the eyes. "History" is a long, long time. Similar discussions have been demonstrated to be unprovable disputes that I've waged on various players and positions throughout the years. Is Cole right? Is he wrong? Is my friend jumping to conclusions? My answer is, yes. 
I have to say that it's extremely demanding to analyze and compare receivers from different eras. For example, are the Hal Mumme pass catchers better than those that played under Jerry Claiborne or Fran Curci? Those two groups existed in vast differentiation in both scheme, intent, and purpose. Do more catches automatically mean a better player? Perhaps. Maybe some were in the right place at the right time sorta thing. 
Fair or not, receivers are ultimately evaluated on their number of catches, yards, and touchdowns. I've never heard of a wide receiver measured on their number of career knockdown blocks. So, I keep coming back to the phrase, "History of Kentucky Football." And, I keep coming back to that's a very, very long time and a lot of seasons.  
Could Joker Phillips and Cornell Burbage be as good as other historical pass-catching tandems if Mike Leach was calling the plays in the 1980s instead of Jerry Eisman? Not sure, but probably yes. Is Stevie Johnson and Keenan Burton better than Dane Key and Barion Brown? Where does Craig Yeast factor in all this? So many questions, and so few verifiable answers. 
Kentucky has enjoyed a diverse and fruitful collection of individual receivers throughout history. But, rarely have they been paired with another a similarly talented counterpart. Randall Cobb, Craig Yeast, Tom Hutchinson, and Wan'Dale Robinson are all-timers. Lynn Bowden Jr., Keenan Burton, Derrick Abney, Felix Wilson, Phil Logan, and others could be mentioned in the same discussion. Remember Juice Johnson? Bowden Jr. and Cobb also played quarterback. The paths that can be taken are immense. 
What makes this year's receiver group exclusively special is that Dane Key and Barion Brown are both going to be true sophomores and Liam Coen is manning the call sheet. The most noticeable jump in production and efficacy for any position group normally takes place between year one to year two. I fully expect that to happen and don't foresee a sophomore slump for either. However, they will need support from teammates in order to prevent defenses from rolling coverages in an attempt to slow down the dynamic duo. 
Rookies Brown and Key were pretty darn special with Rich Scangarello calling the plays in a season that featured a struggling offensive line trying to protect a beat-up quarterback. Imagine Key and Brown, both a year older, with rebuilt Big Blue Wall, a healthy quarterback in Devin Leary, and Coen with the joystick? Could be scary. I'm confident in those Brown and Key. But others, not so much. Not yet. We'll get to that in a minute. 
Sign up for the KSR Newsletter to get breaking news and daily headlines delivered directly to your inbox.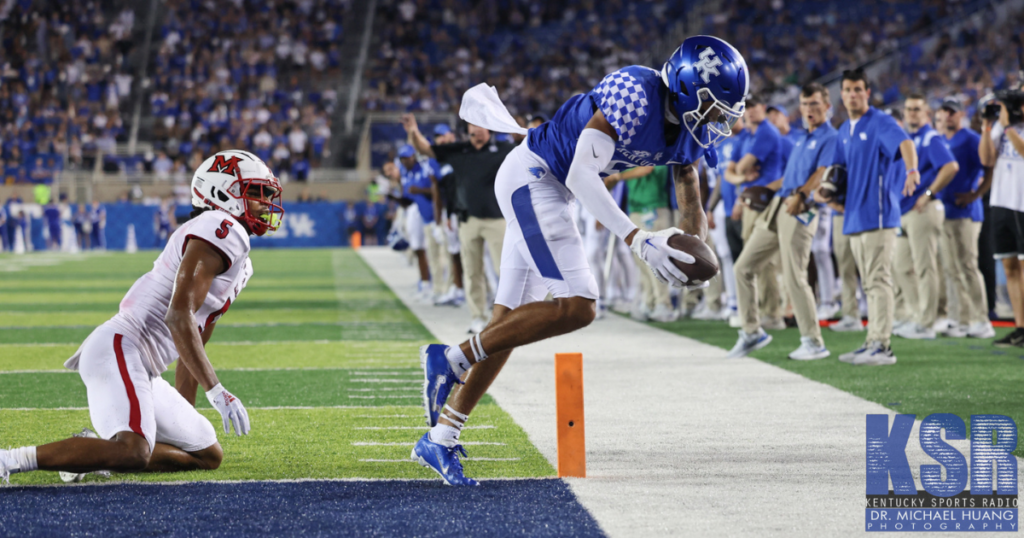 I Agree with Cole About Dane and Barion
I absolutely concur with Cole about two of the four pass catchers he referenced. Kentucky has a couple of absolute dudes in sophomores Dane Key and Barion Brown. Key finished the season with 37 catches for 519 yards, and 6 TD receptions. His six touchdown receptions were good enough to be tops in program history. Ryan Lemond's favorite player came out of the gate strong by grabbing a touchdown pass in each of his first three games. I kept waiting on him to smash head-first into the proverbial freshman wall. He didn't. Key comes from a football family. His dad Donte was a teammate of mine and has been a longtime coach. Dane's brother Devin is an NFL player. He was prepared for the freshman tribulations. 
Barion Brown gave the Big Blue Nation one of the most remarkable rookie seasons ever seen in Lexington. He grabbed 50 passes for 628 yards, and 5 scores, one of which was a 100-yard kickoff return for six points. Brown was named SEC Co-Freshman of the Week on two occasions and also split the league's top honors for a special teamer once. He was rewarded for his efforts by being named to multiple Freshman All-American honors following the season. Brown is one of the most exciting players to ever call Lexington home. 
Together, Brown and Key presented schematic and personnel complications for opposing defensive coordinators. Key is the more traditional "X" receiver but can also effectively align and operate out of the slot. Brown is similar but is at his best when running inside and deep over routes. Both can win in the vertical game and are somewhat interchangeable. 
IF Cole had stopped with describing Key and Brown as being the best one-two receiver punch in program history, I would have agreed on the spot. No debate or argument here. But, he mentioned a third and fourth option. That's where we differ, as of now. But, that could change. 
I Gotta See the Third and Fourth Options for a Twelve Games 
The third starter Cole referenced is presumably Tayvion Robinson. The veteran came to Lexington via Virginia Tech. He opened his UK career with a 6-catch, 147-yard, 2-touchdown performance against Miami. Robinson went on to catch 40 passes for 297 yards and 3 scores for his lone season as a Wildcat. Early year Robinson was good. Later-season Robinson, not so much. 
Instead of Key and Brown hitting the freshman wall, the redshirt junior appeared to have slammed into it. His production and presence on the field and sideline slowly diminished down the stretch. The slot receiver recorded just 16 receptions and 121 yards and a touchdown against SEC defenders. He took responsibility for the mysterious, late-season disappearance. Robinson appears to be fully engaged with new coordinator Liam Coen and quarterback Devin Leary: 
Tayvion Robinson said earlier this year: 
"Obviously, with the switch with the coordinators and then the rocky season, the thing I learned about by myself is when situations don't go the way they're supposed to, it doesn't give you the excuse to not give your full effort to your guys. I lacked in that area in some aspects and in some games.

"So right now, I'm just trying to revamp my image from last year and kind of wrap that season in the rug. New season, new coordinator, some new guys we're playing with and just being team first all the time."
The redshirt senior said the right things. A fresh start could be exactly what he needs in order to return to 2022 early-season form. But, I'm going to need to see it for 12 or 13 games. Nothing against him. For all intents and purposes, he's a super kid. I commend him for his postseason remarks during which he held himself accountable. But remember: it's not personal, it's personnel. I still got to see it. 
I assume the fourth pass catcher is Dekel Crowdus. The speedy Frederick Douglass slot receiver flashed at times last season including a 50-yard catch against Mississippi State. Crowdus is a name we've heard about for two years now. Injuries slowed his freshman season. He never seemed to solidify a consistent spot in the rotation in 2022. Season three feels like it's make-or-break for the 5'10, 175-pound sophomore. The coaches and team are counting on Crowdus to be as good as advertised both on and off the field. In all, he simply needs to be a playmaker. Do I think he can? Yes, absolutely; but again, I gotta see it for 12 or 13 games. A season can be a long period of time. 
Two rookies may also be involved in the rotation. Anthony Brown and Shamar Porter are names that keep surfacing when projecting the 2023 two-deep. Earning quality snaps may be difficult. But, if they do get on the field on a consistent basis, they've got enormous shoes to fill from Key and Brown's rookie performances. 
I'm High on the Receivers' Supporting Cast 
Jordan Dingle, Josh Kattus, Brenden Bates, and Izayah Cummings construct a formidable tight end group that can assist the receivers in beating opposing defenses and drawing away coverage. Coen prefers using multiple TE formations. This could eat into WR reps depending on personnel groupings. Most times when the Cats go with two tight ends, a receiver exits the game. This may diminish the catch total for the group as a whole or a specific individual that's yet to be determined. 
Additionally, quarterback Devin Leary is the real deal. The more film I watch, the more I appreciate his game. I realize that a major deal has been made about his transfer to Kentucky. Leary, if he remains healthy, could be one of the better QBs in the conference and has a chance to be special under Coen's tutelage. Will Levis battled injuries and dodged would-be sackers last season. The offense's main objective in 2023 is to keep Leary upright and healthy so he can throw the football to the skilled pass catchers. 
If Not the Now, Who's the Best? 
Stevie Johnson, Keenan Burton, Dicky Lyons Jr., and Jacob Tamme were quite a group of playmakers that's tough to top. Quarterback Andre Woodson had a bunch of options with those Cats on the field. Can this year's version be better? Is this group better? I don't see a TE that matches up to Tamme yet. That may happen, but Jacob went on to a long NFL career and is one of the best in school history. Lyons was a battler. He'd block, catch, run, and talk like a lion. Stevie Johnson was a serious player with NFL ability. Keenan Burton is a Hall of Famer. Again, tough to top. 
What Does All This Mean? Do I Agree or Disagree with Cole? 
Yes. No. Almost. Potentially. Heck, I don't know. I'll try to explain. 
Dane Key and Barion Brown are the most talented combo that I've seen at Kentucky. And, they're only sophomores. I'm confident that those two will continue to flourish. While their supporting cast of receivers is capable, I need to see more from that group for an entire season before I proclaim the collective the best ever. 
IF Tayvion Robinson, Dekel Crowdus, a rookie or two, and the TE collective can put together a strong, 12 or 13-game stretch, then I can see Cole's assessment becoming gospel. Again I'm a huge Cole Cubelic fan. He's the best in the business and extremely well-researched and knowledgeable. Cole's takes are well thought out and normally spot on. I think for now we can table this argument until December when we are all saying that Cole was right. That's the best retort I have.