Kentucky Wildcats are Excited for Return of Chris Rodriguez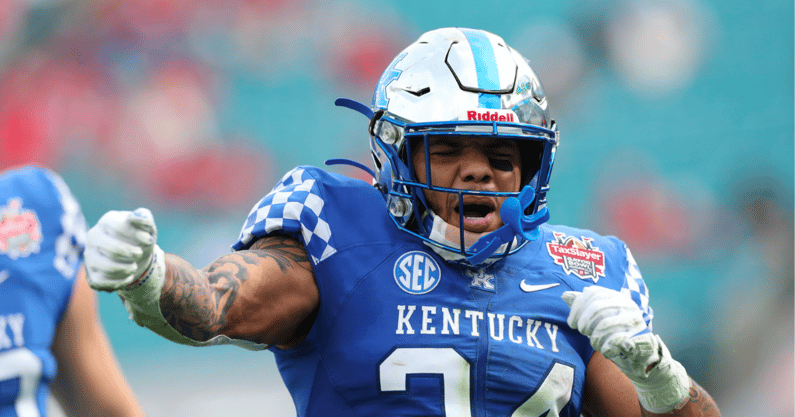 Chris Rodriguez is officially back.
One of the greatest running backs to ever suit up for Kentucky was sidelined for the first four games of the 2022 season. He'll put on No. 24 next Saturday in a Top 25 matchup between Kentucky and Ole Miss.
"He'll help in a lot of ways," Mark Stoops said after Kentucky's 31-23 victory over Northern Illinois. "We all know he's a very good football player in a lot of ways and we'll be excited to get him back."
Chris Rodriguez is currently No. 6 on UK's all-time rushing list with 2,739 yards. He can surpass Benny Snell's career rushing record if he averages more than 126 yards over the Wildcats' final nine games. Under normal circumstances, that might be doable. After all, he did have nine games with more than 100+ yards in 2021. However, the Kentucky rushing attack has not looked the same without C-Rod. Kentucky has netted just 326 yards on the ground (2.4 ypc.) through the first four games.
"I'm so excited. He's so excited to get back. He's been getting all of the mental reps and he understands the offense at a high level," Will Levis said Saturday night. "He makes those players where you're kind of like, 'How did he turn that 1-yard run into a 10-yard run?' There's not that many guys that can do that. We got such a deep running back room. It's going to be great to continue to get those other guys the ball as well, but I know Chris is excited to get back and we're excited to have him back."
The last time we saw Chris Rodriguez in a Kentucky uniform, he turned a busted play and a tackle for loss into a go-ahead touchdown in the Citrus Bowl. DeAndre Square has seen Rodriguez more recently. The veterans were workout partners over the summer. The UK linebacker is ready for the Wildcats to unleash Rodriguez.
"I'm pretty happy. I'm excited to see him play. He's been ready since game one," Square said. "He was my workout partner during summer and just the days and the nights we were working together, I'm excited to see him get his chance. Unfortunately, things happen but he stayed the course. He was there every practice. He never moped, he never frowned, just worked hard and I'm just really excited to see what he can do."