Kentucky will have to pay up to keep Mark Stoops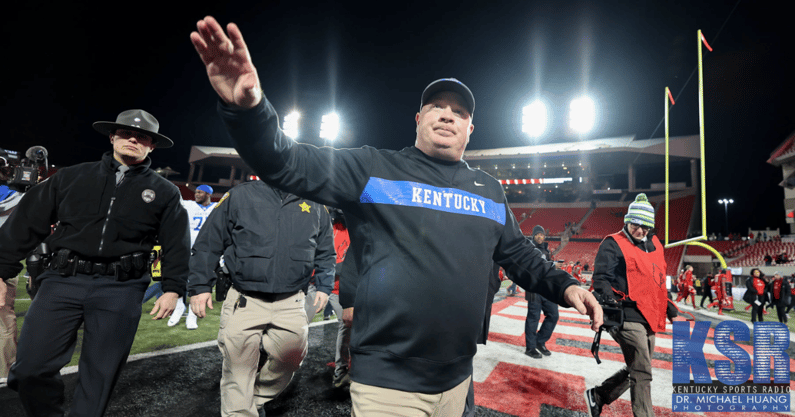 Kentucky is about to enter a crossroads with Mark Stoops if it isn't careful.
The Wildcats head football coach has brought the program up from the cellars of mediocrity to a highly competent team consistently fighting its way into the national rankings with bowl game victories to boot. He's now just two wins away from tying Bear Bryant for the most in program history. And with this success comes the desire for others to steal Stoops away.
The Big Blue Nation doesn't have to worry about Florida securing Stoops of his services, as the Gators went out and hired Louisiana head coach Billy Napier on Sunday. LSU is still an option after Lincoln Riley surprisingly bolted for the Southern California gig. But it's the place that Riley left that could prompt Stoops to listen a little closer.
The Oklahoma Sooners are now down a head coach as Riley moves west. In a somewhat heartfelt move, OU decided to bring back a familiar face to close out the season as interim head coach: older brother of Mark, Bob Stoops. Bob went 190-48 during 18 seasons with the Sooners (1999-2016), winning a national title in 2000 and 10 total Big 12 conference titles. The elder Stoops was, according to The Athletic, in the meeting when Riley told the team he was leaving for USC. Bob Stoops remains heavily involved in the OU program and could be just as involved in the next coaching hire, where his baby brother would surely be of interest.
The appeal of Oklahoma for Mark Stoops isn't tough to see either, family connections withstanding. It's an established program that is constantly among the top in the nation. Recruiting to Oklahoma would be easier than to Kentucky. The Sooners would be able to offer him a blank check.
But then again, Stoops has laid a terrific base over nine years that could have him set for life in Lexington. There is less pressure. He's shown he can recruit at a high level despite lacking the sparkle of an Alabama or Ohio State. Athletic Director Mitch Barnhart would be a fool to not offer a blank check of his own to Stoops. Oklahoma is about to jump into the SEC in a couple of years, so the intraconference challenges wouldn't be any different than they already are.
We have no knowledge of whether or not Stoops would even consider the Oklahoma job. After the Wildcats' 52-21 win over Louisville on Saturday night, he said he has every intention of staying at Kentucky.
In the end, keeping Stoops could be as simple as giving the most successful Wildcat head coach in 50 years what he believes is necessary for UK to take the next leap.
According to KSR's Matt Jones, a source indicated that Stoops met with Barnhart during the week to discuss significant changes that need to happen: namely a new indoor practice facility and more money for recruiting.
None of this should be of surprise to Barnhart, either. This is what comes with building a program into national prominence.
These are the moves that Kentucky has to make if it intends to keep Stoops around for another nine years (and hopefully more). The longer he continues to find success in Lexington, the more often other programs will try to poach him away. Barnhart will have to invest a sizable chunk of money to ensure Stoops sticks around. His current $5 million per year salary would likely need to hit the $8-9 million range to prevent someone else from snagging him.
Stoops also said after the win over UL that he plans to jump right back onto the recruiting trail. That, mixed with his conversation with Barnhart, would indicate that he's more than open to staying in Lexington.
However, Kentucky should get ahead of the noise and fork over a raise to Stoops before it gets too late.