Kentucky will likely play Gonzaga at Spokane Arena, per report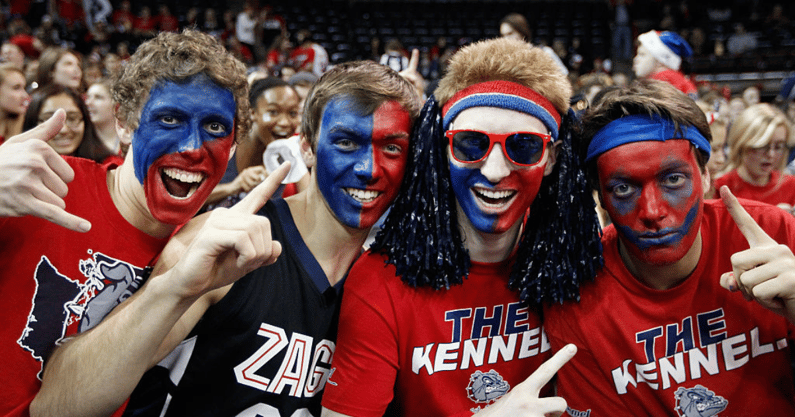 Last night, John Calipari and Mark Few announced a new home-and-home series between Kentucky and Gonzaga. Turns out it might not technically be a home-and-home after all. Jeff Goodman is reporting that this year's game on November 20 will likely take place at Spokane Arena instead of Gonzaga's McCarthey Athletic Center, aka The Kennel. The capacity of Spokane Arena is 12,210 for basketball games, over twice that of The Kennel, which seats 6,000.
Earlier today, Gary Parrish said he was hearing the site of the game "technically remains undetermined," and that Few wants Calipari to bring the Cats to the Kennel, but that Cal is resistant. Parrish, who used to cover Memphis basketball, pointed out that the same situation occurred when Memphis and Gonzaga played back when Calipari was still the Tigers' head coach.
Memphis and Gonzaga played four times before Calipari left for Kentucky — twice in Memphis, twice in Spokane. But both games in Spokane were played off campus at the downtown Spokane Arena, which is not Gonzaga's home arena. Obviously, Few wanted those games at The Kennel. Calipari wouldn't play there, however, and his rationalization against doing so was hilarious. He more or less argued, behind the scenes, that Memphis shouldn't have to play on Gonzaga's campus because Gonzaga didn't have to play on Memphis' campus — never mind that Memphis … DOES NOT HAVE AN ON-CAMPUS ARENA.

The Tigers' home arena is FedExForum in downtown Memphis.

The Zags' home arena is The Kennel on campus.

In a perfect and fair world, if Gonzaga was going to play in Memphis' home arena, Memphis should also be willing to return the favor. But Calipari kept insisting all games should be in downtown Memphis and downtown Spokane. Eventually, Few said … whatever. So the Memphis-Gonzaga series alternated between FedExForum and Spokane Arena as Calipari never took his team to The Kennel. His Tigers went 4-0 against Gonzaga in that stretch. Those two facts are possibly, if not likely, related.
If you go back to the tape, it is worth noting that while Mark Few agreed to bring Gonzaga to "Rupp Arena" in 2023, Calipari only referred to "Spokane" when speaking of the Cats' trip to Gonzaga in November.
Is it disappointing that this won't be a true home-and-home? To this fan, yes. Seeing the Cats play in a unique venue like The Kennel would be very cool and fun for college basketball. However, simply the fact that the two teams are playing is exciting enough for me. Hopefully, the additional seating means more Blue gets in.