Kentucky will redshirt most of its freshman football class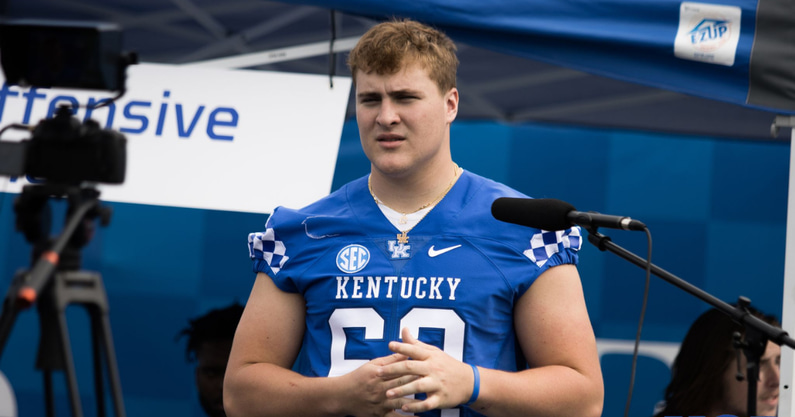 The Kentucky football team is getting older despite losing more than two dozen seniors. If Mark Stoops plays his cards correctly, the Wildcats will redshirt almost the entire freshman class.
In college football, players can participate in up to four games and still retain one year of eligibility. Entering the New Mexico State game Trevin Wallace, Martez Thrower and Chauncey Magwood are the only true freshman that have burned their redshirts. The slot receiver from Leesburg, Ga. has appeared in all ten games and caught his first pass, a 17-yard reception, in the loss to Tennessee. Thrower has five tackles in seven games. Wallace has 24 tackles (including a career-high 12 vs. Miss. State), three for loss, a sack and one memorable special teams touchdown.
Outside of those three, Kentucky can let its entire 2021 recruiting class use the year to develop, while still letting the players get a taste of the action. The class' top-ranked signee, Jager Burton, only took the field against ULM. The offensive guard can play in the final three games of the season and still start the 2022 season as a redshirt freshman. Stoops believes he will see some snaps on Saturday.
"I'm excited," Stoops admitted on his call-in show. "You might see a little bit of Jager this weekend. I hope we do. Obviously, I hope Austin's healthy and Q can play because I love those guys and they give us everything they have. But I would also like to see this young guy get a good opportunity to play with the older guys."
Of the remaining true freshman, Stoops really only has to toe a fine line with one player, Jordan Dingle. The former four-star recruit from Bowling Green has played tight end in three games. He caught a 31-yard pass in the season-opening win vs. ULM.
To build a program it takes time to recruit and develop players. Kentucky's foundation is strong with a stable of freshmen that will still have four years to play following the 2021 season.