Kentucky with five picks in ESPN's first 2024 mock draft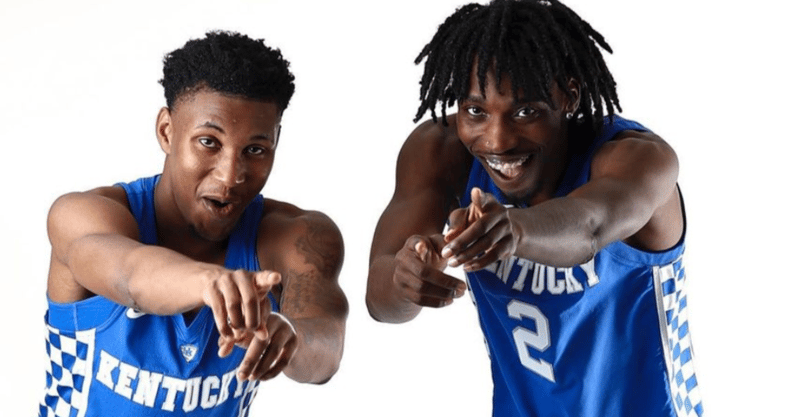 Kentucky has had just four total NBA Draft selections since 2020, three first-rounders. Cason Wallace is the only projected first-round pick for the Wildcats this year, with Oscar Tshiebwe on the cusp of draft status as a second-rounder. Maybe Chris Livingston slides back in the conversation by year's end? Does Jacob Toppin or Antonio Reeves make a push? Wallace is the only lock in what could be another quiet draft night.
That's expected to shift dramatically next summer, with five Kentucky players projected as draft selections in 2024, potentially as many as the school's previous three classes. Likely as many first-round picks in that span.
ESPN's Jonathan Givony released his first-ever 2024 mock draft, one featuring two top-10 picks for the Wildcats, four first-rounders and five selections overall.
Five-star signee Justin Edwards is the first Kentucky player off the board at No. 4 overall to the Houston Rockets, followed by five-star guard DJ Wagner at No. 7 to the Washington Wizards. From there, five-star center Aaron Bradshaw at No. 28 to the Denver Nuggets, followed by five-star guard Rob Dillingham at No. 30 to the Boston Celtics.
And then in the second round, soon-to-be sophomore center Ugonna Onyenso at No. 40 overall to the Orlando Magic.
"NBA scouts will be intrigued with Justin Edwards' size, length, physicality, two-way versatility and productivity, giving the Kentucky-bound wing a very high floor," Givony wrote of the future Wildcat.
Five draft selections for Kentucky would be most for the program since 2015, when the Wildcats had six players taken, including four first-rounders. UK also had six picks and four first-rounders in 2012.
The only time the program has had more first-round selections? John Calipari's debut season in 2010, with five Kentucky players drafted in the first round, a record.
Check out ESPN's first-round mock featuring some other familiar names below:
Matas Buzelis (G League Ignite) – San Antonio Spurs
Cody Williams (Colorado) – Charlotte Hornets
Zaccharie Risacher (ASVEL) – Detroit Pistons
Justin Edwards (Kentucky) – Houston Rockets
Isaiah Collier (USC) – Chicago Bulls
Ron Holland (Texas) – Utah Jazz
D.J. Wagner (Kentucky) – Washington Wizards
Bilal Coulibaly (Metropolitans 92) – Indiana Pacers
Kwame Evans (Oregon) – New Orleans Pelicans
Bronny James – Orlando Magic
Kobe Bufkin (Michigan) – Portland Trail Blazers
Ja'Kobe Walter (Baylor) – San Antonio Spurs
A.J. Johnson (Texas) – Oklahoma City Thunder
Julian Phillips (Tennessee) – Memphis Grizzlies
Noah Clowney (Alabama) – Atlanta Hawks
Izan Almansa (Overtime Elite) – Minnesota Timberwolves
Alex Sarr (Overtime Elite) – New Orleans Pelicans
Nikola Durisic (Mega MIS) – Dallas Mavericks
Terrance Arceneaux (Houston) – Atlanta Hawks
Mouhamed Gueye (Washington State) – Miami Heat
Ousmane Ndiaye (Baskonia B) – Houston Rockets
Tyrese Proctor (Duke) – New York Knicks
Judah Mintz (Syracuse) – Oklahoma City Thunder
Babacar Sane (G League Ignite) – Cleveland Cavaliers
Kylan Boswell (Arizona) – Memphis Grizzlies
Brandin Podziemski (Santa Clara) – Phoenix Suns
Juan Nunez (Ratiopharm Ulm) – Philadelphia 76ers
Aaron Bradshaw (Kentucky) – Denver Nuggets
Reece Beekman (Virginia) – Milwaukee Bucks
Robert Dillingham (Kentucky) – Boston Celtics
A few other notes: Givony adds that the NBA and players' union appear "nowhere close to coming to terms on eliminating the age limit," meaning the one-and-done rule is here to stay for the foreseeable future. Also, thanks to the lack of overall talent in the 2024 draft class, fringe draft prospects in this current class could also consider returning to school in hopes of exponentially raising their stock in a down year.
What could that mean for guys like Livingston or Reeves? On paper, it could mean another year in Lexington.