The Kentucky Women's Basketball curse, an endless spell of injuries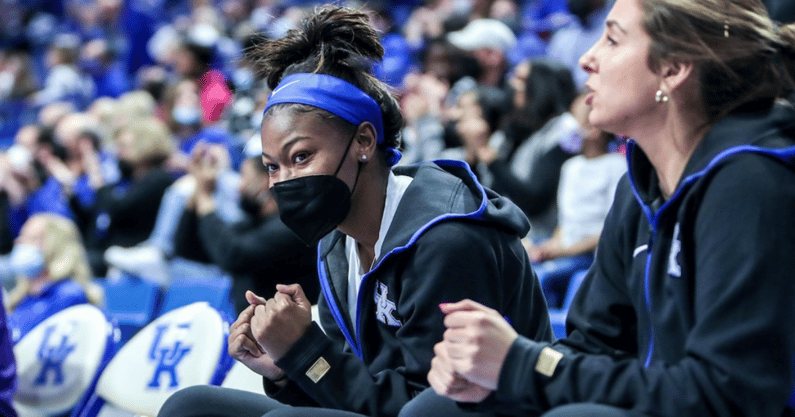 Kentucky Women's Basketball can't catch a break this season.
The Wildcats' misfortune was never more apparent than in their 65-57 loss to Vanderbilt on Thursday night. The team entered the contest with just seven healthy players and managed to finish with six.
Treasure Hunt's mysterious injury
Sophomore forward Treasure Hunt was the UK's latest casualty. Just minutes before the game, the program revealed Nyah Leveretter would be starting over Hunt. While this was new, it wasn't too alarming.
Nonetheless, things quickly grew suspicious. Halfway through the second quarter, Hunt still hadn't entered the game. As if on cue, the program announced Hunt had suffered an injury and would not be playing at all.
As odd as the mid-game announcement was, Kyra Elzy's description of the scenario didn't provide much clarity.
"After warmups, she was not feeling 100%. So, our medical staff decided to pull her, and she will go under day-to-day protocol as of now," Elzy said during the postgame press conference.
The media was reassured Hunt's absence was due to injury, not illness, but there's still little information regarding Hunt's unavailability.
Where is Dre'Una Edwards?
Hunt's injury isn't the first mystery this season. With each passing day, the Dre'Una Edwards scenario becomes more puzzling. Kentucky Women's Basketball announced the redshirt junior was unavailable just an hour before the 'Cats faced Florida back on Jan. 20–four games ago.
The program cited disciplinary matters as the reason behind Edwards' unavailability. However, we haven't come any closer to discovering what Edwards did. Elzy's most recent statement on the issue was nearly identical to her original.
"[Dre'Una Edwards] we're still dealing with internal issues, and we'll handle that accordingly," Elzy said after UK's win over Auburn.
How is Robyn Benton doing?
Edwards is another 'Cat whose status remains a question mark. Robyn Benton hasn't returned since injuring her ankle in the second quarter against Florida. The severity of the injury? Your guess is as good as mine.
Elzy has had three unwavering words to describe Benton's status.
"Day-to-day."
With the same phrase being used to describe Hunt, there's no telling when either of them will come back. Amid all these odd circumstances, there is one certainty: Elzy would rather have more players than fewer.
Thus, for now, fans have to trust Elzy's decisions and admittedly vague words. Elzy discussed the difficulty of playing with such a thin roster after the Vanderbilt loss.
"It's a difficult time right now. But, we have to be able to handle the adversity. At the end of the day, we still had chances," Elzy said.
Kentucky's chances of their ideal season will soon be gone if the team can't heal. The Wildcats will have two days to recover before they hit the road again on Sunday against No. 12 LSU at 2 p.m. EST.