Kentucky Women's Basketball: Three things to look for at Big Blue Madness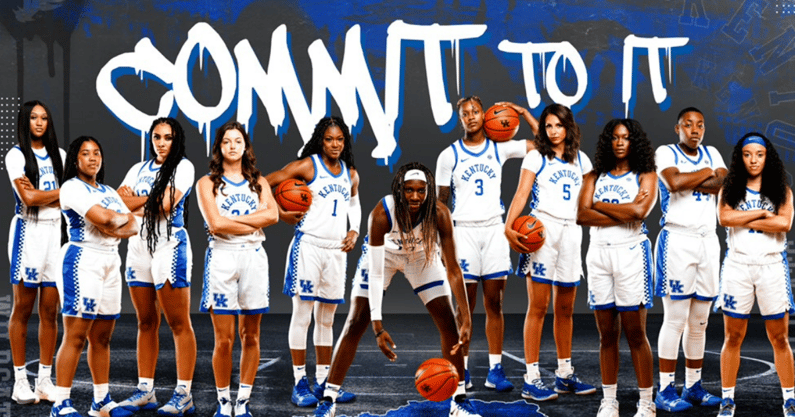 If you're a Kentucky Women's Basketball fan, this week is basically the equivalent of Christmas Eve for you. With Big Blue Madness quickly approaching, there's endless excitement about the spectacles fans will see on Friday night.
Not only does the event finally give a release to fan's boiling anticipation, but it restarts the cycle all over again. So, if you're wondering what will be some of the key things to look for on Friday night, here are a few recommendations.
How do the players react to the 3-point line change?
The game is changing and the rules are following suit. After the NCAA witnessed a continuous increase in 3-point attempts year over year, they finally took action this past summer.
The NCAA Women's Basketball 3-point line will be moving back approximately 17 inches. While this may not seem like an extraordinary difference, it has reaped intriguing results in the past.
When the NCAA Men's Basketball 3-point line was moved back heading into the 2019-2020, player's 3-point average declined by 1.06%. Likewise, when the WNBA changed their 3-point line distance, player's 3-point average declined by 2.68%. In other words, the change may be a small step for fans, but a giant leap for player-kind.
Though the 3-point line change can be imposing, everything becomes easier with practice. Star player Rhyne Howard knows this well.
"I've been working on 3-point range, you know? They're about to scoot the 3-point line back," Howard said during her interview with KSR this summer. "But, I'm working on shooting even further than what they're scooting it back to."
While Howard may be able to put the ball in the hoop from a mile away, not everybody is so inclined. Keep your eyes peeled throughout the night to see how the team seems to be shooting from deep. Fingers crossed, BBN won't be disappointed.
How will recent addition Kristen Crenshaw-Gill fit in?
Kentucky may not be completely out of the woods yet when it comes to having a deep roster, but adding walk-on Kristen Crenshaw-Gill is certainly a step in the right direction.
Wednesday morning, the Wildcats announced they would be adding freshman Crenshaw-Gill to their thinly-stretched roster. Making the roster a total of 11 players, Crenshaw-Gill may be saving the 'Cats from having to use one of their nine lives.
Though Crenshaw-Gill is a walk-on, she undoubtedly can still hoop. The Youngstown, Ohio native averaged 26 points, 5.5 rebounds, 3.5 assists and 3.0 steals per game at Christian Valley High School. Not bad for a 'Cat found through open tryouts. Kyra Elzy seems to satisfied with the addition.
"We are excited to announce the addition of Kristen to the program," Elzy said. "She performed well in open tryouts and has worked hard in practice the last few weeks to earn her spot on the team. Kristen understands the commitment involved in being a Kentucky player. We are all happy to have her in the program."
While Elzy and company may have seen all they need from Crenshaw-Gill, 'Cats fans are clawing to get a glimpse of the surprise player. For a team with only 11 players, there's always a chance a walk-on may have to brush off the old sneakers and go to work.
What will the Kentucky women's basketball lineups look like?
This one may admittedly be a stretch for the infamously lazy scrimmages that take place at Big Blue Madness, but it's the only option BBN has, for now. (The WBB Blue-White scrimmage scheduled for Oct. 24 should tell us a lot more about what the team will actually look like during a game situation.)
Kentucky Women's Basketball is tall this season. Though the idea of being a squad that towers over the competition is enticing, it's easier said than done. The 'Cats only have two true points guard on their squad this year in senior Jazmine Massengill and freshman Jada Walker. Even barring injuries, this could be problematic.
With a lack of guards, the opportunities for lineups are infinite. Treasure Hunt could run small forward while the 'Cats have two bigs. Robyn Benton could play point guard, at times. Rhyne Howard may end up playing all five positions by the end of the season. Obviously, the whirlwind of combinations is a bit of a headache.
Nevertheless, having too many possible lineups is assuredly a better problem to have than not having enough. So, although it may take some reading between the lines, do your best to spot some of these potential tells for the upcoming Kentucky season.