Kentucky WR target Brandon White announcing decision on Oct. 1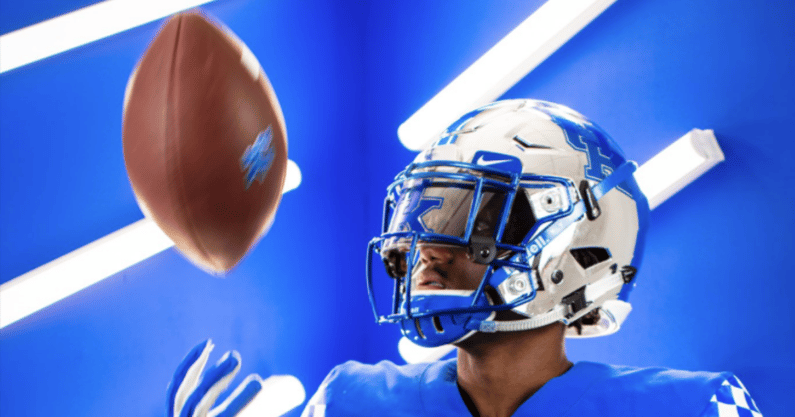 The Kentucky Football staff might as well buy a house down the road from Archbishop Moeller High School. The Wildcats already have two Moeller graduates on the current roster with one more committed, but UK could be on the cusp of landing another later this week.
Brandon White, a class of 2022 three-star wide receiver from — you guessed it — Moeller High School up in Cincinnati, OH, announced through social media on Sunday night that he has a scheduled decision date for this Friday, Oct. 1. The 5-foot-9 speed demon was originally expected to make his college decision at the end of August, but he ultimately pushed back that date. At the time, West Virginia was the perceived favorite, but now the tide appears to be shifting in Kentucky's favor the second time around.
Not long after he postponed his first decision date, White made a surprise official visit to Lexington the weekend of Sept. 11-13. The high school senior first came to Kentucky for a camp visit over the summer, where he quickly earned an offer from the coaching staff.
What stands out about White is his elite-level speed. He ran a 4.28-second 40-yard dash and a 10.3-second 100-yard dash as a junior. There's no denying he's undersized, but the coaching staff is valuing speed over everything in this recruitment.
Through four games for Moeller in the 2021 season, White has caught nine passes for 243 yards and three touchdowns for an impressive average of 27.0 yards per reception. He's also occasionally used in the rushing attack and is the team's primary kick returner.
Moeller-to-Kentucky connection
As previously mentioned, Kentucky already has two Moeller grads on the current roster with one more on the way: Sophomore DB Carrington Valentine and junior TE Brenden Bates along with class of 2022 TE Josh Kattus.
Valentine and Bates have both made significant impacts this season while Kattus is Moeller's leading receiver playing alongside White. Kattus has 15 catches in four games for 244 yards. Kentucky's associate head coach Vince Marrow has established a pipeline at Moeller that continues to pay off.
Marrow was the one who offered White back in June, too. That was no small moment for the rising three-star prospect.
"I got a couple of offers, but now that I got that offer from UK and Coach Marrow told me the news, it felt a lot different," White told KSR in July. "It felt like it was my first offer. Because it's Power 5 and Kentucky. Growing up, a lot of these players from Cincinnati, a lot of my friends commit to UK. It was kinda a shock–not a shock, I don't want to say a shock. Like a relief. It was crazy and deserving."
We'll find out soon enough where White ends up, but Kentucky appears to be in good shape heading down the final stretch.