Kentucky WR target Brandon White postpones decision day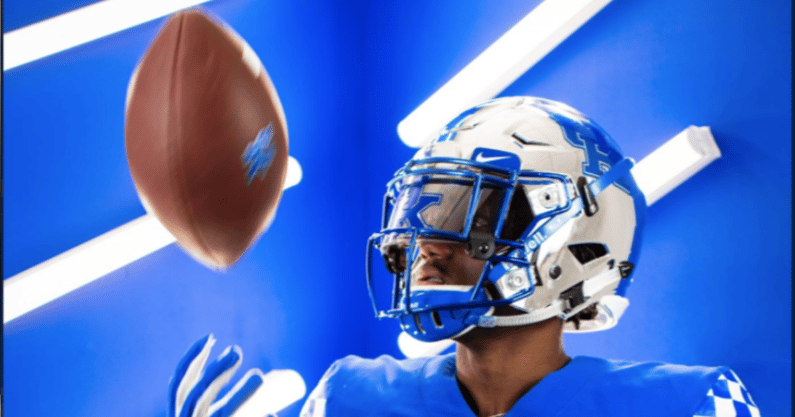 A decision postponement for Brandon White might be the best-case scenario from the Kentucky coaching staff's perspective.
Originally expected to announce his college decision on Friday, Aug. 27, the three-star class of 2022 wide receiver from Archbishop Moeller High School (Cincinnati, OH) has elected to push that date back. There is no indication as to when that new decision date might come, but White said on Twitter that he wants "to be 100% locked in."
White, who checks in at 5-foot-9, 165 pounds, is ranked by 247 Sports as the 1,373rd best player in his class, the 199th best wide receiver, and the 47th best player from Ohio.
Heading into the end of the week, White was trending toward picking the West Virginia Mountaineers, who offered him on June 22, just eight days after Kentucky did the same on June 14. There is currently one Crystal Ball and one FutureCast pick logged in favor of White choosing WVU.
Now, with a decision postponement roughly 24 hours before the expected commitment, it feels like he's more open than initially thought.
Kentucky connection
White's connections to Kentucky have been mentioned time and time again on this site, too. Moeller has produced two current Wildcats in Carrington Valentine (So.) and Brenden Bates (Jr.) along with future Wildcat and current teammate of White, Josh Kattus from the class of 2022.
Back in July, White told KSR that he was hoping to take a visit to Kentucky at the end of the month, although he ended up taking a trip to West Virginia instead. His top four include WVU, UK, Purdue, and Indiana. Iowa State has also been involved. Kentucky was his first Power 5 offer.
"I got a couple of offers, but now that I got that offer from UK and Coach (Vince) Marrow told me the news, it felt a lot different," White said last month. "It felt like it was my first offer. Because it's Power 5 and Kentucky. Growing up, a lot of these players from Cincinnati, a lot of my friends commit to UK. It was kinda a shock–not a shock, I don't want to say a shock. Like a relief. It was crazy and deserving."
Brandon White would be a solid addition to what new offensive coordinator Liam Coen is trying to incorporate at Kentucky: speedy pass-catchers. White ran a 4.28 40-yard dash as a high school junior.