KentuckyOne Health Anywhere Care's Afternoon Notes and Podcast
KentuckyOne Health Anywhere Care at home, at the office and everywhere. Anywhere Care is a 24/7 service that lets you see or talk live to a primary care provider by phone or video chat… even from the comfort of your own couch.
Click

here

to learn more or get care now.
****
Hello, friends. Have we all recovered from today's slate of emotional Willie and Karl features? Me neither. Tried to work at the coffee shop earlier and even with sunglasses, I couldn't do it. As excited as I am about this weekend, the fact that at this time next week, the season will be over is really starting to hit me. It feels like only yesterday we were in the Bahamas watching the team goof off at the pool, and now we've only got two games left with them, at best. Hopefully, they're two games to remember. Now, before I fall into a puddle of tears again, let's get some notes rolling... --- In case you haven't fallen victim yet, today is April Fools' Day, and even though I hate the holiday, I have to give kudos to the folks behind
the Green Bay Packers reddit page
, who turned it into a Kentucky page to mess with Wisconsin fans:
I'll be honest, I still don't really understand reddit, but that's funny. (Also, if you're wondering, yes, there is a reason I have two KSR bookmarks on my toolbar and no, I'm not telling.) --- Remember those 40-0 shirts that popped up a few summers ago? Well,
the guy who designed them tried to trademark "40-0" and is now fighting with UK over who should own the term in court
. For what it's worth, the creator says he's a die-hard UK fan and would be fine with UK using "40-0" on national championship items, but not as a "stand-alone brand." I can't even think about any of that until late Monday night. --- What if I told you there was a Kentucky fan that has Wisconsin blood running through his veins? That's the case for Salvisa native Scott Logdon, who received bone marrow stem cells from a Wisconsin student two years ago when he was being treated for high-risk leukemia at the UK Hospital. This is a really cool story, so
go check it out at The Courier-Journal
. --- The team has arrived in Indianapolis, but before they left, Sam Malone took a chance to reflect on his last practice at the Joe Craft Center:
Oh god here come the tears again...agh!!!! Happy, something happy... --- How much does this guy at my local coffee shop look like Tom Crean?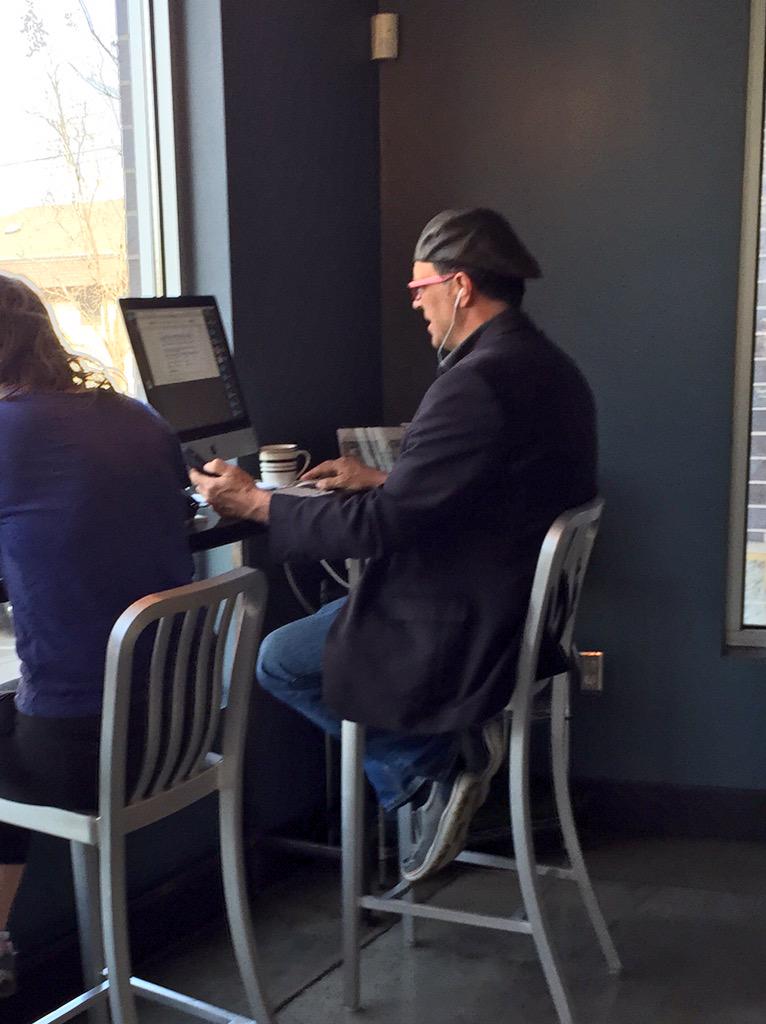 I originally took the picture to make fun of this guy for bringing his desktop computer to a coffee shop, but the resemblance is uncanny. Maybe that's what Crean is doing with his time these days. --- How awesome is this sign at the Space Center on Winchester Road? [caption id="" align="alignnone" width="436"]
@CherylTruman[/caption] Yes, yes, he would have. Ditto for Bill Keightley, who passed away seven years ago yesterday. Let's close it out with today's podcast, which features a great interview with Orlando Antigua in the first hour:
Hour 1:
Hour 2: