Kentucky's 3-point shooting continues to trend downwards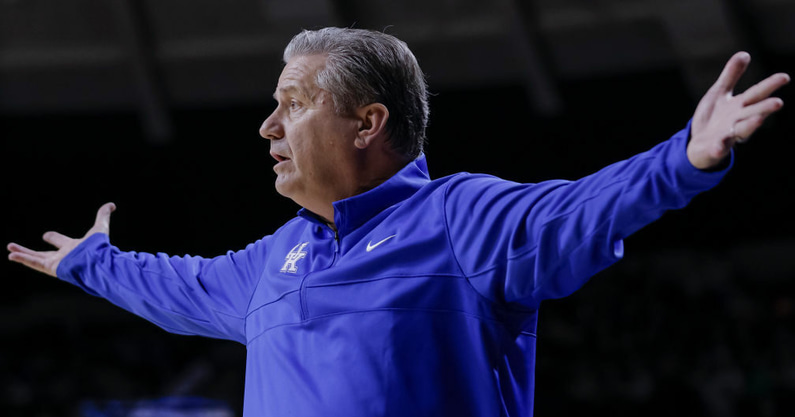 Kentucky head coach John Calipari crafted a roster that features multiple outside shooters, portraying the idea that he was coming around to embracing modern basketball through spacing. Early on in the 2021-22 season, the Wildcats looked to be playing that part. UK made 39 percent of its triples on 18 attempts against Duke in the season-opener, then 52 percent of its 23 attempts a game later. Since then, the hot shooting has been nearly wiped clean.
In a 66-62 loss to Notre Dame on Saturday night, Kentucky shot just 2-19 from beyond the arc, easily the worst outside shooting performance of the season for the 'Cats. Only Kellan Grady, who went 2-7 against ND, hit a three-pointer for UK. On the season, Kentucky is now shooting just a hair over 30 percent. Since a 4-10 mark from distance against Mount St. Mary's in the third game of the year, UK has gone 29-118 from deep, a staggering 24.6 percent from deep over its last six outings.
The outside shooting has progressively gotten worse. While it's true that Kentucky has four above-average shooters in TyTy Washington, Kellan Grady, Davion Mintz, and Dontaie Allen, they all play the same general position. On the floor, UK never has more than three capable outside shooters playing at the same time, which has led to clogged spacing. As a result, open looks are becoming rarer and rarer for those who can fire from deep. Notre Dame defended Sahvir Wheeler as if he were invisible, and future opponents will likely try to defend Kentucky in a similar way.
"Let's hope it's a fluke," Calipari said after Saturday's game about the 2-19 shooting from distance.
Going 2-19 from distance against Notre Dame doesn't appear to be a fluke though; this is now a trend. Kentucky hasn't shot above 34 percent from deep since Nov. 16.
So what needs to happen? If Calipari wants to play all four of his best shooters at the same time, he'll have to sacrifice height. He has yet to indicate he's willing to do so. Allen, one of those premier shooters, couldn't even get into the game against Notre Dame. To complicate matters, he's just 6-27 (22 percent) from three-point range on the season anyways.
Admittedly, some of Kentucky's misfortune against the Fighting Irish was a result of poor luck. Plenty of the 17 missed triples were wide-open looks that should have dropped. If UK shoots 4-19 instead of 2-19, this game goes down as a "W". Calipari is correct in the regard that you don't have to make them all, you just can't miss them all.
But after a while, bad luck isn't an excuse. Shooting under 25 percent from deep across six games either means Kentucky just isn't as good a shooting team as we thought, or opposing teams are zeroing in on UK's shooters. So far, both might be a little bit true.
The only time Kentucky had success hunting open threes on Saturday is when it wasn't even trying. Oscar Tshiebwe was practically unguardable on his way to 25 points. UK was purposefully force-feeding him. His dominance in the early second-half became so overwhelming for Notre Dame that doubles were being sent constantly. On a few possessions, Tshiebwe would receive the ball in the post where he was met with an extra defender. That was Kentucky's best opportunity to kick the ball out for open looks, it just never formulated in points.
Tshiebwe should expect more double-teams as the season progresses. Will that open more looks from deep, or will opposing teams make Tshiebwe beat them by himself? Notre Dame head coach Mike Brey said in the postgame that he was fine with giving up 2s to Tshiebwe if it meant UK's shooters couldn't get 3s. Other teams might take the same approach. Giving up a wide-open look to a Kellan Grady or TyTy Washington is still not a smart defensive approach, even if Kentucky hasn't been hitting as of late.
But until Kentucky does start to knock down triples, the ceiling for this team will continue to drop.