Kentucky's Bye Week Success Under Mark Stoops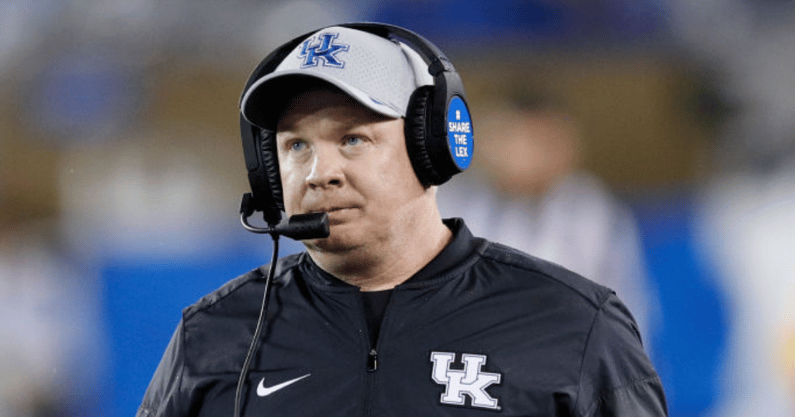 If you asked any fan of the Kentucky Wildcats prior to the season what their goal was entering the bye week, most would have responded with 5-2. There would have been more responses for 4-3 than 6-1, as well. However, here we are at 6-1 and a top 15 ranking. It's a great time to be a part of Big Blue Nation.
The bye week couldn't have come at a better time for the Wildcats. After a pair of emotional wins at Kroger Field over Florida and LSU, Kentucky was brought back down to Earth between the hedges in Athens. Georgia came away with a 30-13 victory on Saturday, and after a physical game, it is time for a break.
Following a mental and physical reset, the Kentucky Wildcats will take a trip down to Starkville to face Mississippi State on October 30th. How have the 'Cats fared coming out of the bye week in the Mark Stoops era? That is what we will address here today.
2013
We all know what that first year under Mark Stoops was like. The talent level simply wasn't that of a Southeastern Conference team. Kentucky had an early bye week before entering SEC play in 2013. Sitting at 1-2 after a loss to Louisville, the 'Cats returned from the bye and lost at home to Florida 24-7. Coach Stoops dialed up a fake field goal for a touchdown for Kentucky's only points of the game.
The Wildcats also had a bye in mid-October leading into a Thursday night trip to Starkville. This would prove to be one of the more competitive SEC games of the year for UK as they fell to Dak Prescott and MSU just 28-22.
2014
An improved Kentucky team in 2014 entered their first bye week at 2-1 after a 36-30 loss to the Florida Gators. After the bye, the rattled off three straight victories, including Stoops' first two Southeastern Conference wins over Vanderbilt and South Carolina.
Later in the season, Kentucky had a week off to prepare for Louisville in their final game. This matchup had major bowl implications with the Wildcats sitting at five wins. A shootout ensued and a late rushing touchdown from the Cardinals kept the 'Cats from going bowling in year two of the Mark Stoops era.
2015
Kentucky entered the bye week with a 4-1 record, 2-1 in the SEC to setup a huge Thursday night showdown against Auburn. In front of a sold-out crowd under the lights at Commonwealth Stadium, the Wildcats just about knocked off the Tigers. A late comeback effort fell short and Auburn escaped with a 30-27 victory. It was the first of five consecutive losses for Kentucky as they would fail to go bowling once again.
2016
The Wildcats were 3-3 overall, 2-2 in the SEC entering the mid-October bye week in 2016. What happened when the 'Cats returned to the field is one of the most iconic moments of the Mark Stoops era. Trailing Mississippi State 38-37, Austin MacGinnis knocked in a 51-yard field goal as time expired to secure an important win. This game is still looked at as a turning point in the trajectory of the Kentucky Football program.
2017
The bye week did the Kentucky Wildcats no favors in the 2017 season. Sitting at 5-1, UK traveled to play Mississippi State after their week off. It was total domination down in Starkville. The Bulldogs ran for just shy of 300 yards and ran away with a 45-7 victory. This would go down as the ugliest post-bye week performance of the Coach Stoops era.
2018
There are several parallels between the 2018 Kentucky team and the current 2021 squad. Not just in terms of talent level and success, but in how the schedule shook out as well. The Wildcats were a perfect 5-0, 3-0 in the SEC before taking a trip down to Texas A&M. UK suffered a 20-14 loss in a physical game heading into the bye week.
Upon returning, the 'Cats came out incredibly flat and had to get a 4th quarter touchdown from Benny Snell just to beat Vanderbilt 14-7. Will Kentucky learn from the past and avoid a hangover game down in Starkville on the 30th? Coach Stoops will certainly try to prevent that from happening.
2019
There may not have been a more important bye week in the Mark Stoops era than in 2019. After three consecutive SEC losses and a 2-3 overall record, a change was made at quarterback. Following the bye, the Lynn Bowden era would begin and the Wildcats would run their way to a 6-2, 3-2 record in the SEC the rest of the way, including a Belk Bowl win over Virginia Tech.
Big, sweeping changes like that are not necessary this season. However, this bye week is still vitally important with what lies ahead. Getting healthy and setting up for success in the second half of the season will happen over the next couple of weeks.
2020
Just like this season, last year in 2020 the Wildcats got their bye week following the Georgia game. Kentucky was sitting at 2-4 in their all-SEC schedule and coming off a 14-3 rock fight against the Bulldogs. Following the bye, Kentucky ran for over 300 yards against Vanderbilt and was in control most of the way. However, a late fourth-quarter barrage by Vandy made it a 38-35 game on the scoreboard. The 'Cats will need 60 minutes of execution in Starkville to avoid a setback.
Bye Week Recap
As our own Adam Luckett pointed out on Twitter, since 2016 when things really got going for Kentucky, the Wildcats have had success coming out of their bye week. However, that success has been relative. They have covered the spread only one time despite going 4-1 straight up. Obviously, Mark Stoops only cares about the win column and UK fans will just be looking to leave Starkville with a victory.
There continue to be hope that Josh Ali will return by the Mississippi State game. Getting him back will hopefully solve some of the dropped pass issues that reared their head in Athens. Just as importantly, everyone needs a mental break after two emotional home victories and a College GameDay experience. This is a tough football team with tough coaches. There is no reason to be anything but optimistic looking ahead to the back half of the season.