The latest on Kentucky's chances with Cason Wallace and Adem Bona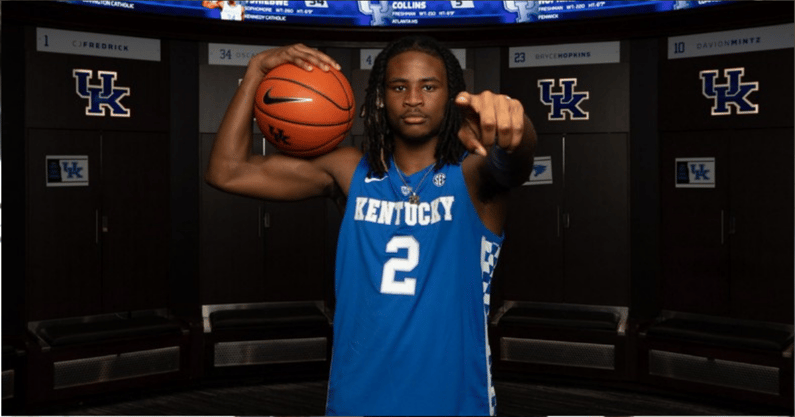 Still two months away from the early signing period, Kentucky has earned commitments from consensus No. 1 overall recruit Shaedon Sharpe, top-five prospect Chris Livingston, and top-20 recruit Skyy Clark in 2022. As things stand today, UK has the No. 2 recruiting class in the nation with just three pledges.
And they're not done yet. In fact, Kentucky has pushed all its chips in on two more five-star standouts in Cason Wallace and Adem Bona.
Cason Wallace
Wallace's recruitment has been seen as a battle of current and future SEC foes. Kentucky, Tennessee and Texas have been duking it out for the better part of the last year, with the Wildcats and Volunteers emerging as the clear favorites this summer, specifically following UK's offer in July.
The five-star guard took his first official visit to Tennessee on June 4, followed by a trip to Kentucky on August 26. He then cut his list to four – Kentucky, Tennessee, Texas, and UTSA are the finalists – before taking additional officials to Texas (Sept. 4) and Tennessee this past weekend (Sept. 18). He also has one more official visit planned to UTSA before making a final decision.
As for the anticipated landing spot, a clear favorite has emerged in Kentucky. UK felt its pitch pushed the Wildcats firmly ahead of the competition following his visit to Lexington in August, sources tell KSR, and that confidence has not waned in the weeks since. John Calipari and Jai Lucas both visited Wallace at his school to open the in-person recruiting period last Thursday.
Tennessee makes up ground
With momentum trending in Kentucky's favor, Tennessee was cautiously optimistic it was able to get Wallace on campus for a visit this past weekend. And yes, things went quite well.
Multiple sources tell KSR the Volunteers made up solid ground on the visit, with one individual close to the situation adding that it was back to a neck-and-neck race with the Wildcats. Tennessee has built a tight relationship with Wallace and his circle from the start of his recruitment, something that has weighed heavily on the five-star guard. There is a lot of mutual respect there.
Kentucky back on top
Following his return home, though, momentum has quickly and strongly shifted back in Kentucky's favor. The positive buzz has grown even louder in the last 24 hours. "100 percent," one source told KSR early Thursday morning. "Done deal."
Another added that in a battle between business decisions and personal relationships, the former is expected to come out victorious.
Keep in mind, Tennessee remains optimistic and they believe they've given Wallace something to seriously think about. Rumblings everywhere outside of Knoxville, however, favor the Wildcats.
As for a final decision, November 7 is the scheduled announcement date, his birthday. There is, however, a strong belief that his announcement could get moved up, a move that would again favor Kentucky. At this rate, it would be a slight surprise to see this decision drag out another seven weeks.
Regardless, UK is in position to go for the kill.
Adem Bona
As for Adem Bona, things aren't as cut-and-dry. In fact, the situation is growing more complicated by the day.
Clear frustration and UCLA buzz
As discussed on KSR immediately following Dereck Lively's commitment to Duke, UK is in a tough position with Bona. While Kentucky is the five-star center's dream school and he would like to be a Wildcat, there is clear frustration.
In short, Bona and his camp didn't feel prioritized by Kentucky when the staff's attention was on Lively. Now that Lively is headed to Duke, Bona doesn't want to be seen as a rebound option, especially considering UCLA and Kansas have been prioritizing him from the start.
It's not a relationship that's shattered and no bridges have been burnt. The playing field has simply been leveled and UK's layup is now a 3-point shot. The Wildcats remain in a tremendous spot, but there's competition.
Now for the good news
Looking for good news? Kentucky is confident where things stand, sources tell KSR. Calipari has taken the lead on Bona's recruitment and the staff as a whole is confident they'll be able to close down the stretch. They want the 6-foot-10 center and believe he can anchor the Kentucky frontcourt in 2022-23. The hope is that Bona's trip to Lexington next weekend will wash away the concerns and help seal a commitment.
Yes, UCLA is trending and the Bruins are a real threat. Sure, Kentucky has some work to do to smooth things over. Absolutely, a layup for UK has turned into a genuine challenge.
But when push comes to shove, Kentucky wouldn't replace its position with any other program or professional route. Bona will decide between UK, UCLA, Kansas and the NBL, and if Calipari makes it clear the five-star prospect is his top priority in the frontcourt, there is firm confidence he can get it done.