Kentucky's inability to defend ballscreens led to loss vs. Kansas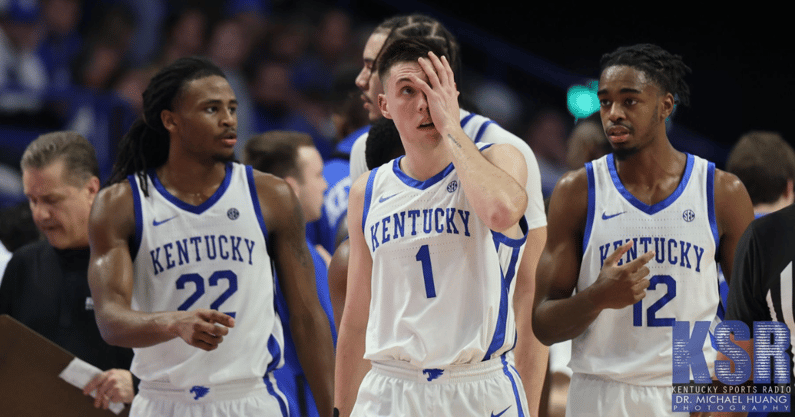 After beating Kentucky, Bill Self said that Kansas scored close to 20 points off of attacking the Wildcats in ballscreens. That number might actually be a tad generous.
During Kentucky's 77-68 loss to the No. 9 Jayhawks, it was clear what Self wanted to accomplish with his gameplan: attack Kentucky, specifically Oscar Tshiebwe, in the pick-and-roll to open up the floor. It worked to near-perfection, leading to 40 points in the paint for Kansas including a 14-17 mark on dunks and layups.
"I'll be candid – we hoped to attack them in the pick-and-roll," the Kansas head coach said postgame. "I don't know how many points we scored off ball screens – but it had to be close to 20 tonight. So that was really good for us."
Really good might even be an understatement. Kansas attacked Kentucky in ball screens from the minute the game began and it didn't stop until the final buzzer. The Jayhawks were never met with any pushback on lobs to the rim in a wide-open paint.
This wasn't the first time we've seen Kentucky constantly abused in pick-and-roll action, either. Tshiebwe was practically played off the floor in UK's demoralizing loss to Alabama earlier in the season, and that theme continued into the game immediately after in the embarrassing loss to South Carolina.
For whatever reason, Kentucky struggles to find the right angles and get into the proper position against these types of ballscreens that start at the top of the key. John Calipari said the defense was playing too wide on Kansas' perimeter players against the pick-and-rolls, leading to open lanes and a tough recovery for trailing defenders, whether that was Tshiebwe or someone else.
Kentucky even watched some film at the halftime break to help figure out a solution, but ultimately came up with nothing.
"We weren't pulling enough on non-shooters and that's really what cost us. They got the ball to the big and he was just able to play freely in the middle," Senior forward Jacob Toppin said after the loss. "Sometimes it's being more physical but other times it's, you can't really get over moving screens. I'm not saying anything about the refs but sometimes there was screens that were being moved that weren't called moving screens so it was kinda hard getting over."
While there were instances that Kentucky came away with a few turnovers while defending those same ballscreens — on multiple occasions, Tshiebwe timed it perfectly and poked the ball away as the screen was being executed — Kansas' overall level of success in that regard was more than enough to make up for a handful of miscues. That's how often the Jayhawks went at UK in ballscreening action.
Kentucky's inability to defend the pick-and-roll has officially become a trend and it's led to several key losses. Opposing teams are basing entire offensive schemes around it. Watching film can only help so much if it doesn't translate onto the hardwood. The 'Cats even played well enough against Kansas to win in spite of the defensive lapses, but against a top 10 team, the margin for error is too thin to have so many breakdowns.