Kentucky's Izayah Cummings suffers arm injury in Georgia loss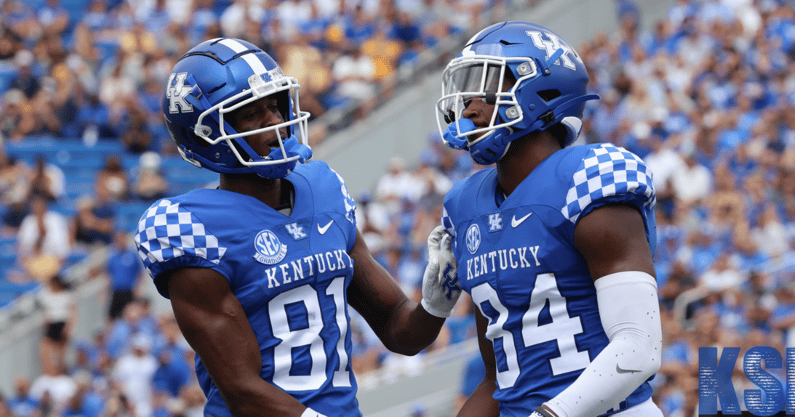 Kentucky was this close to leaving Athens unscathed. Coming down the home stretch of the team's 30-13 loss to Georgia, sophomore tight end Izayah Cummings caught a ball over the middle on a crucial 3rd-and-11 deep in Bulldog territory.
The 6-foot-3 pass-catcher snagged the reception for a 10-yard gain at the UGA15 to set up an easy QB sneak on 4th down. It was a play that ultimately led to a score at the goal line to close out regulation, one that allowed Kentucky to cover the spread.
Despite the strong catch and impressive performance overall — he finished with three catches for 22 yards — Cummings went down with an injury on the play. After taking the contact, the Louisville native stayed down on the ground for several minutes before being helped off the field.
"I hope he's OK."
After the game head coach Mark Stoops confirmed that Cummings was dealing with an arm injury and was uncertain how long it would keep him off the field.
"Izayah got hurt late in that game, I hope he's OK because that tight end position is becoming a weapon. He's doing some really good things," he said. "It's an arm injury. I don't know the severity of it."
"We need some guys to step up."
With Cummings hurt, along with wide receiver Josh Ali also out with a leg injury, Stoops says other playmakers need to step up.
"We need some guys to step up other than Wan'Dale (Robinson)," he said. "Hopefully we get Josh (Ali) back here soon. We need guys to step up and compete, make tough catches, make routine catches."
Cummings has made six catches for 75 yards and one touchdown in four games for the Wildcats this season.
Justin Rigg and Brenden Bates are strong options at tight end, but UK losing Cummings for an extended period of time would certainly hurt.