Kentucky's Loss to Georgia Marks New Low for John Calipari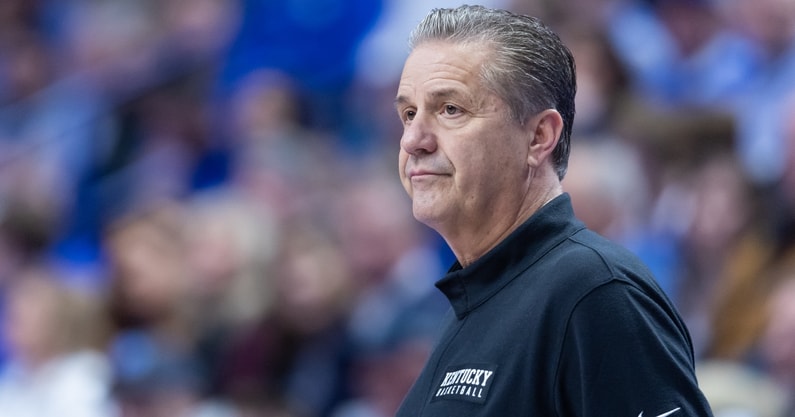 Reeling off a loss at home to Arkansas, Kentucky needed to bounce back at Georgia to keep the Cats' NCAA Tournament hopes alive. Instead, they let the Dawgs score 42 points in the first half and limped away with a 75-68 loss.
Entering Saturday afternoon's matchup in Athens, John Calipari was 21-3 against Georgia. Kentucky has now lost back-to-back games at Stegeman Coliseum for the first time since 1989-90, Eddie Sutton's final season and Rick Pitino's first.
But wait, it gets worse.
Even though the game at Georgia is technically a Quad 2 loss, it will be paired with the South Carolina defeat at Rupp Arena as the two worst losses on Kentucky's NCAA Tournament resume. The Wildcats have not lost to South Carolina and Georgia in the same season since 2009, Billy Gillispie's last in Lexington. Kentucky ifnished the season in the NIT and Gillispie was promptly fired.
Today's loss came without hardly any contributions from the backcourt. Sahvir Wheeler was sidelined for the second straight game with an ankle injury. CJ Fredrick missed his first game since the shooting guard cracked a rib while falling into a camera against Florida. Antonio Reeves scored a team-high 20 points, but he received little help from the rest of the backcourt. Adou Thiero added two free throws while Cason Wallace, the back-to-back SEC Freshman of the Week, did not score until the Cats trailed by double digits in the final minute of the game.
John Calipari field a nine-win team during the pandemic plagued 2021 season. The Cats followed it up with the worst NCAA Tournament loss in program history, an upset at the hands of 15-seed Saint Peter's. Now the Wildcats need a miracle to hear their name called on Selection Sunday. For most Kentucky basketball fans, there has never been a worse time to cheer for the Wildcats.