Kentucky's red zone offense should be much-improved this season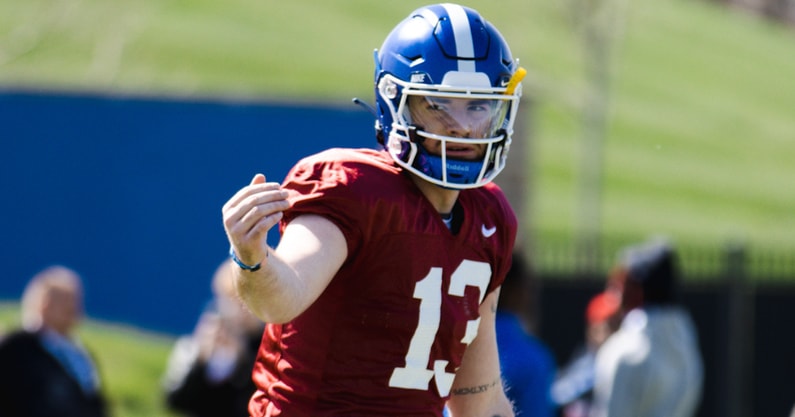 Football statisticians harp on a vast variety of advanced analytics, however, there might not be a more telling indicator of overall team success than red zone efficiency. Last year, Kentucky football was abysmal in this category, but there are plenty of signs that we will see many more touchdowns this season once the ball gets inside the 20-yard line.
First off, shout out to Corey Caudill who put together and posted this table over on KSBoard. If you haven't yet joined, you're missing out.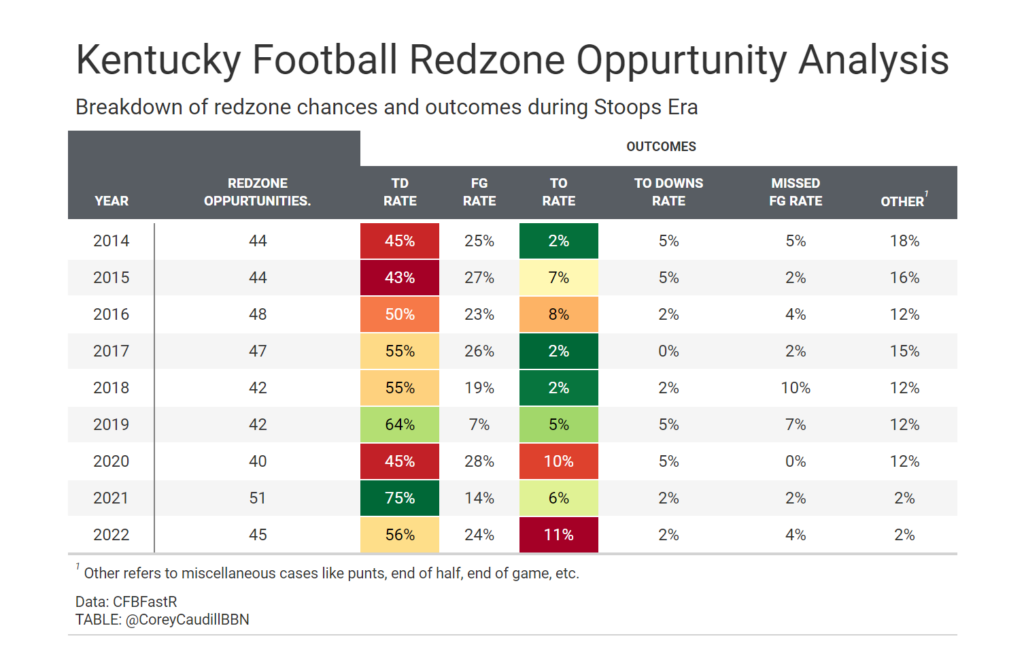 Kentucky was horrid in the red zone in 2022
One-and-done offensive coordinator, Rich Scangarello, brought a lot of things to the table for Kentucky football, but an efficient red zone attack was not one of them. After the 16-6 loss to Georgia where the 'Cats offense scored on just one of its three red zone opportunities, Scangarello justified the struggles in a quote that is very telling in hindsight:
"College and the NFL are so different and we play an NFL style of football. When you do that and you churn it out and you don't score from way out–you want to score the 50, not have to go the last 15 yards…First and goal from the 10 is the worst feeling as a play-caller because you get stuck in the–if you don't get something on first down, third down is going to be really hard."

Rich Scangarello | KSR
When your coach says, "First and goal from the 10 is the worst," that does not exactly exude the type of confidence that will score much in the red zone and that is exactly what happened.
The SEC demands much better than a 56% TD conversion rate in the red zone. It wasn't too much for Kentucky to expect better from the offensive coordinator, especially one with Scangarello's pedigree, to manage better than 123rd in red zone scoring efficiency in all of college football.
Will Levis being injured didn't help matters, nor did the four-game absence of Chris Rodriguez, and Scangarello did not miss all of those field goals. However, those players were part of a tremendous red zone offense the season prior. There really isn't a great excuse for how often they were either stymied or coughed up the football when it counted.
There is reason for optimism in 2023
The most obvious reason for hope this upcoming season when it comes to scoring the ball more often close to the goal line is, of course, Liam Coen. He is the same offensive coordinator that led the 'Cats to their most efficient red zone offense of the Stoops era back in 2021, and although he does not have Will Levis as his field general, Devin Leary has shown that he isn't so bad in that part of the field himself.
According to PFF, Will Levis had the second-most red zone dropbacks with zero turnover-worthy plays in 2021. The quarterback with the most? Yep. Devin Leary when he was with NC State.
Combine Leary and Coen with a more experienced wide receiver room and a healthier backfield led by a bruiser in Ray Davis, and Kentucky's red zone scoring should skyrocket compared to last season. Even if it just splits the difference between 2021 and 2022's numbers, Big Blue Nation is looking at a vast improvement that can only lead to more wins.
Kentucky Football season is just 91 days away.