Kentucky's road shooting woes continued against Texas A&M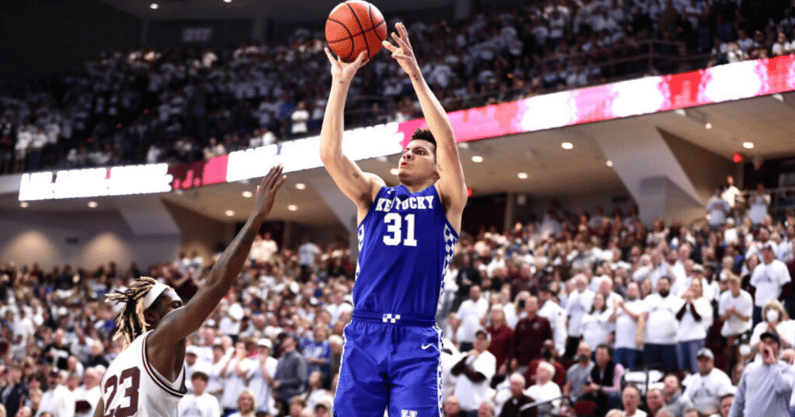 If Kentucky shoots 39 percent from the field and 23 percent from the 3-point line, the odds of beating Auburn on the road this weekend won't look favorable.
Those are the shooting numbers for the Wildcats through its three toughest true road games of the 2021-22 season. Those opponents were Notre Dame, LSU, and Texas A&M, all of which came on the road in widely hostile environments that either inducted a player into the hall of fame, named a court after a former head coach, or hosted a white-out t-shirt night. Those three outings were the epitome of "everybody's Super Bowl". They were also the three biggest tests for Kentucky thus far, only one of which was passed, a 64-58 win on Wednesday night down in College Station.
When the road environment amps the energy levels, Kentucky has seemingly shrunk on offense to a shell of itself. Luckily, the defense has consistently given the 'Cats a chance to stay alive, but points have been few and far between compared to home games.
*Granted, UK beat Vanderbilt in Nashville by 12, but that atmosphere was nothing compared to that of Notre Dame, LSU, or Texas A&M. There might have been just as many, if not more, Kentucky fans at Vandy than there were fans of the Commodores. Additionally, the loss to Duke was at a neutral site.*
Kentucky's scoring numbers against Notre Dame, LSU, and Texas A&M
PPG: 62.0
FG%: 39.2
3PT%: 23.0
FT%: 62.3
Kentucky's scoring numbers against everyone else (15 games)
PPG: 87.1
FG%: 51.7
3PT%: 38.0
FT%: 76.1
One side paints the picture of an offense that sputters without any rhythm, the other one of a Final Four caliber machine.
Individually, the numbers look especially worse for Kentucky's outside sniper, Kellan Grady. The Davidson transfer has been one of the best shooters in the country in non-true road games. But in the three that weren't, he's let the situation rattle him a bit.
Grady averaged just 8.7 points on 29 percent shooting from the field and 25 percent shooting from deep against Notre Dame, LSU, and Texas A&M. The other 15 he's played in this season? 12 points per game on 50.1 percent shooting overall and 48.8 percent from long range. The wide-open looks were always the last to drop in his true road games, but he has found ways to make an impact when his shot isn't falling.
The good news about these numbers? Kentucky finally pulled out a win despite the circumstances. Texas A&M provided the loudest crowd UK has faced all season, which aided in the 'Cats shooting so poorly overall. Per Corey Price, Wednesday night was the first time in the John Calipari era at Kentucky that his team shot worse than 40 percent from the field and 25 percent from beyond the arc while committing at least 15 turnovers in a true road game. And yet, Kentucky still won.
"Was it 36%? That means it's even better" Calipari said Wednesday night about Kentucky's field goal percentage. "That means you know you had to fight, you had to guard and you had to rebound or you had no chance of winning.
"(Texas A&M) were good. I understand. They missed some shots that they normally make, but we had 17 turnovers. 17 turnovers, that's not who we are. We're 1-for-11 at halftime from the three. I walk in at halftime and say 'Guys, we're down five points with how we just played. Let's just play. Just battle.'"
But the No. 2 Auburn Tigers are not the unranked Texas A&M Aggies. Auburn won't shoot 1-22 from distance or 5-13 from the free-throw line. Tigers forward Jabari Smith is a candidate for the top overall pick in this summer's NBA Draft. All eyes will be on that 1:00 p.m. EST Saturday matchup as the CBS feed leads directly into the Cincinnati Bengals-Tennessee Titans AFC Divisional Playoffs.
Kentucky can't afford another sub-40 percent shooting mark in that environment against an elite team like Auburn.