Kentucky's Seniors Shine in Roller Coaster Win over Middle Tennessee State
Kentucky's seniors saved their best for last. Playing at Kroger Field for the final time, the Wildcat seniors made history.  Kentucky defeated Middle Tennessee State 34-23 to improve to 8-3, UK's first eight-win season since 1984. It wasn't the only record broken at Kroger Field. Two defensive stars entered elite company.  Mike Edwards had 12 tackles, two for loss, to become just the second UK defensive back to record more than 300 career tackles.  Edwards started the game with a
Pick Six
on the first drive and a forced fumble on the second.  Josh Allen
snapped
UK's career and single-season sack records after taking down Brent Stockstill twice.  In the process Allen also racked up a career-high 15 tackles.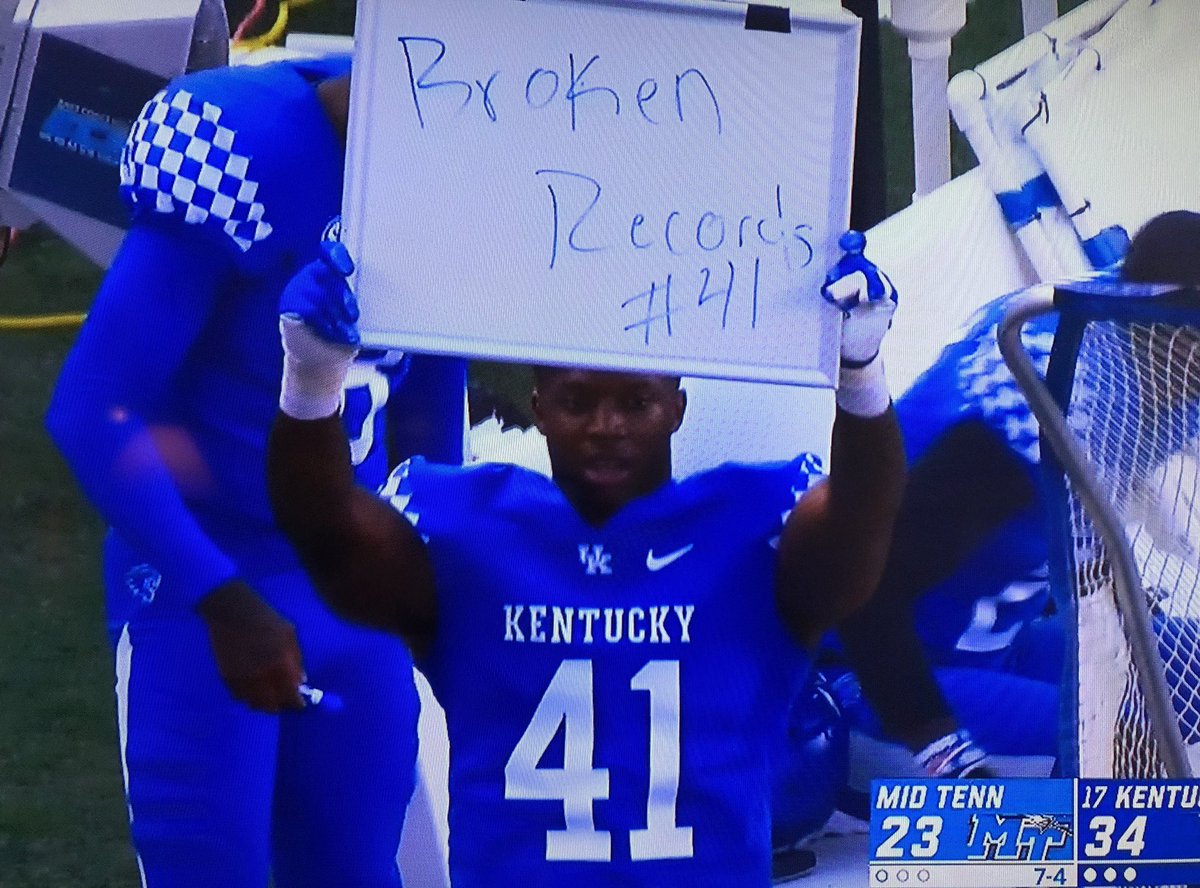 It was special to see the records snapped, but the greatest moment happened when No. 4 took the field.  For the first time since he was diagnosed with malignant melanoma in August, Josh Paschal played in a football game.  After starting at outside linebacker, Paschal was just happy to be back on the field. "It felt good just to wipe some dust off finally," he told reporters. "I loved it.  Just to know everybody is supporting me and knows what I've been through.  They've been supporting me the whole time and lifting my spirits up when I'm feeling down.  It felt great." It was
an incredible moment
to see Paschal play in a gutsy win.  It was the high point of a game that featured a few ups and downs.
Show-Stopping Seniors
Edwards and Allen put up impressive numbers and made big plays at the most important moments.  Josh Allen's sacks came on third and fourth downs that stopped MTSU's comeback.  Darius West was just behind Allen and Edwards, finishing the game with eight tackles. When Allen wasn't sacking Stockstill, his teammates were.  Chris Westry and Adrian Middleton each recorded a sack in their final home game. Kentucky's offense does not feature quite as many seniors, but their impact was equally felt.  C.J. Conrad caught a team-high four receptions for 51 yards and an incredible touchdown in the back of the end zone that gave UK a 24-7 lead.  Out of the halftime locker room, Kentucky made a statement behind Bunchy Stallings.  The two-time SEC Offensive Lineman of the Week paved the way for a Benny Snell touchdown to recapture momentum. Even though the Seniors will not play another game at Kroger Field, their impact will be felt for quite some time. "
They have just set such a great example for our younger players
because of their work ethic," said Stoops. "They have been leaders, they have been, they have had a great work ethic. They have been very unselfish and really about the team and far from perfect, but they have really, they really have great hearts and their minds are in the right place and they really want to lead and set a great example and set the precedent for the future."
Gashed by Screens
Kentucky's defense made some big plays, but gave up a tin of little ones.  Middle Tennessee attacked the edges with screens to consistently move the chains.  Tony Franklin's offense limited UK to just four second half offensive possessions, thanks to a pair of 11-play touchdown drives. Open field tackling used to be a strength.  It was not today.  Even though Westry had a nice sack, he had his fair share of missed tackles.  The Blue Raiders went after Davonte Robinson all afternoon in a variety of ways.  Edwards posted some excellent numbers, but as a unit, UK's secondary probably played their worst game of the year.
Hello, Offensive Line
While outsiders argued the proper remedies to improve the offense, Eddie Gran and John Schlarman kicked the offensive line back into shape.  Limited to less than 100 yards in three straight games, today the offensive line paved the way to a 203-yard performance on the ground.  Physical at the point of contact, UK's running backs averaged 5.1 yards per carry through exceptionally wide rushing lanes.
Bizarre Decision-Making
Eddie Gran called quite a game.  There were creative plays that got C.J. Conrad the ball and let Lynn Bowden run the read option.  Despite the many positives,
two drives gave his critics plenty of ammunition
. With 3:22 to play in the first half and a 24-7 lead, Kentucky got the ball at their own nine-yard line.  Receiving the ball to start the second half, a long scoring drive could have been the dagger.  Instead of getting creative in the passing game, the Cats ran it twice and took the ball out of Terry Wilson's hands with a screen pass on third and long. That outcome was made exponentially worse when the punt went haywire. Pressure got to Max Duffy and he was lucky to kick it 20 yards.  Middle Tennessee only needed to go 19 yards to kick a field goal. The decision-making became even more bizarre when Kentucky took a timeout to stop the clock with a minute to play.  They only called one downfield shot before going back to the run.  Choosing aggressiveness after opting to run out the clock did not make sense. That drive was not as dire as the fourth quarter four-and-out.  The Cats tried to run out the clock with A.J. Rose instead of Benny Snell.  He was only inches short of the first down marker after a run on third and five.  With the ball on the 41 and an eight-point lead, Stoops decided to go for it with a quick quarterback sneak.  It failed. The strange decision-making almost cost Kentucky the game.  Luckily, Josh Allen was prepared to bail out the offense with a fourth down sack on the following possession.
Let it Rip!
Terry Wilson brought some swagger with him to Kroger Field.  The Kentucky quarterback played with the confidence we've been looking for and boy, it was a sight to behold.  His best throw of the day looked like a sure-fire interception.  But Wilson set his feet, trusted his arm and his receiver.  The ball sailed just over the fingertips of three outstretched defenders and into C.J. Conrad's hands. It was
this
close to getting picked off. [caption id="" align="alignnone" width="1200"]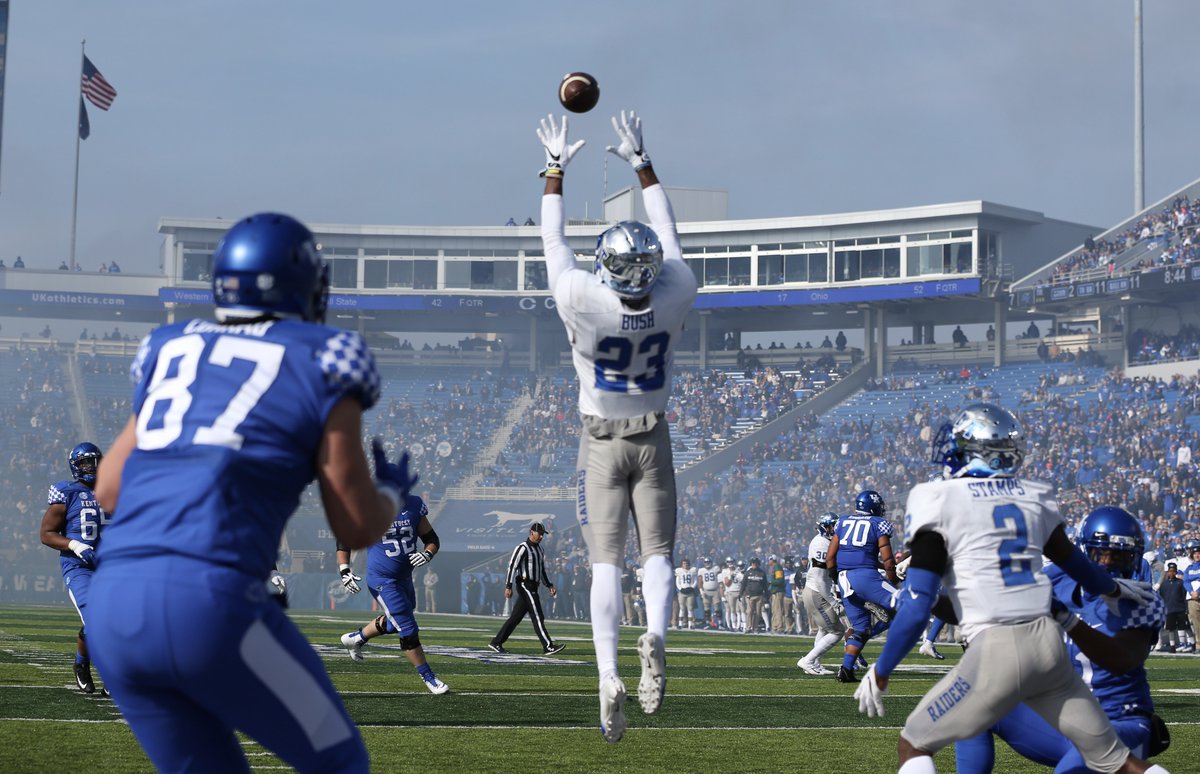 @UKFootball
[/caption] Terry's composed performance was evident on the stat sheet.  He completed 10-of-14 passes for 124 yards to earn a 167.6 quarterback rating.  Wilson also ran for 27 yards and only took one sack.
The Final Benny and the Jets?
Mark Stoops didn't
sound too confident
that Snell would be back for another game at Kroger Field.  Benny kept it light when he was asked about the subject. "Maybe after the bowl game I'll go home, talk to my Snell Yeah company, my family will be there.  We'll all sit down, have some coffee and talk about it.  I don't know yet," said Snell. Kentucky's Seniors walked off Kroger Field for the final time with more SEC wins than any other group in program history.  The playmakers rewrote record books and changed the trajectory of the Kentucky football program.  After a victory over Middle Tennessee State, they can add an exclamation point to an excellent season with a win at Louisville. As Josh Allen said earlier this week, "It's only right to go out with a bang." [mobile_ad]