Kentucky's stout defense continues to bend, not break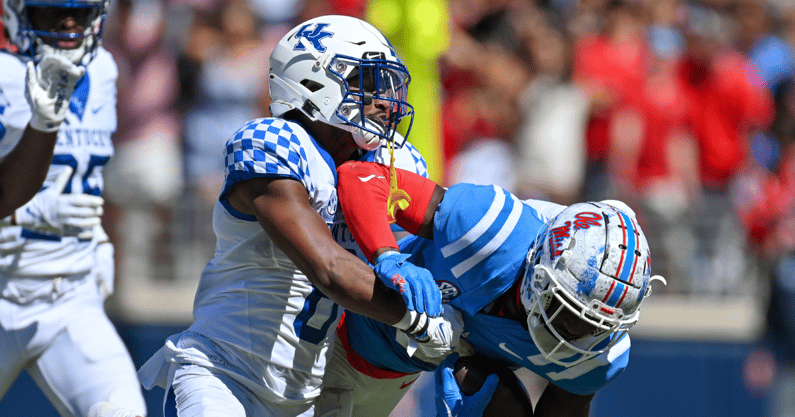 The main takeaway from Kentucky's 22-19 loss to Ole Miss on Saturday was just how close the offense was to sneaking out a win in Oxford. The Wildcats' offense shot itself in the foot multiple times throughout the afternoon, and yet were a half-second away from a spectacular Dane Key touchdown score that would have likely handed Kentucky the victory.
But perhaps that shouldn't be the main takeaway. After all, the Wildcats' defense once again showed why Brad White has a special group on that side of the field. Kentucky gave up just three points in the second half to Ole Miss and held the ground-and-pound Rebels to its worst rushing performance of the season by a significant amount.
A critical fourth-down stop at UK's own five-yard line with 10 minutes left in the game and the 'Cats down just three was the only reason we're able to even talk about the fumble by QB Will Levis on the ensuing possession. Overall, Kentucky's second-half effort on defense was nothing sort of incredible.
"That's a huge play, right?" Coach White said of the fourth-down stop. "It's a three-point game, they've got a chance right there to make it a two-score game, which is going to make it really difficult to rise up in that moment. That's what we were hoping for. In the red zone, I thought we played better. We forced the one field goal there in the second half, made the fourth-down stop."
Ole Miss recorded a total of 121 yards after halftime. The Rebels' lauded rushing attack was mushed into just 2.5 yards per carry in the second half (they came into the game averaging 5.85 yards per attempt). Head coach Lane Kiffin called two fourth-down conversion failures. Kentucky consistently found ways to make the proper adjustments — not just on Saturday, but all year.
"We settled in. We tend to do that. It seems like a trend these past couple of games," Kentucky linebacker DeAndre Square said postgame. "The first half is always pretty hectic and in the second half we settle in. We know what teams are trying to do to us and we don't give up and we try to leave everything on the line, which I feel like we did today.
"Bend don't break."
All season long, Kentucky's defense has stepped up to the challenge at every position. The 'Cats rank among the country's top 50 programs when it comes to yards allowed per play, points allowed, first downs allowed, rushing yards allowed, and passing yards allowed, according to OddsShark. The entire defense is a borderline elite unit, led by arguably the most talented group of linebackers you'll find at the college level.
Kentucky's modernized offense is deservedly stealing the headlines, but let's not forget what built this program into a legitimate SEC contender.