Kentucky's Tim Garrison named SEC Coach of the Year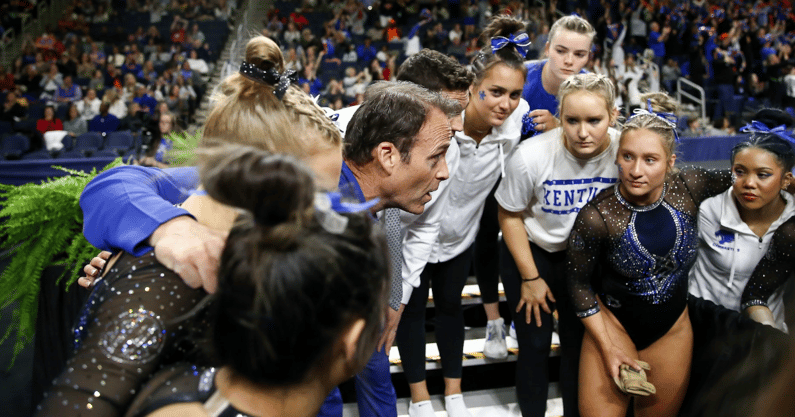 Head Coach Tim Garrison has been named Southeastern Conference Coach of the Year with junior Isabella Magnelli and senior Shealyn Luksik named All-SEC, the conference announced on Wednesday.
Tim Garrison – SEC Coach of the Year
Garrison, in his 12th season at the helm of Kentucky gymnastics, has had one of his most successful seasons to date as head coach. In the regular season alone, the Wildcats set the highest meet score in program history, 197. 825, later breaking that record to set an even higher overall score three meets later, 197.875. The Conroe, Texas native also led the program to its highest away meet score to date which placed a new third-best overall meet score in the record books with a 197.800.
Seeing its highest ranking so far this season at No. 8, the Cats also set new heights leading into postseason. For the first time in program history, Kentucky entered the Championships as the No. 3 overall seed, competing in the evening session for the first time since 2019. UK went on to place fourth overall tallying the highest program meet score at the Championships ever, 197.675. UK has now placed fourth at the Championships four times. The Wildcats previously finished in the fourth slot three times (1996, 2018 and 2021).
Garrison's conference Coach of the Year honor is his second of his coaching career with the Wildcats. He first won the award in 2018.
All-SEC
Isabella Magnelli
Junior Isabella Magnelli has been named All-SEC for the first time of her collegiate career. She has had a tremendous season competing on vault, beam and floor. The Suffern, N.Y. native has been a consistent competitor all season on the three events. Nearing a perfect score on beam, she earned her career-best 9.975 against Alabama. She tallied her highest vault score, 9.950, at Florida also setting a new career-high on the apparatus. Magnelli found her best score this season on floor to be a 9.900 which she earned from the judges four total times. At the SEC Championships, she began her postseason performance with a 9.900 on vault, 9.950 on beam and 9.850 on the floor exercise.
Shealyn Luksik
Senior Shealyn Luksik was also named All-SEC for the first time in her collegiate career. The Pittsburgh, Pa. native has been reliable for the Cats on both bars and beam all season. Posting her highest score of the season on the uneven bars, 9.950, against Alabama, Luksik tied her season and career-best again at the SEC Championships. The senior remained in the lineup on the event all season proving consistency, as well as proving consistency on the balance beam. Leadoff on the beam, Luksik found her season high to be a 9.900 which she earned against Arkansas. She was awarded a 9.800 from the judges at the Championships.