Kentucky should expect heavy dose of Kevin Harris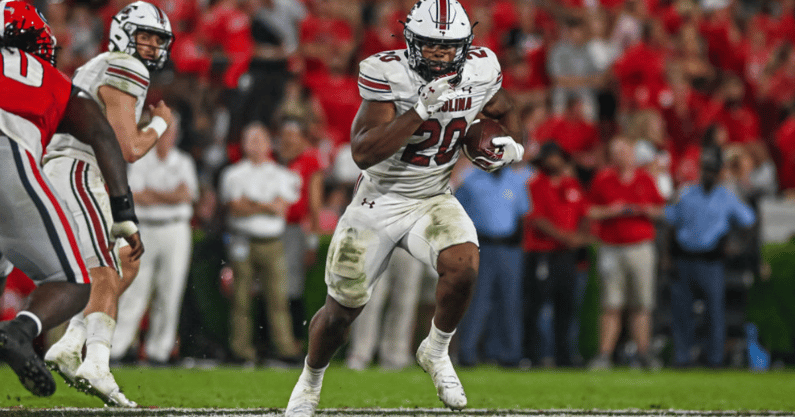 There were not many known commodities for South Carolina football entering year one of the Shane Beamer era. Kevin Harris was one of them.
The former three-star recruit out of South Georgia busted onto the scene in 2020 as he led the SEC in rushing yards per game (113.8) and logged 1,138 yards and 15 touchdowns while averaging over 6 yards per rush on his way to All-SEC honors. The 225-pound tailback became the program's first running back to reach the 1,000-yard threshold since Mike Davis in 2013.
Beamer and new offensive coordinator Marcus Satterfield had big plans for the true junior. Then, the injury bug hit.
Harris had to undergo a minor procedure on his back prior to fall camp. This caused the star tailback to miss most of the practice time heading into the season. Harris sat out the season-opening win over Eastern Illinois before returning in a limited capacity in Week 2. Last week at Georgia, Harris led the South Carolina running back room in snaps (41) and rush attempts (15).
Instead of a committee approach, Satterfield is looking for a guy to ride moving forward.
"That's a point of emphasis this week is we've gotta make sure that the guy that's practicing well is getting the majority of the reps, and that's our running back," said Satterfield. "We have our guy that can go in and be the changeup and can get reps himself. We can't play with all four consistently — it's the ones that are working and have put themselves in position to play in the game, and the rest of them will have roles within the game.
"We've gotta get the guy in there and let him get established. Get a feel for the game and let him get rolling. Can't just go four plays here, three plays here, four plays here, three plays here."
That guy for South Carolina is Harris. The Gamecocks attempted to establish the run against Georgia without much success but will likely go back to their run-first approach again on Saturday. Harris will be the guy that Satterfield tries to use as a bellcow.
Last season, Harris sliced Kentucky up for 210 yards on 21 carries averaging 10 yards per rush. That cannot happen on Saturday. If the Wildcats are to win, Brad White's defense must slow down No. 20. Harris is the key to unlocking South Carolina's offensive operation.
The game Williams-Brice Stadium will be won or lost in the trenches. If the Wildcats slow down Kevin Harris, it could be a great evening for the Big Blue.