Key changes for Kentucky WBB before facing Tennessee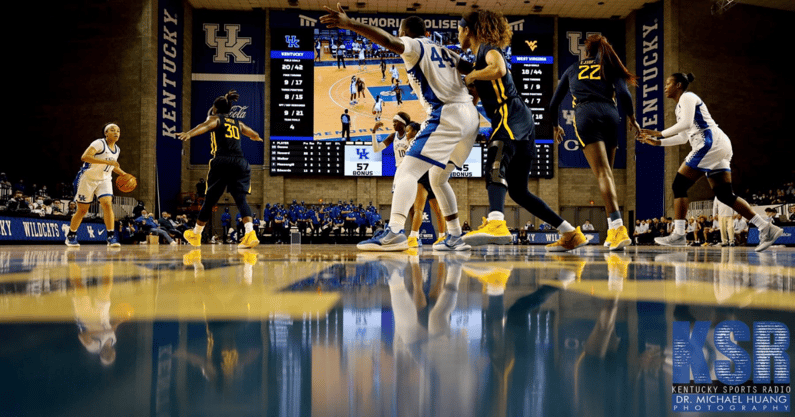 After the fourth postponement this season, No. 19 Kentucky Women's Basketball has four days to prepare for No. 5 Tennessee.
Wednesday morning, Kentucky Women's Basketball announced its game on Jan. 13 against Mississippi State was postponed due to COVID issues within the Mississippi State program. While another cancellation is frustrating, it may be equally helpful.
The Wildcats are 1-3 against ranked opponents this season. Coming off a blowout loss against South Carolina, Kentucky has much to improve. Here are a couple of the most pressing issues for the 'Cats.
3-point shooting isn't thriving for Kentucky WBB
Kentucky is shooting 33.8% from deep this year, a respectable figure. Nonetheless, this solid statistic doesn't reflect UK's recent shooting.
Through the past five games, Kentucky is only making 24.6% of their attempts from beyond the arc. For reference, in the first seven games, they went 39% from 3-point range.
The game that started Kentucky's downward shooting spiral was on Dec. 9 against DePaul. In the contest, the 'Cats shot a poor 0-14 from beyond the arc. While head coach Kyra Elzy hasn't spoken much on UK's shooting woes since then, Elzy had an understanding attitude that night.
"The shot didn't go, and that's part of the game. Sometimes they will; sometimes they won't."
A compassionate perspective can run thin after five games of below-average 3-point shooting. Instead of blaming the underwhelming offensive performances on tough luck, coaches must find practical issues. Passing may be one of these problems.
Assists are on a decline
At one point this season, Kentucky Women's Basketball led the nation in assists. Now averaging 17.9 assists per game, they're not even in the top 10.
Once again, the gradual decrease in assists is evident when looking at UK's recent games compared to the rest of the season. In Kentucky's past five contests, the team has averaged 13.8 assists.
In contrast, the team dished out 20.8 assists a night throughout the Wildcats' first seven games. While some of these statistics can be attributed to Kentucky's weaker opponents early in the season, it is not the sole factor.
On Dec. 1, the 'Cats lit up a respectable West Virginia squad with 21 assists, proving they can pass against quality competition. So, how can Kentucky rediscover its unmatched passing prowess?
As most things do, the issue depends on UK's star Rhyne Howard. Howard has been more aggressive than ever as Kentucky has begun conference play. In the past three games, Howard shot 52 times, more than any other three-game stretch this season.
Howard's aggression is beneficial to the 'Cats, but so is her passing. As the reigning SEC Player of the Year continues to cause issues for opposing defenses, she'll demand even more respect than usual. This focus on Howard will open up opportunities for her teammates. If Howard plays her cards right, she could hit milestones in points and assists.
The 'Cats are at their best when they're moving the ball. When they're moving the ball, they're making shots. When they're making shots, they're winning games. It's easier said than done, but if the 'Cats want to win, they'll do it.