Khris Bogle: Get to Know the Florida Football Transfer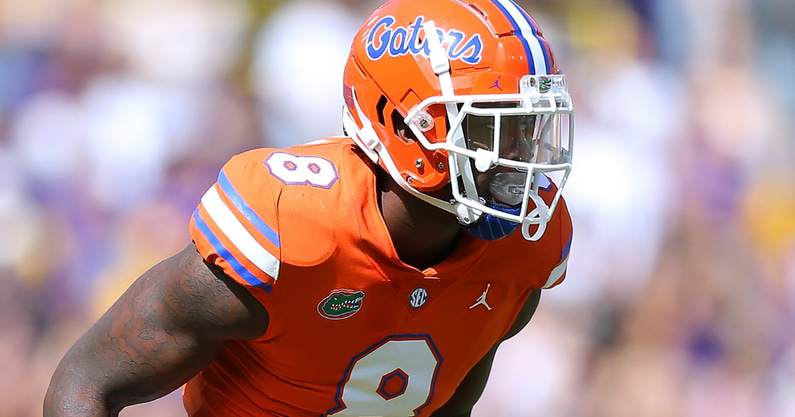 The third Florida Gator to enter the transfer portal since the season ended is a big one. On3's Matt Zenitz was the first to report Wednesday that edge defender Khris Bogle is in the transfer portal. A talented pass rusher with ties to Kentucky, the Wildcats are expected to be a player in his second recruitment.
Bogle's SEC Experience
Bogle was a blue chip prospect signee for Dan Mullen in 2019, ranked as the No. 52 player in America and the fourth-ranked edge defender. Since arriving in Gainesville, Bogle has played in 34 games, tallying 67 tackles, 11 tackles for a loss, and 7.5 sacks over three years. He earned three starts at linebacker in 2021, splitting time with Georgia transfer Brenton Cox Jr. and recording 22 tackles, three TFLs, 1.5 sacks, and two quarterback hurries.
Cardinal Gibbons and Kentucky
Mark Stoops' staff spent extensive time in Ft. Lauderdale during the early years of the Eddie Gran era. In the 2019 class Kentucky signed two standouts from Cardinal Gibbons High School, Nik Scalzo and Nik Ognenovic. Bogle was the highest-ranked player on the state championship team.
Even though both Niks have since entered into the transfer portal from Kentucky — Ognenovic spent the 2021 season at Akron — the Wildcats are still recruiting Cardinal Gibbons High School. In late October UK offered R. Mason Thomas, a four-star edge ranked as the No. 262 player in the On300. He's currently committed to Iowa State.
Potential Fit at Kentucky
A 6-foot-4, 245-pound athlete, Bogle has the desired length and athleticism to play Sam linebacker for Kentucky. The Wildcats essentially abandoned the position in 2021 because of a lack of reliable depth. Jordan Wright, KD McDaniel and J.J. Weaver were the only edges in the rotation (and they weren't immune to injury), forcing Kentucky to primarily play nickel. Even though UK is expected to sign Keaten Wade and Tyreese Fearbry, the Cats could still use more bodies as Wright ponders his future.
Something tells me that when the season starts next fall there's going to be at least one edge defender from Ft. Lauderdale in White's meeting room. Whether it will be Wright, Bogle or Thomas remains a mystery, for now.