KHSAA Football Week 10 Preview — Presented by Kroger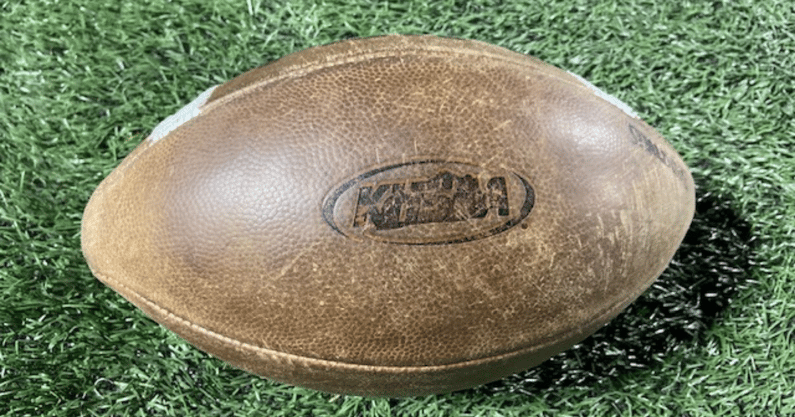 The KHSAA playoffs are right around the corner and district titles are soon to be determined as the regular season draws to a close over the next two weeks.
Here are some Week 10 games to keep an eye on this Friday night:
No. 24 Bryan Station (7-1) at No. 13 Madison Central (7-1)
KHSAA's 6A District 8 will be decided Friday night in a battle between two single-loss foes in the Defenders and Indians. Both teams haven't lost since their season openers, both against top-five opponents Frederick Douglass and LCA, respectively.
Both teams' last two games have been against George Rogers Clark and Oldham County as well. Bryan Station outscored the two 51-28 while Madison Central blew both teams out 74-22. Station's 9-7 victory over 3-6 GRC was questionable enough to kick them out of KSR's top-25 rankings, and out of the 6A Power 5 in last week's rankings.
Two players to watch out for on both sides: Trenton Cutwirght for Station and Brady Hensley for the Indians.
Defender quarterback Cutwright threw for 310 yards and three touchdowns on 10-15 passing against Oldham County while rushing six times for 73 yards and another score last week. Hensley was just as impressive against GRC as his 22 carries notched him 245 yards and four touchdowns.
Bullitt East (7-1) at No. 1 Male (7-0)
Bullitt East's one loss came against Graves County 48-46 in week four and they have since outscored their opponents 245-83 with an average victory of five scores per outing.
Male, on the other hand, is the best team in all of KHSAA and favorites to win 6A's crown for the first time since 2018.
Something both teams feature—6A's top-two running backs.
No team has been able to slow down the brick wall that is Daniel Swinney this year. Coming off a 222-yard, two-touchdown rushing performance in a 36-0 shutout against Fern Creek last week, Swinney surpassed the 1,000 rushing mark with two games remaining in Male's regular season.
The Chargers boast the No. 1 ranked running back in the division in Mason Gauthier. His 1,248 yards rank No. 4 in KHSAA and 18 touchdowns on the year remain untouched atop KHSAA's rushing totals—for comparison, Swinney has 13 on the season.
You'd think with such a prolific rushing attack, Bullitt East would feature a one-dimensional offensive scheme—that's simply not the case. Chargers quarterback Travis Egan is 130-213 for 1,917 and a 25-6 touchdown-interception ratio, the second-best mark in 6A this season.
Bottom line: Male hasn't seen an explosive offense like the Chargers at all this season. It all comes down to how the Bulldogs respond defensively.
No. 21 Daviess County (7-1) at Apollo (6-2)
Speaking of KHSAA's top passers—the quarterback who, statistically, is the No. 1 passer in the state, Joe Humphreys looks to keep his incredible season rolling with Daviess County's sixth-straight victory.
Apollo is on a five-game winning streak as well, including a 21-10 victory over Henderson County in the Kroger KSR Game of the Week two weeks ago.
With both teams undefeated in 6A's District 1, Friday night's battle will decide the district champion and has severe playoff implications attached to it in a very tough 6A slate this year. It goes without saying, this is a game neither squad can afford to lose.
Hazard (6-3) at No. 17 Pikeville (7-2)
Pikeville has proven they're 1A's top dogs this season and look to solidify that with a district championship against Hazard Friday night. The Bulldogs will look to play spoiler, catch Pikeville off guard and steal that title from right under the Panthers' nose.
The Hazard Bulldogs are on a three-game win streak including wins against district foes Phelps and Sayre. They've also outscored their opponents 91-6 during their winning streak.
At the same time, Pikeville is coming off their most impressive performance of the season, shutting out district rival Phelps 49-0. Standout running back Blake Birchfield took eight rushes for 110 yards and two touchdowns. Quarterback Isaac McNamee had four completions last Friday—three of which went for touchdowns as well.
It's safe to say the Panthers are firing on all cylinders heading into their title fight this week.
Franklin County (5-3) at No. 18 Central (6-3)
Franklin County and Central didn't have the seasons many predicted heading into the year. The Flyers made it all the way to KHSAA's 4A State Championship game a year ago, while Central had an undefeated regular season before being knocked off in decisive fashion 42-6 by Franklin County.
"We're excited," Franklin County football coach Eddie James said. "I love competing against them. Marvin [Dantzler] does a good job and I like the environment. If you want a high school football environment and a tough place to play, it's what you ask for. We get excited about that game."
Central began 2021 with two straight losses while Franklin County won their first two, but dropped three in a row right after. It's safe to say both squads took the scenic route before meeting in the district championship game this Friday.
The Yellow Jacket's flashy freshman Cortez Stone leads the way for Central, who'll look to surpass the 1,000-yard rushing mark against the Flyers. The running back/wide receiver hybrid has 92 carries for 989 yards and 15 touchdowns, which rank sixth in 5A this season.
On the other side of the ball, Kentucky football commit Kaden Moorman has 93 carries for 806 yards and 14 touchdowns. Moorman had only one rush for 29 yards in last week's game against Waggener due to complaints of a headache from the future Wildcat.
It remains to be seen if he'll be added back into the consistent rotation this week. James said after the game that the Flyers didn't want to risk anything with their star running back.
Don Franklin Bowl: Southwestern (7-1) at Pulaski County (6-3)
Pulaski County battles Southwestern in the regular-season finale this Friday on their Senior Night. The Warriors still have one more game next week against a very tough Madison Central squad.
Last season, the Maroons were the only team to take down Southwestern during the regular season while the Warriors had the last laugh, defeating Pulaski County in the second round of the 2020 KHSAA playoffs 35-14.
Southwestern has been on a roll this season as well. Their loss to Mercer County 22-21 in Week five is the only blemish on an otherwise perfect regular season.
Pulaski County, however, seems to have completely recovered from their 1-3 start to 2021. Behind quarterback Drew Polston's stellar season, the Maroons look to take the district title for themselves Friday night in a game that will have no shortage of highlight plays and points scored.
Scott County (5-3) at No. 25 Ballard (5-3)
The Cardinals have found their groove, going undefeated in district play after a 2-3 start to the season.
Freshman quarterback Andrew Hickey had the best game of his young career last week against Montgomery County, completing 7-9 passes for 103 yards and three touchdowns. Cards running back Montego Jones also crossed the pylon twice en route to victory last Thursday.
Ballard's 5-3 record doesn't pop out at you when looking at it, but dig a little deep and you'll find that their three losses are against No. 1 Male, No. 8 DuPont Manual and No. 16 Trinity—also known as three of KHSAA's heavyweight programs.
Scott County has all the momentum in the world after their near-shutout victory last week, but playing Ballard at home is a tall task for any school. If the Cardinals can shut down the connection of quarterback Tristen Hawkins and receiver Chaunte Marrero, Friday might be exactly what the doctor ordered for a young Cardinal squad right before the playoffs.
Other Notable KHSAA Games
Murray (5-2) at No. 11 Mayfield (8-0)
Taylor County (6-2) at Adair County (6-2)
Bardstown (8-0) at Fairdale (5-4)
Greenwood (6-2) at No. 6 South Warren (8-0)
Covington Catholic (5-3) at Conner (5-3)
For the rest of the KHSAA Week 10 football slate, click here.
A Message from Kroger:
We're excited to tell you about something new from our friends at Kroger. Did you know Kroger is America's largest grocery chain that started over 135 years ago? They are doing something they've never done before: bringing fresh groceries right to you with a new service called Hometown Pickup. 
That's right, for those of you in Cynthiana, Midway, Eminence, Bedford, McKee, Dry Ridge, Carlisle, Eubank, Georgetown, Mt. Vernon, Jackson, Frenchburg, Irvine, Mt. Olivet, and Paris, Kentucky you can now order all your groceries online and pick them up at a central location in your hometown. No more long drives into the city to get fresh food for you and your family. Now THAT is truly Fresh for Everyone. Thanks, Kroger. 
Learn more and place your first order at Kroger.com/hometown.