KHSAA Football Week Nine Preview — Presented by Kroger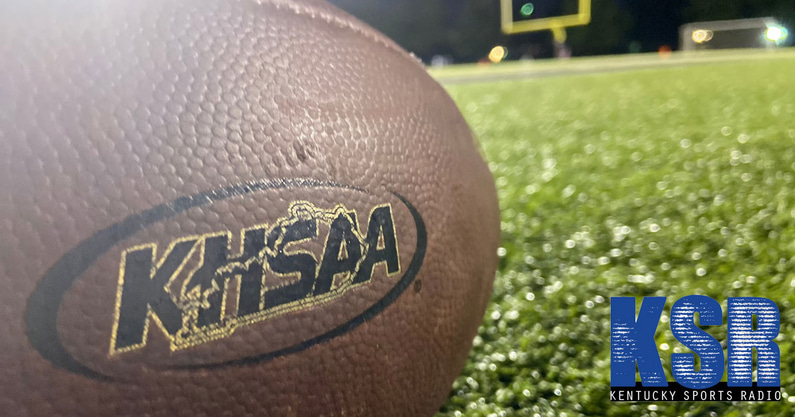 Another week means another slate of KHSAA football. With the playoffs right around the corner, here are five games to keep an eye on for Friday night:
Collins (6-1) at No. 12 Woodford County (7-0)
Woodford County is having one of the best seasons in program history right now. Winning each matchup by an average on 35 points and outscoring opponents 292-80 this season, can anyone stop the rolling Yellow Jackets?
Collins has an impressive 6-1 record, but the teams they've beat have a combined 10-34 record this season. The only team above .500 is Bullitt Central, who's sitting at 4-3 through eight weeks.
The only problem for WoCo, they'll have to match up against one of the top dual-threat quarterbacks in KHSAA in Kenyon Goodin. Goodin is 5A's top passer with 111-169 attempts for 1,773 yards and 22 touchdowns to go with 79 rushes for 513 yards and 15 scores. The Titans also boast the top receiver in the division, Mark Hutzel, who has 47 receptions for 712 yards and nine touchdowns.
With two high-powered offenses, it'll come down to each team's defense to decide the outcome of this potential shootout. With Bryce Patterson and Preston Stacy at the helm of Dennis Johnson's offense and Goodin on the other side of the ball, the team that has the ball last could come out of this one the victor.
Oldham County (6-1) at Bryan Station (6-1)
Two teams, two disappointing week eight performances from both squads.
Oldham County's perfect season came to an end at the hands of No. 13 Madison Central 31-15 last week. Colonel quarterback Sam Young had 245 all-purpose yards, two touchdowns and a season-high two interceptions. Before the loss to the Indians, Young scored at least three touchdowns in every game this season.
Bryan Station had a scare against George Rogers Clark last week—enough so to knock the former top-15 team right out of the KSR rankings. The Defenders' 9-7 victory is a head-scratcher, as Station defeated their last three opponents 125-22, including two shutouts against Tates Creek and Lafayette.
The difference-maker in Station's win was the two turnovers (fumble recovery, interception) they forced. As they say, good teams find a way to win and Station did exactly that as they look to extend their winning streak to seven heading into a tough matchup against Madison Central next week.
Henderson County (5-2) at No. 23 Daviess County (6-1)
Henderson County is coming off a tough loss to Apollo 21-10 in last week's Kroger KSR Game of the Week and things don't look to get any easier for Hornets this week.
Daviess County quarterback Joe Humphreys is KHSAA's leading passer right now with 2,239 passing yards, with a 26-7 touchdown-interception ratio on a 70 percent completion percentage. Not only is Humphreys averaging 320 yards per outing, but he's also the only quarterback in Kentucky to throw for over 2,000 yards through eight weeks of KHSAA action.
To put Humphrey's insane average into perspective, Henderson County had 269 total offensive yards last week—which cannot happen Friday if the Hornets look to knock off the newly-ranked Panthers.
Great Crossing (6-1) at No. 5 Frederick Douglass (7-0)
Frederick Douglass is back in action this week following two weeks off after a BYE last week and a COVID cancelation the Friday prior.
Douglass has only given up 27 points all season while averaging at least five touchdowns in every game they've played. The Broncos are still waiting for their first legitimate test this season.
Great Crossing bounced back last week after dropping their first game of the season to rival Scott County 14-6 in week seven, defeating Montgomery County 51-12. Quarterback Gabe Nichols had 207 all-purpose yards and two touchdowns through the air in the winning effort, but he will have to do more if they want to take down one of KHSAA's most dangerous teams in Frederick Douglass.
Bell County (6-1) at Pulaski County (5-3)
I've been saying it all season, it's time to give Pulaski County the respect they deserve.
The Maroons haven't had a game decided by less than two scores on their current four-game winning streak. In those four games, quarterback Drew Polston has been on fire, lighting up the defense for 862 yards, 14 touchdowns and no interceptions on an 81 percent completion percentage.
Bell County, just like Collins, has six straight victories with only one win over a team with a record above .500 (Rockcastle County, 4-3). With those six teams having a combined 16-28 record this season, Pulaski County will be by far their biggest test this season.
A Message from Kroger:
We're excited to tell you about something new from our friends at Kroger. Did you know Kroger is America's largest grocery chain that started over 135 years ago? They are doing something they've never done before: bringing fresh groceries right to you with a new service called Hometown Pickup. 
That's right, for those of you in Cynthiana, Midway, Eminence, Bedford, McKee, Dry Ridge, Carlisle, Eubank, Georgetown, Mt. Vernon, Jackson, Frenchburg, Irvine, Mt. Olivet, and Paris, Kentucky you can now order all your groceries online and pick them up at a central location in your hometown. No more long drives into the city to get fresh food for you and your family. Now THAT is truly Fresh for Everyone. Thanks, Kroger. 
Learn more and place your first order at Kroger.com/hometown.